Chip Off Silicon Valley: The Student Entrepreneurs of Ann Arbor (Part 2)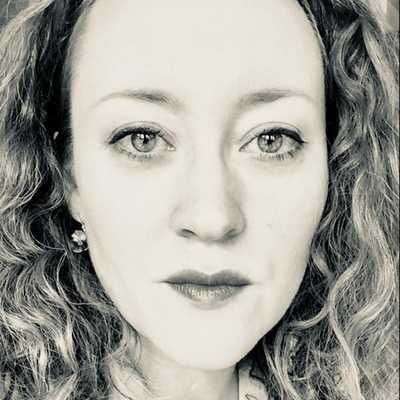 By Laura Cowan
Laura K. Cowan is a tech editor and journalist whose work has focused on promoting sustainability initiatives for automotive, green tech, and conscious living media outlets.
... Continued from Part 1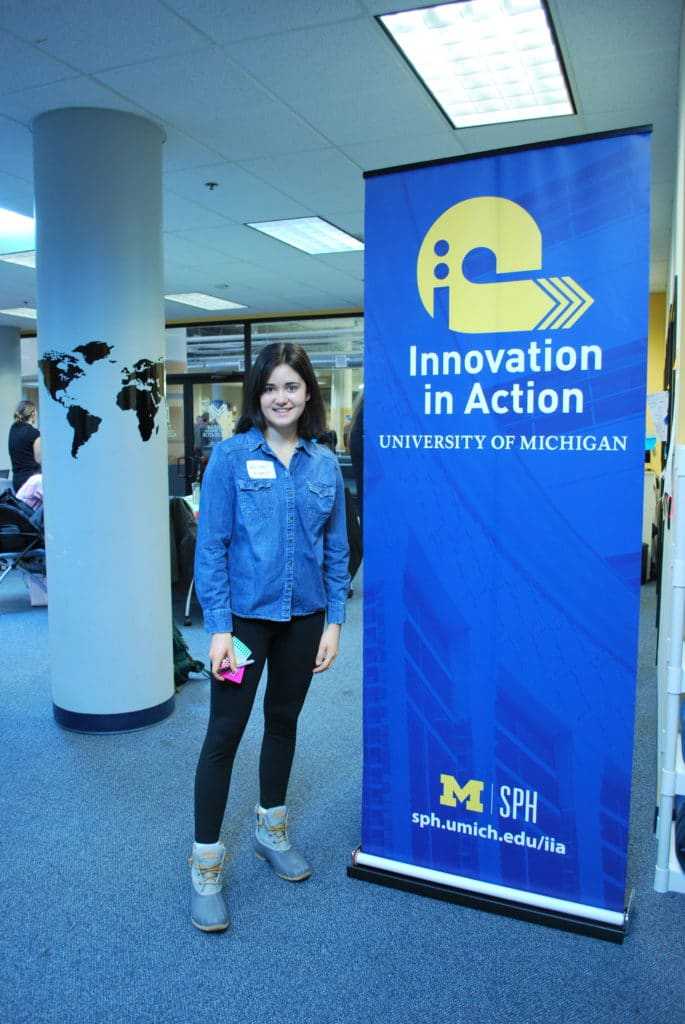 Alison Elgass of Busy Box.
... Innovation in Action uses the same work space as TechArb for students to come brainstorm ideas for new ventures. Students and mentors first meet to discuss ideas, then browse presentations on the walls featuring different components of the business ideas and the challenges they are attempting to solve. People can place a dot sticker near any idea that sparks their interest, and leave Post-Its with questions the idea raises for them. This was the process going on during the IIA meeting. Entrepreneurs can see how their idea strikes people, where the interest is clustered, and have a chance to address concerns or questions as their business idea progresses. As we go around the room at the Innovation in Action meeting, Gourley introduces people involved in one or both programs with Innovation or TechArb.
Busy Box
Alison Elgass is the co-founder with three other women for Busy Box, a subscription service for safe sex supplies including UTI tests, lube, condoms, and pregnancy tests. Busy Box was last year's winner of the Innovation in Action contest after finishing the program in March of last year. Alison is hoping to enter TechArb's accelerator program this year in May.
Elgass is soft-spoken and polite. When asked about her experience with Innovation in Action, she gushes about the support, but admits the process can be complex. She says: 
I'd say the biggest challenge was finding a team. The Innovation in Action staff do a good job of facilitating networking and meeting sessions so you can find teammates…. We were lucky to find such a good group, as we've always gotten along and had a very united vision for Busy Box. 
Another big challenge for me personally was stepping into the role of entrepreneur. While I'd say I'm a good leader and certainly a hard worker, I never saw myself as a business or sales person before IIA, so the idea of going out into AA and interviewing people or pitching our idea sounded pretty intimidating.
Busy Box is still in the works applying to TechArb, and is run by current students at U of M, so it's too early to say how the business will fare after graduation. Elgass says Innovation in Action was instrumental in the process of getting the business to where they are currently.
"IIA gives us great support and mentorship…. I don't think I realized how well IIA follows the real entrepreneurship roadmap, if you will, until this summer when I started reading a lot on the subject, and I realized, wow, this is exactly what we did."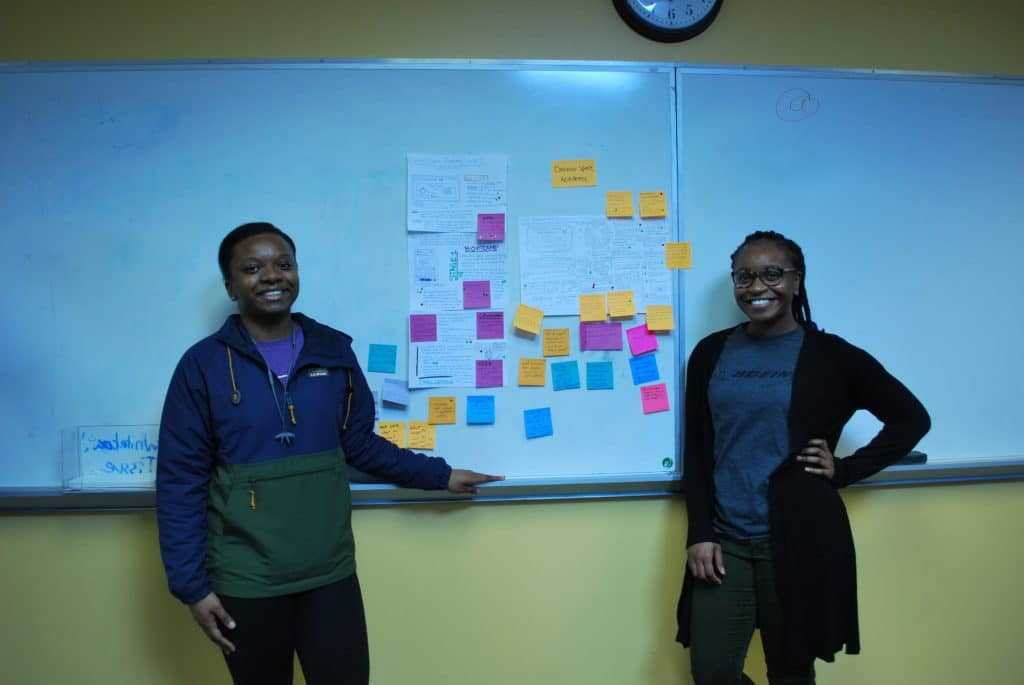 Chalse Okorom (left) and Angelica Okorom (right) of Detroit Space Academy.
Detroit Space Academy
Sisters Angelica Okorom and Chalse Okorom work with a teammate in California to bring aerospace and STEM programming to underserved school environments. Again, the model here is a subscription box, which may change through development of the business. Detroit Space Academy aims to offer a service in which teachers can order to offer science experiments to students who normally wouldn't have access to those materials. The idea is to create competitions and low-cost solutions to get science materials into classrooms that are under-funded due to resource gaps. Students can build up skills to solve real-world problems just like in a hackathon or robotics challenge, but focused on the sciences, which is one area where students often don't have resources to compete in high-level challenges. 
Angelica tells me:
Detroit Space Academy was an idea we had before we entered the Innovation in Action competition…. During the first workshop, we were essentially told to start from scratch and set aside all of out preconceived solutions. This was really hard, and we felt a bit lost for while because of this. Luckily, we stuck through the process. We have learned so much about the education and technology industry through participation in Innovation in Action. As a team, we now have a better understanding of how complex our problem space is, and we feel better equipped to create effective solutions for communities of color.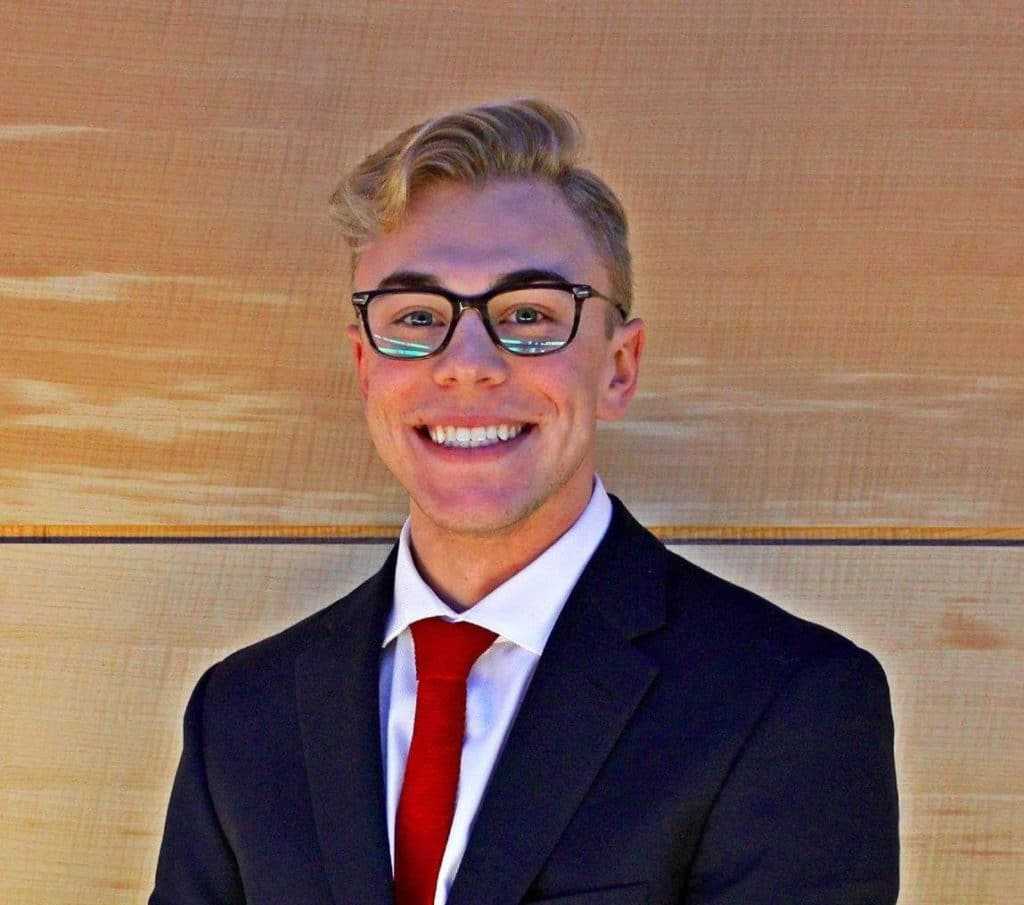 Jake Allain of State and Liberty clothing. Courtesy photo.
Jake Allain, COO of the State and Liberty male clothing line, is another alum of the TechArb program. He echoes the Okorom sisters in saying that TechArb gave him "the initial platform of entrepreneurship that allowed experimentation of an idea." Though, he says, "99.9% of the companies would fail in the space. I think it is a great place to explore an idea and fail quickly and learn rapidly. It shouldn't be mixed with the idea that someone will walk out with the next million-dollar company."
As in any tech environment, the enthusiasm and optimism can be high, but the students at TechArb seemed aware that they had a rare opportunity here but no guarantees. All spoke cautiously and carefully about the ideas they were putting forward. Jake Allain says the academic environment can give one a false expectation of business, by being focused on winning the next pitch or meet others' goals rather than learn how to run a business. There is only so much a program can do about this while being run in an academic setting, however, because of the structure of curriculum and pitch sessions. Stacey Matlen says she has loved being asked to come back and speak as a mentor for current students of the program, because she recognizes "it was scary, and I want to be there to help support in any way I can."
Some student entrepreneurs seem equipped to make the most of every opportunity available to them in the meantime, particularly the founder of a company called Peerstachio.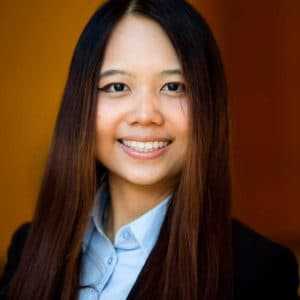 Peerstachio's Scarlett Ong Rui Chern has already won a number of grants and competitions to keep her venture going. Courtesy photo.
Peerstachio
Peerstachio, co-founded by Scarlett Ong Rui Chern, is a peer-to-peer learning community platform that helps college students improve their grades by connecting underclassmen with upperclassmen. 
The idea came to be when I reflected on my personal experiences as an international and first-generation college student from Malaysia," Chern says. "I struggled in my first year of college in terms of academics and didn't know who to reach out to…. I decided to create a solution using the power of technology and peer learning to address these issues, so that students like me or those who may be going through similar pains will not have to struggle as hard as I did. 
The startup has been indirectly supported by TechArb, as TechArb was not accepting applications when Peerstachio was ready to apply, and the business was already past the point where Innovation in Action could help them. Chern says the startup still has good support from TechArb, which has referred them to lots of opportunities, such as business plan competitions, incubator programs, leadership programs, and conferences.
Chern says:
We also have big support from the Zell Lurie Institute (ZLI), University of Michigan Ross School of Business's Entrepreneurship Department, of which we have received several grants and have advanced to the second round of the social impact track of their annual Michigan Business Challenge (MBC). When we started our startup, as student startups with limited funding, ZLI helped us to kick start our initiatives with their Dare to Dream grant, the very first grant we received. When we needed entrepreneurial advice, the advisors at ZLI have been very helpful and a big part of encouraging us with our endeavors. Outside of the University of Michigan ecosystem, we have the support of TechTown Detroit, and their help has been crucial for the further development of our startup. We were accepted into, completed, and won the grand prize of $10,000 from the DTX Launch Program by TechTown Detroit.
To Chern, Peerstachio is all about the mission to help others who have gone through similar pains. 
The experience of building something from the ground up and being able to team up with talented and great co-founders of whom we support each other in this endeavor have been so fulfilling and a great learning experience for me…. We have advanced to Round Two of the Seigle Impact Track of MBC, so a bulk of my time besides studying and clubs will be focused on the pitching and preparation of deliverables for the challenge.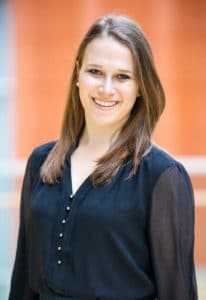 Brianna Wolin of Find Your Ditto, which helps people connect with others living with a similar chronic illness. Courtesy photo.
Find Your Ditto
Find Your Ditto started as an entry in the Innovation in Action Competition through the U of M School of Public Health, back when Brianna Wolin was an undergrad and her former cofounder was a Masters in Public Health student. 
Wolin says: 
Find Your Ditto is a B2B2C software service with two elements: a patient-facing mobile app and a provider-facing web dashboard. Patients use FYD to connect with others in their local community living with the same conditions to combat feelings of isolation and burn-out associated with the 24/7/365 management routine of chronic illness. Providers, who give their patients access to FYD, are able to view an anonymized population health dashboard, revealing insights into the impact of peer support on mental health and ultimately, physical health outcomes.
Then called Ditto, the concept was essentially the same: connect people with the same chronic illness locally for in-person peer support. We've since evolved a bit to focus in on specific, measurable psychosocial behavior impact and population health overall, to best align ourselves with shifting reimbursement structures in the health insurance realm. Nonetheless, we remain steadfast in our founding tenet: patients should never feel alone.
What was the experience like for Find Your Ditto in TechArb and Ann Arbor's tech scene? Wolin says:
My former cofounder and I entered Innovation in Action together, and she later went through TechArb for Find Your Ditto when she was still on campus and I'd returned post-grad to Chicago. As a company, we've been through a variety of bootcamps, accelerators, incubators, competitions, and more over the last three and a half years. Each program absolutely uncovers new challenges, but also provides different kinds of support. IIA gave us our start, and the mentors we met there pushed us to actually develop our concept into a company.
Though we're no longer based in Ann Arbor, the time we spent there cannot be understated. The tech scene and beyond provide the ultimate network. No ask is too far-fetched and everyone is bound to know someone who can help with your ask. Like all tech scenes, you must go out and ask for things.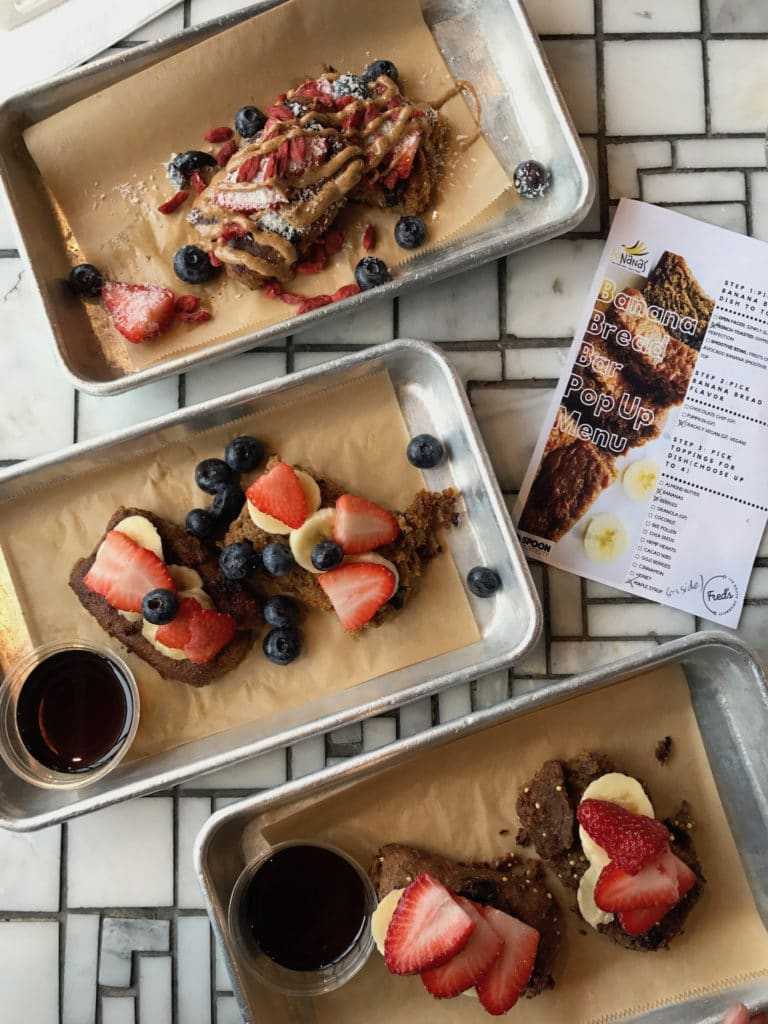 More yummy products from GoNana's. Photo courtesy GoNana's.
Food Finder
Jack Griffin's company Food Finder is a nonprofit that offers a website and iOS/Android app to make it easier for people to find food pantries in their area. Griffin says he saw a news segment in his home state of Georgia on people struggling with hunger in his area, but when he thought of volunteering at a local food pantry and Googled local options, it was surprisingly hard to find information on what was available locally. That became the inspiration to create the first national U.S. database of food pantries and similar services people need to be easy to find when they need help. 
Griffin is a senior at U of M but will move back to Atlanta with his colleagues to keep building the site after graduation next year. He says he's looking forward to only having one job, after juggling grad studies with running a startup and having a full-time job. According to Griffin, the entrepreneurial community at the University of Michigan is tight-knit and an invaluable resource for startups that want to continue after graduation.
"We are taking an inherently technological approach to hunger, which is different to what has historically been done," Griffin says. Many startups at U of M are tech-oriented, because of the trend toward using technology to scale up ways to address societal problems. Griffin says he is looking for greater impact than opening just one more food pantry, and that's where technology and entrepreneurship can make a difference that scales up across the country. 
Griffin has a team already structured and ready to go after graduation, which is more than most students can say they have arranged for themselves after graduating from college, but again the theme arises of the uncertainty of the startup culture. While tech supporting food pantries is a brilliant idea on the side of usefulness, where funding will come from is a problem that plagues many new companies. 
Jake Allain says, "I feel as if TechArb is a good playground to begin an entrepreneurial journey, though it doesn't come close to reflecting my actual experience of the tech culture and business development as a whole. Entrepreneurship is not structured, it's all about problem solving, creativity, and critical thinking and consistency developing and challenging yourself. TechArb was essentially structured for guidance on the skeleton of business development for a company." So, as Gourley told me, it's always wait and see, and it depends very much on the people and how they run their companies, as well as a good dose of hard work and luck.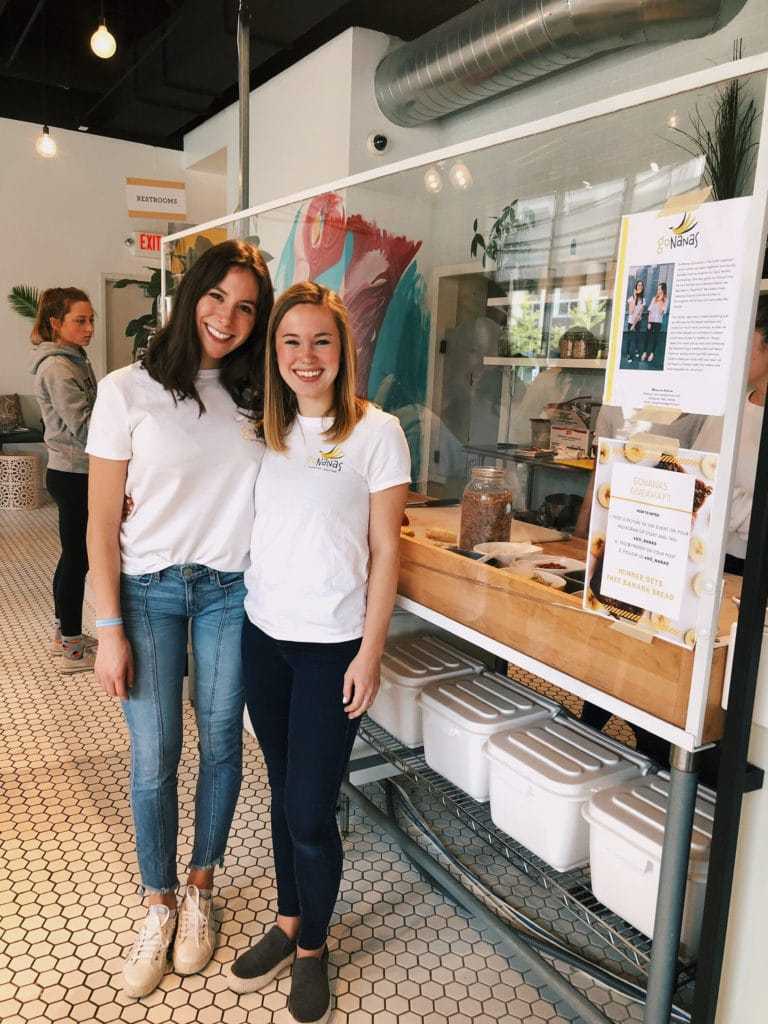 Annie and Morgan, founders of GoNana's on the University of Michigan campus. Photo courtesy GoNana's.
Go Nana's
Morgan Lerner and her partner Annie are students at the University of Michigan, also indirectly associated with TechArb, who founded a company called Go Nana's that bakes banana bread energy bars for sale around campus. Their startup is unique among the students in this bunch in that it uses technology to organize the company, but otherwise runs similar to a bakery. That doesn't mean the setup or funding were low-tech.
Lerner says:
In terms of support we got to get started, we initially used the entrepreneurship law clinic (essentially free student legal council from the Ford school students) to set up our LLC and company structure, then… we received grants from ZLI and CFO to get started, and have since gotten significant support from Optimize (grants and mentorship). Overall though, the school provides so many resources, from communities of entrepreneurs to provide real-life experience and advice to help us navigate starting our company, to classes (i.e. the entrepreneurship minor and classes like Entrepreneurial Creativity) to help learn how to start and grow a business successfully. Without such resources, we would not have had the courage to start GoNana's nor been able to grow it to where it is today.
For the founders of GoNana's, the culture of Ann Arbor and Michigan as a whole is entrepreneurial and supportive to new businesses. 
Lerner says:
Annie and I just recently joined the FoodLab in Detroit, that has connected us to key mentors and expanded our pool of opportunities significantly, in addition to the many informal mentors we've had.… Don't be afraid to ask for help because entrepreneurship is all about trial and error, so turning to others to get help can help shorten the learning curve. 
GoNana's started out as delivery service under the former name Go Bananas, but now sells through retailers in Ann Arbor and beyond. The company has added flavors, hosted events, and is now looking to broaden distribution channels across the country. 
"Crazy to look back at what we've done in the past two years and think about where we'll be in the next two!" Morgan says.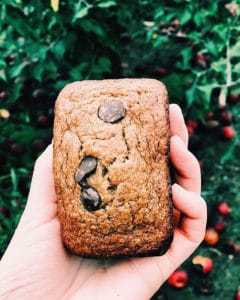 More banana bread. Courtesy photo.
High Expectations 
It's always unclear where a startup will end up after being launched into the world, founded by students or older entrepreneurs, but one theme that consistently was emphasized by students involved in the TechArb accelerator network was that the support is there if you reach out for it, and the rest is up to you. Jeni Olney of Innovate Blue tells me entrepreneurship is about doing—it's about getting out there beyond campus and making things happen, trying something new. 
Peerstachio's Chern agrees:
I think the best advice I have ever received is that if there's anything that we want to do or start, we should live life to the fullest and start doing it. There is no such thing as no time…. There are several tech-related events in Ann Arbor such as Tech Trek, where you get to see many cool tech startups displaying the awesome things they are doing. And, if you are a student looking to get into the startup scene but have no ideas yet, seeking an internship at a startup in Ann Arbor would be a great move. ZLI has the Marcel Gani Internship Program where students can work with startups or venture capital firms (in Ann Arbor and beyond) of which the program pays for half your salary. It's a good learning experience and great way to understand the tech/startup environment. Prior to my startup I went through the Marcel Gani Internship Program and interned at the Michigan Venture Capital Association as well.
Chern says there are a lot of perks that come with having the student accelerator and tech culture in Ann Arbor:
The University of Michigan on this campus has a lot of resources that support students in their endeavors (not only in tech related startups). We have ZLI at Ross, CFE at the College of Engineering, and several other programs such as TechArb, Desai, Innovation in Action, optiMize, etc., that support students with their entrepreneurial adventures…. Ann Arbor Spark is the renowned incubator in this town that has supported several successful local startups, and down in Kerrytown there is a hub of venture capital firms that support Michigan startups.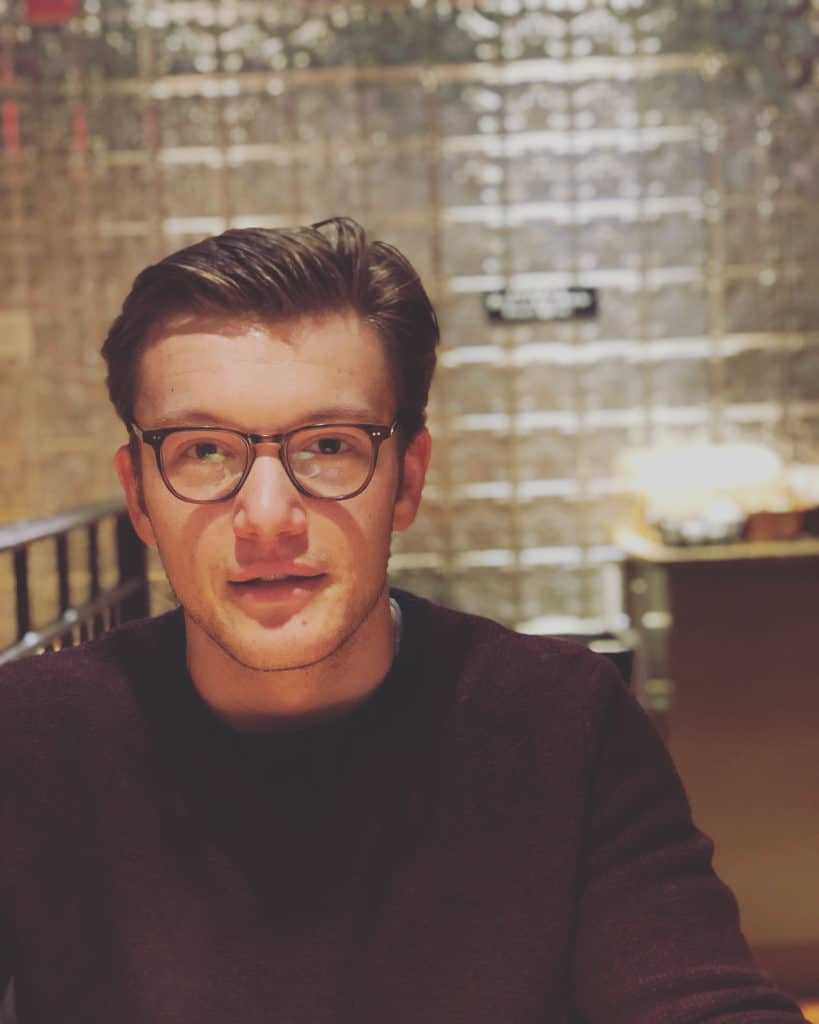 Peter Michaelides of Terms & Conditions. Courtesy photo.
University of Michigan senior Peter Michaelides of Terms & Conditions says that his time in the TechArb program doesn't influence his current career trajectory as he has finished his degree but stayed on an extra semester at U-M to be a part of the boxing team, but, he says, he has already had the opportunity to found his own company in apparel connecting artists and the technology to get their work out to people who value their work. 
Michaelides says:
Techarb prepared me to think differently and ask questions. I met my most influential mentor through TechArb and honestly that has been the best aspect of TechArb for me personally. I think that the academic environment can give false expectations about success as an entrepreneur. They rarely advertise the failure rate and when they do, they advertise it as a thing to beat rather than a very possible outcome. I have had no issue getting into the real business world. I have been hired by a tech company and I currently run a successful company in town and online.
Which, in a job market like the one that today guarantees no ready jobs or even careers for recent grads, honestly sounds like TechArb did have a thing or two to do with that, as it's a phenomenal start for a college senior in the business world. Where he goes from there is largely up to future work, and that elusive tech industry luck. 
Michaelides says he does think TechArb is a good reflection of the tech and business industry outside academia. "Many of the mentors that come through the TechArb space have been successful and have seen many of the difficulties that students are currently facing," he says. "I think the ability to fail and move forward is talked about but not discussed enough. Students need mental fortitude to understand that their venture may not work and that that doesn't mean they don't work, it just means they need to work on something else."
Innovation in Action is accepting applications and sponsorships. More information about the TechArb program can be found here.
alison elgass, angelica okorom, busybox, chalse okorom, detroit space academy, findyourditto, foodfinder, gonanas, innovate blue, innovation in action, jake allain, jeni olney, morgan lerner, peerstachio, peter michaelides, ryan gourley, scarlett ong rui chern, stacey matlen, state and liberty, techarb, university of michigan
---