Calling Geeks of All Ages: The New Interactive Tech of the Ann Arbor Hands On Museum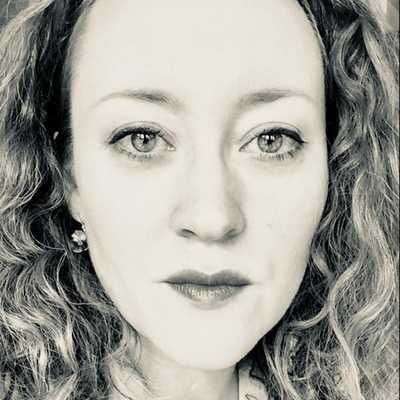 By Laura Cowan
Laura K. Cowan is a tech editor and journalist whose work has focused on promoting sustainability initiatives for automotive, green tech, and conscious living media outlets.
You've been to kids museums, hopefully as a child and again as an adult parent or volunteer. They are the coolest places. Hardly anyone would disagree. Imagine that plus exhibits that pop up customized content for your age group or level of expertise, whether you're a kindergartener or college student. That's now the reality coming to the Ann Arbor Hands On Museum and to other natural history museums in Michigan and around the United States. Director of the Ann Arbor Hands On Museum Mel Drumm, and Assistant Director of Operations Ari Morris, have worked with local tech company Torrance Learning to develop iPad software called DEEP--Digitally Enhanced Exhibit Program--that pops up customized content for children (in theory anyone) visiting the Hands on Museum, to offer everyone a customized experience that makes the most of each museum exhibit.
"Our staff develop exhibits that transcend age."

Mel Drumm, Director, A2 Hands On Museum
The DEEP software is being tested for an upcoming rollout. Kids get lanyards marked with tree or animal species that include low-energy BlueTooth beacons, and when they approach an exhibit, content for their grade pops up to engage them on DEEP-loaded iPad screens next to each station. At the end of the visit, teachers and school administrators receive printouts of how many times kids were exposed to each learning concept, and how the kids engaged with each exhibit. The information is captured by ID tag so that no personally identifiable information is collected. Right now DEEP tech is being rolled out to a few test exhibits at the Ann Arbor Hands On Museum, but in the near future, you could see this software all over. The Hands On Museum is already working with several other museums in Michigan from natural history to science. The coolest thing about this technology isn't just what it's doing to justify the trouble and expense of taking kids to field trips to the Ann Arbor Hands On Museum right now, but how much this could expand in the future.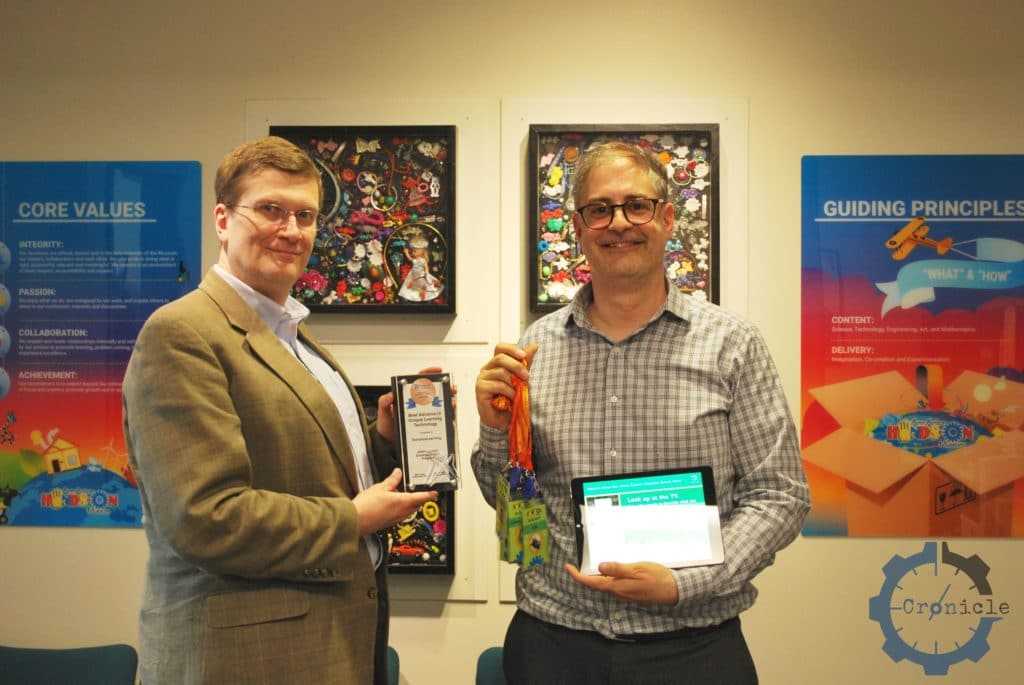 Ann Arbor Hands On Museum Director Mel Drumm (left) and Assistant Director of Operations Ari Morris (right) pose with their new iPad tech and Bluetooth badges along with an award the DEEP software has already won. The adaptable tech was developed by local company Torrance Learning.
"Tech people are the backbone of what we do that no one sees," says Mel Drumm, Director of the Ann Arbor Hands On Museum. He speaks fondly of Ann Arbor's love of learning and how the city comes together to support kids across the region.
I asked Drumm and Assistant Director of Operations Ari Morris what could happen if hackers did get into the system. Morris told me that the system is well-protected against hacking but that if that did happen, hackers would only get the teacher's name and date of the class visit, no information about the children interacting with the exhibit. Because the DEEP software collects only data from the Bluetooth badges, there isn't much anyone can do with data about which exhibits "Brown Rat" visited. "Kids love these badges," Morris adds, because they can learn about each animal or plant species on the back of their badges, trade them before entering the museum, and identify themselves by species as they go through their visit. And the software is also developed in a way that allows the data to be stored separately from the levels of content, which is in turn separate from the ways the software is kept up to date with whatever technology comes out that can best be leveraged to deliver the program. It's flexible and modular for expansion and for long shelf life.
"Tech people are the backbone of what we do that no one sees."

Mel Drumm, Director of The A2 Hands On Museum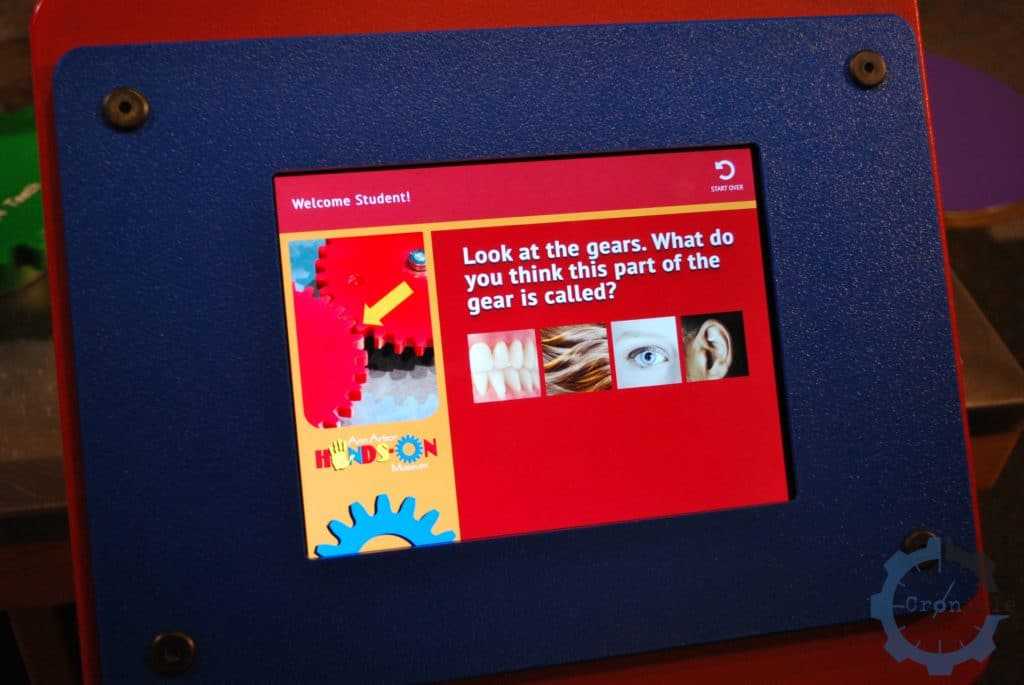 a DEEP-loaded iPad station at the gear exhibit at the Hands On Museum asks students age-appropriate questions to guide them through the exhibit.
I asked Drumm and Morris if their goal with DEEP tech supporting and enhancing museums and exhibits in other regions could work with underprivileged communities that had fewer resources for populating the content on the platform. They told me that the cost for the tech was mostly in purchasing iPads for a museum, and that the technology is developed in a such a way that it can keep up with evolving tech as well as expanding content. "We're not natural history experts," Drumm says of their expansion with the tech into other museums that includes a natural history museum in Port Huron, Michigan. "Somebody would develop all that content. We would put that in the system. And we would hope that our colleagues in Port Huron would say well we have another natural history museum that happens to have the same dinosaurs. We already developed the content with our faculty." So the content would be shared forward, and if someone at a later date has better content, that would be shared back. "Share and share alike," Drumm says.
The walls in Drumm's office are covered in gears, gadgets, and notable markers from events in the museum's history. He tells us that he visited a museum like the Hands On Museum at the age of 9, and came home to announce to his mother that he was going to work in a place like that someday. She in turn told him what he would need to study and achieve to do that. He did, and here he is.
"If this office is exciting, you should see our museum's workshop," Morris says. Drumm confirms: 5,000 square feet of tools and creative things everyone is building. "We've started thinking about how we could set up a behind-the-scenes tours of our exhibits," Morris says. In a town full of makers and geeks and people who value higher education, what could be better than Hands On Museum field trips or fundraisers? We'll call Zingerman's for boxed lunch catering right now.
Morris had a similar story to Drumm's. "I grew up going to museums, and that was an important part of my upbringing. I was instilled with the joy of all kinds of learning," Morris says. "I wanted to be a part of that. How can I help people learn? What would I want if I was a learner? I am a learner. So what do I want?" This. We all want more of this.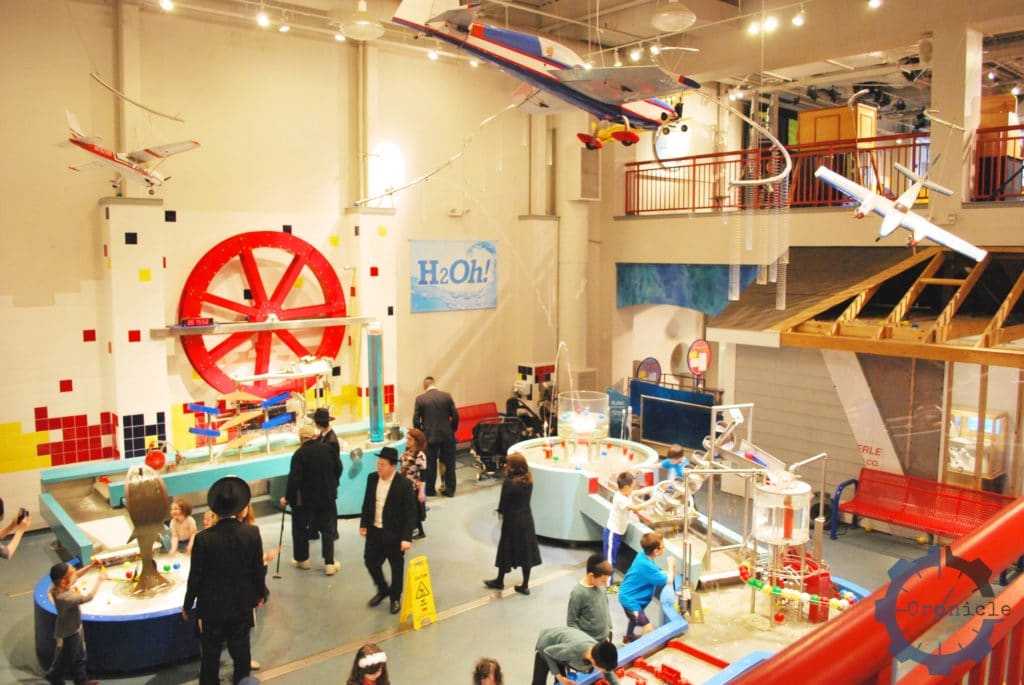 Visitors stroll around the water exhibits on the main floor of the Ann Arbor Hands On Museum.
We'll let you know if the Ann Arbor Hands On Museum opens up their exhibits for sleepovers for physicists or bussed trips to the Wonderful Workshop. The Ann Arbor Hands On Museum is an important part of the fabric of what makes downtown so magical for kids and adults alike, situated between Kerrytown and Main Street and backing up to the main drag of Huron. If you have visited, you know what we're talking about already. If you haven't, you should go, with some kids or with some friends. Water wheels, ball machines, musical stairs. And the giant bubble machine that has stood in the middle of the second floor since the Eighties. When it comes to kids museums, we're all Harry Potter Snape about it. "After all this time? Always."
ann arbor, ann arbor hands on museum, ari morris, educational software, hands on museum, interactive learning, kids museum, kids museum technology, mel drumm, software for kids, torrence learning software
---