Workantile Co-Working Space Brings Together A Community of Remote Workers in Ann Arbor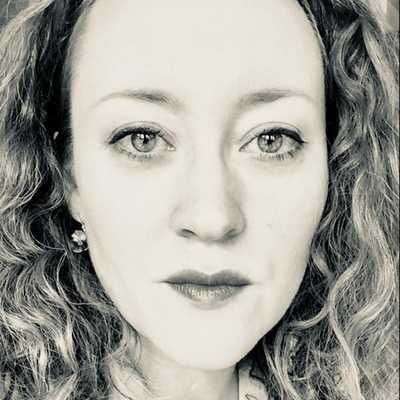 By Laura Cowan
Laura K. Cowan is a tech editor and journalist whose work has focused on promoting sustainability initiatives for automotive, green tech, and conscious living media outlets.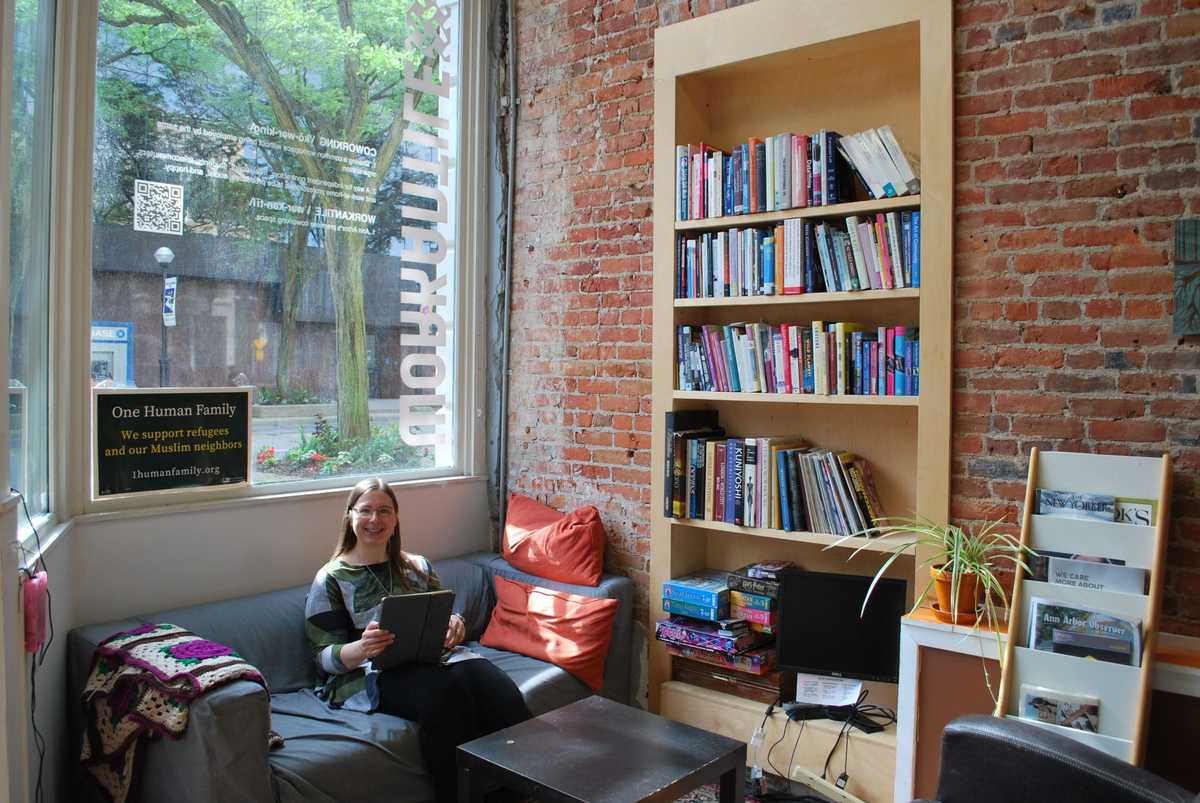 Sarah Zettel sits on a couch up front of her desk at Workantile, where she greets people coming in the door.
On Main Street in Ann Arbor, right next to the wedding dress shop and Crazy Wisdom Bookstore and Tearoom, Workantile co-working space is celebrating its tenth anniversary. It's a simple concept: professionals can rent a desk or drop in and use the space's private conference rooms and phone rooms, or utilize the space for group meetups.
Workantile hosts the Festifool luminary workshops, parties, and get-togethers of various kinds, but it's a pretty low-key place during the day. There are two rows of desks around a conference table up front on the first floor. Then a kitchen stocked with coffee and snacks, several private rooms including a private conference room, and up the open staircase is another set of desks. Workantile has just opened the options for dedicated work stations, so people can leave their things longer in the space.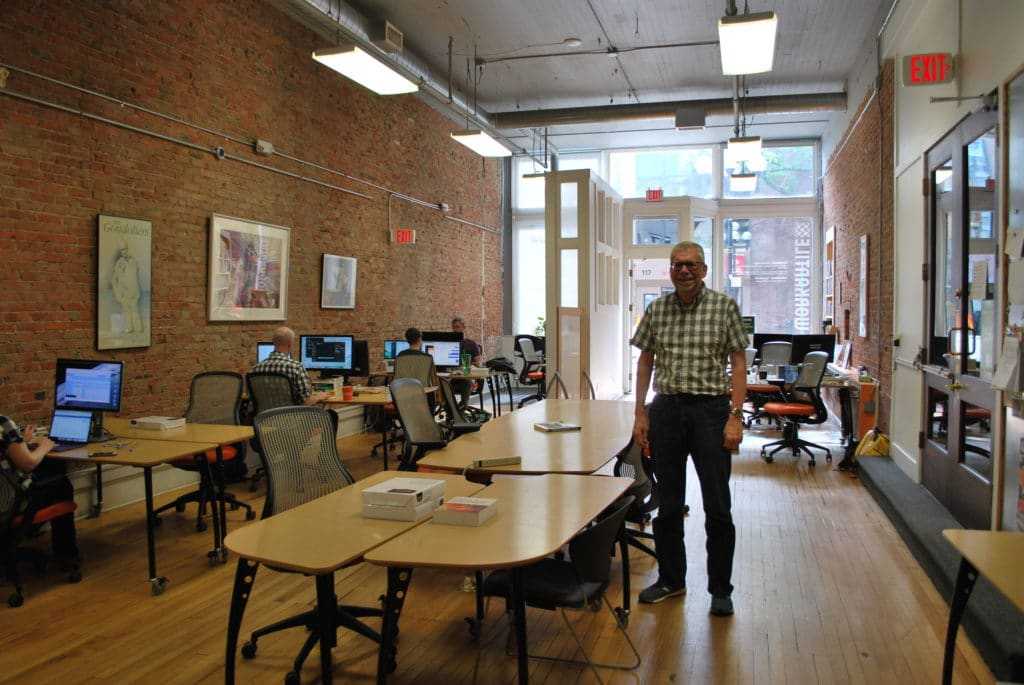 Workantile co-owner Tom Brandt stands in the main-floor work area of Workantile. The desks in the private phone rooms in back look a bit worn, but otherwise the space is clean and presents well for business meetings.
Sarah Zettel manages the facilities, and co-owner Tom Brandt gave us a tour to demonstrate the different spaces available within Workantile. Tom tells us: "Workantile is a membership organization whose members are freelancers, independents, and remote employees, who find working out of a home office, or a coffee shop, or the library, unproductive and isolating. Members have other members to get lunch with, grab a drink after work, organize gaming sessions, exchange parenting advice, and all the social things you normally have at a workplace, but without the competitiveness you frequently find in workplaces."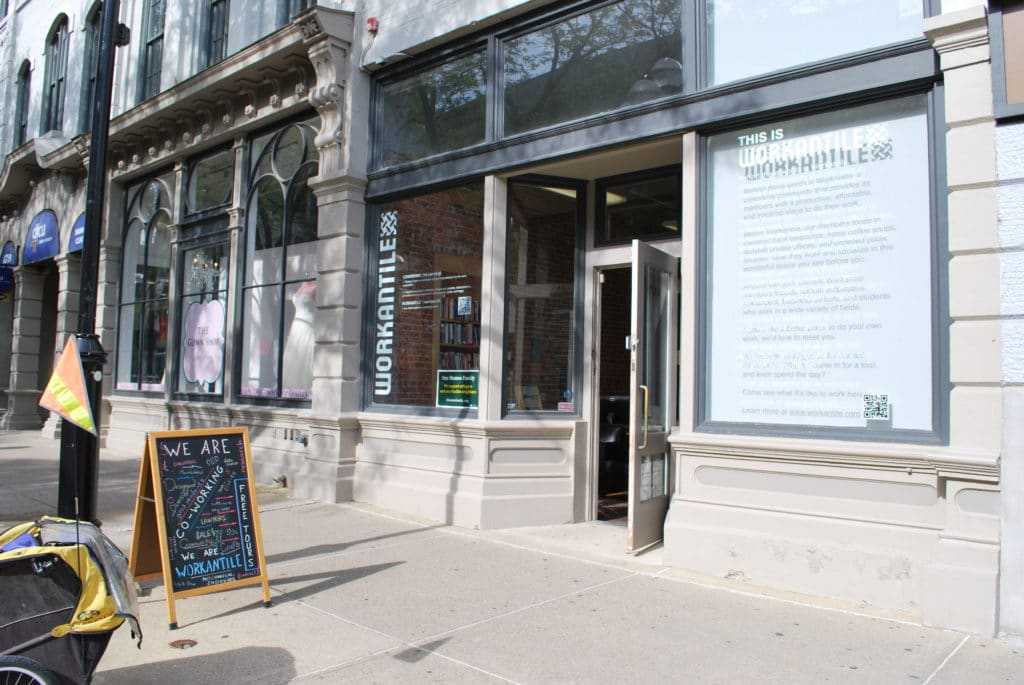 Workantile's door fronts on the central area of Main Street in Ann Arbor.
Workantile Co-Working Memberships
Dedicated Desk: $375/month, full access
Affiliate Member: $92/month, 4 days access/month + All Members Day + All Sundays. $25/day thereafter
Day Pass: $35/each. Pay online or bring cash
Take a Tour
You can drop into Workantile any time to spend the day there and meet the team. Or, sign up for a trial membership ($50) to check out the space and meet members. The Workantile website explains that at the end of a trial membership, you must recruit at least three members of the Workantile space to endorse your membership, and then you can apply for membership and a key.
We asked Brandt about the quietness of the space. Members here, as in many co-working spaces, seem very head down and don't do a lot of socializing during work hours. Brandt confirms the members appreciate a quiet work space, but do a lot of socializing outside work hours.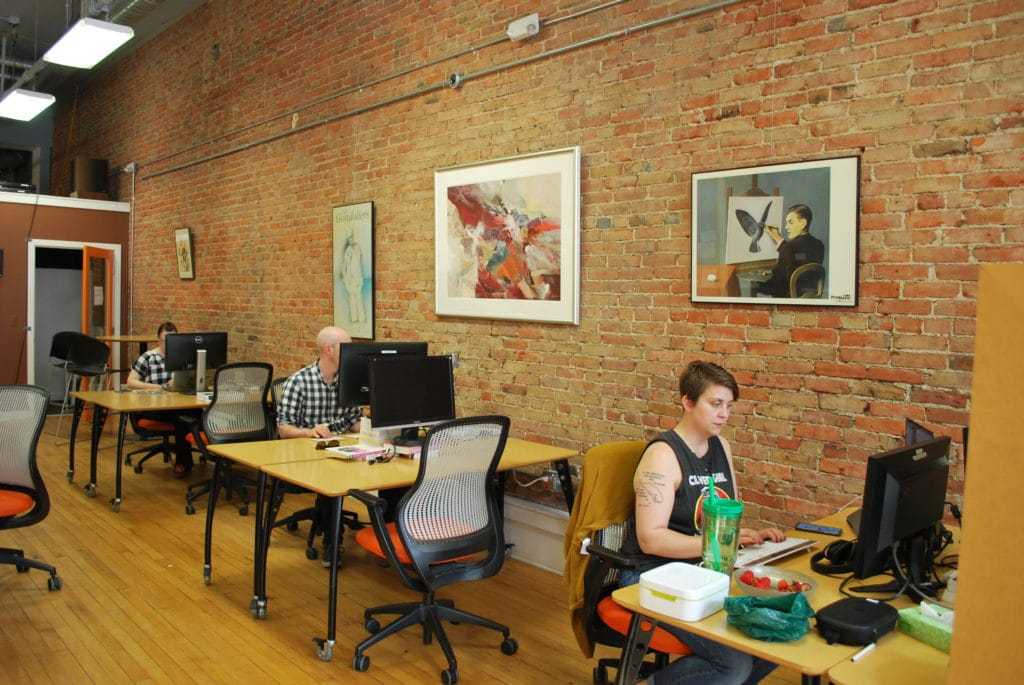 Workers in the main-floor space manage their tasks quietly, a nice break from busy coffee shops.
"It is a member-run community," Brandt says. "Dave Nelson, Steve Kemsley, and I co-own the LLC that operates the space, but that is limited to collecting membership fees, and paying the rent, the internet bill, purchasing supplies, and other back office functions. The members organize the social events, take out the trash, make the coffee, clean the kitchen, welcome new members to the community, decide on the art that hangs on the wall, etc." He says members host everything from gaming meetups to parties, and appreciate the combination of private work space during the day and public meeting rooms at night.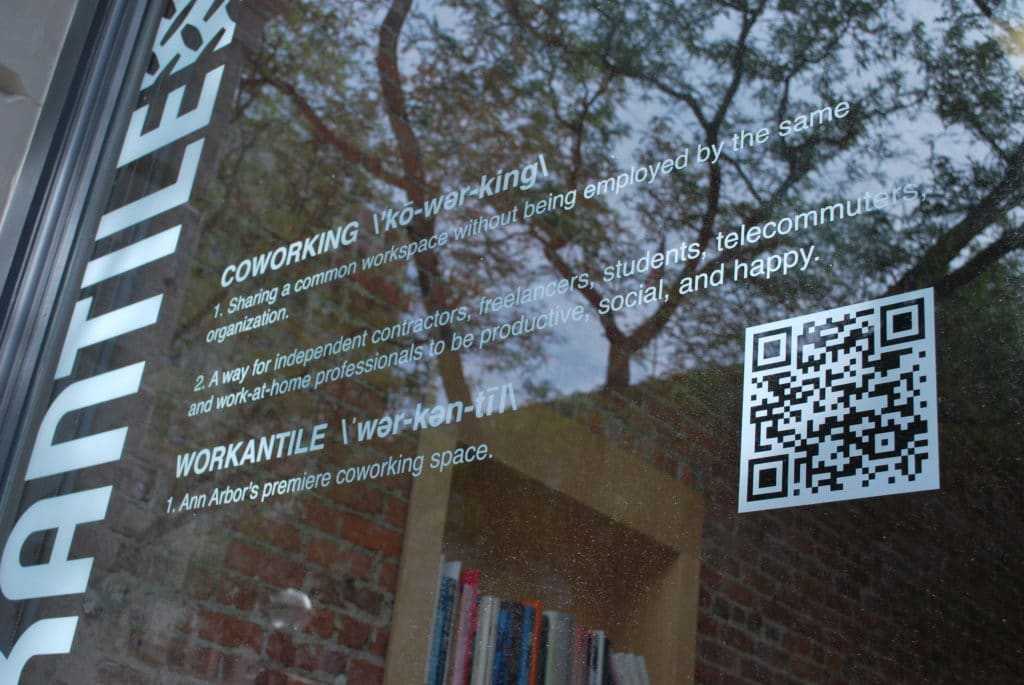 "There are two levels of memberships: full and affiliate," Brandt says. "Full members have 24/7/365 access to the space. Affiliate members may come to the space any four days of the month, plus the first Wednesday of the month, plus all Sundays. All members have an electronic key which give them access to the space whenever they wish."
Workantile has 61 members right now, but Brandt says more members are always welcome. The space is only half full most days, from the looks of it. Workers who view co-working as a social collaborative endeavor have told us they prefer other options such as Office Evolutions where they can rent an office for a team to share while still keeping office chat private among the group, but for single remote workers or people who need access to conference rooms and a place downtown to work, Workantile fits the bill.
ann arbor co working, coworking space, main street ann arbor, sarah zettel, tech coworking, tom brandt, workantile
---