3D-Printed Ligaments, Night Vision, & Hydroponic Lettuce: Inside the Mi-HQ Life Sciences Campus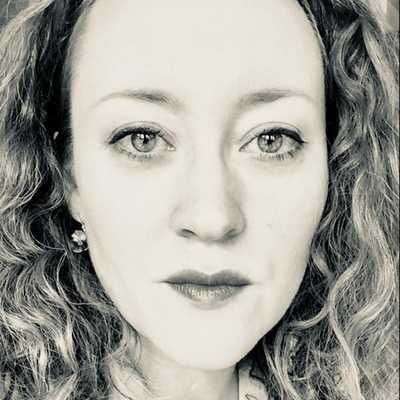 By Laura Cowan
Laura K. Cowan is a tech editor and journalist whose work has focused on promoting sustainability initiatives for automotive, green tech, and conscious living media outlets.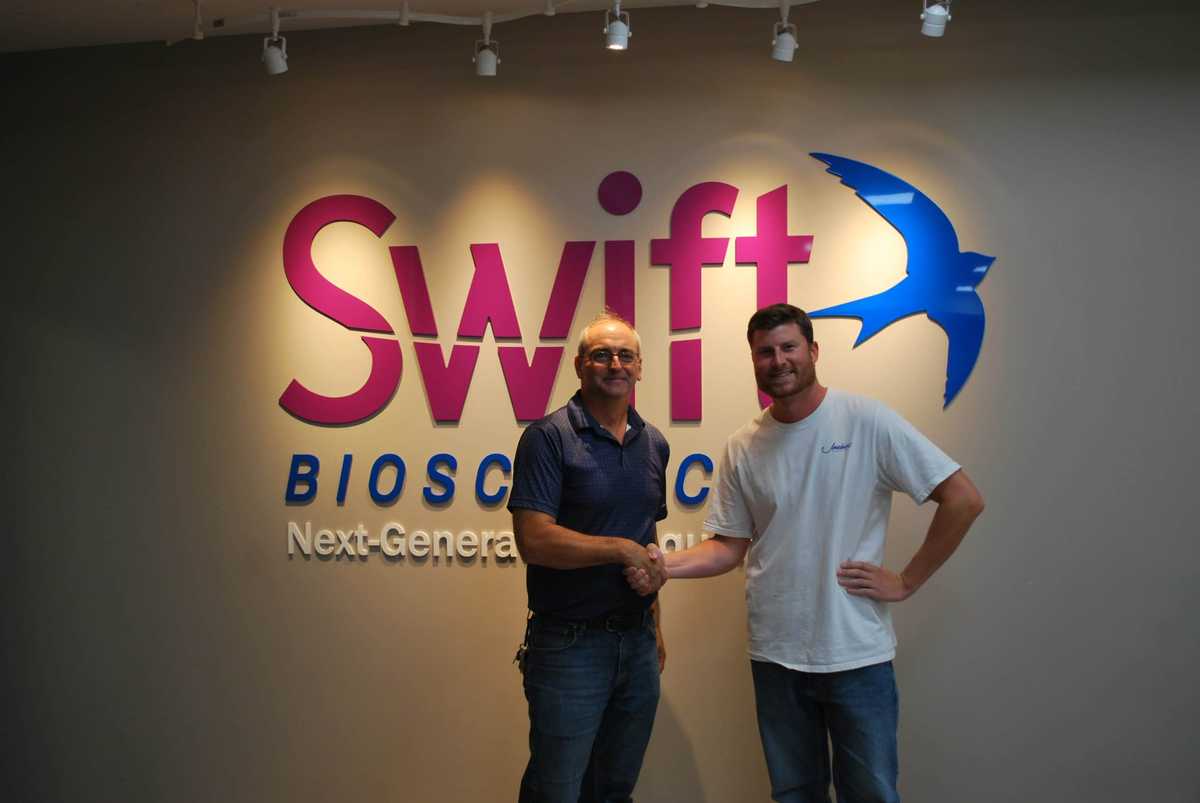 Mi-HQ founder Mark Smith pose with an employee of Swift Biosciences at the Mi-HQ headquarters west of Ann Arbor.
We often hear about the tech startups of Ann Arbor, which have experienced quite a bit of long-anticipated growth since recent successes of a number of local infosec and software development firms, but there's a side to Ann Arbor tech that not many people see: the life sciences. Case in point, fifty companies give or take now reside in the Mi-HQ startup campus west of Ann Arbor, where founder Mark Smith hosts all kinds of life science and tech-enabled startups. A third building is in the process of opening now, keeping Smith busy dealing with HVAC contractors and new companies moving into custom renovated spaces. The original buildings 1 & 2, which sit next to the 2:24 community center and church on Wagner Road, are comprised of a massive 140,000 square feet of specialized lab and office spaces, always expanding and shifting. Smith takes us down the hallways, many blocked off as private labs and office suites for companies doing everything from business development to molecular diagnostics and genetics research.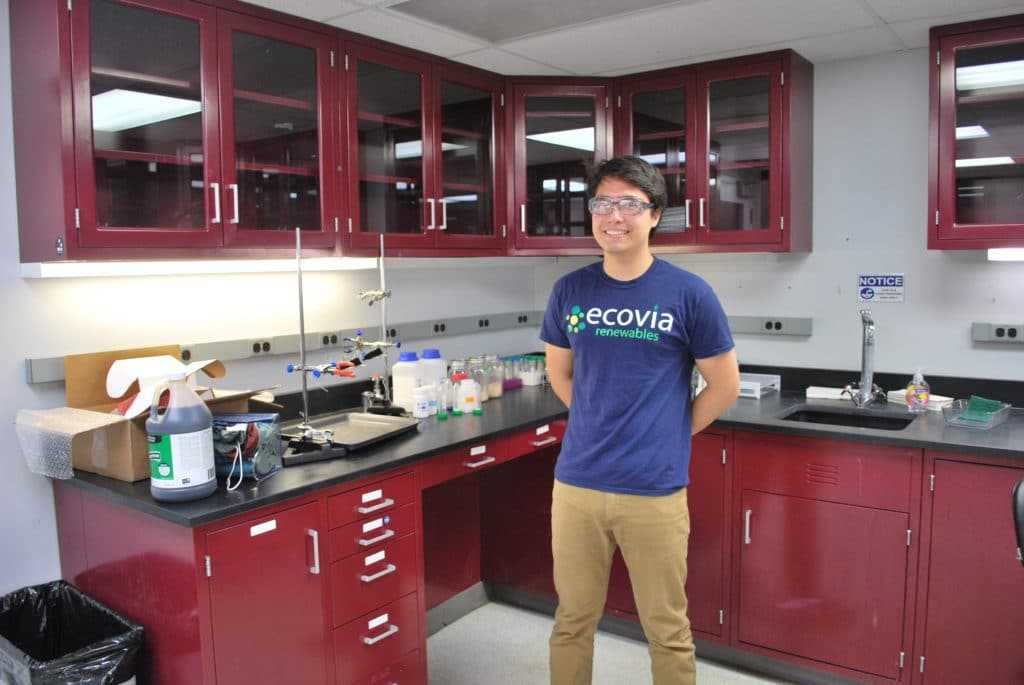 Ecovia Renewables engineer Harry Poppick shows us a typical Mi-HQ lab space used by the startup to develop an alternative to polluting micro-plastics.
"Europe is banning micro-plastics," Smith tells us as we walk by an office suite and lab space, "so resident company Ecovia has developed a super absorbent replacement here." He introduces us to co-founder Jeremy Minty, PhD, whose team is working on computers next to their lab across the hall. "You need a new chair," Smith notices while he's there visiting Minty. "I have replacement armrests for you." Everywhere we go, he checks on the facilities. It looks like a big job to keep up with. While we're in their space, Ecovia Research and Development Engineer Harry Poppick agrees to pose for us in the company's lab, taking a brief break from what the team is working on. It's a quiet space. Everyone is busy.
Another company nearby is developing a trojan horse-style cancer drug that only attacks cancer cells. Still another 3D prints human ligaments and other body parts for medical use behind frosty closed doors. Smith says there is a lot of variety here, but they specialize in providing some regulatory oversight and staff shared through the building that make a startup's dollars stretch to lengthen their funding runway. "Sometimes we see cross-pollination," Smith says. Companies that come here have clean rooms and either shared or dedicated lab space as needed, but they sometimes work together and discover they can solve problems together. "We are focused on life sciences and are tech agnostic. When companies all focus on one industry [and share space] they tend to disappear into their own spaces and request to be locked away" to protect proprietary information, he explains. Because Mi-HQ hosts a variety of companies, they are free to work in their own spaces but have less to worry about sharing a building with other startups.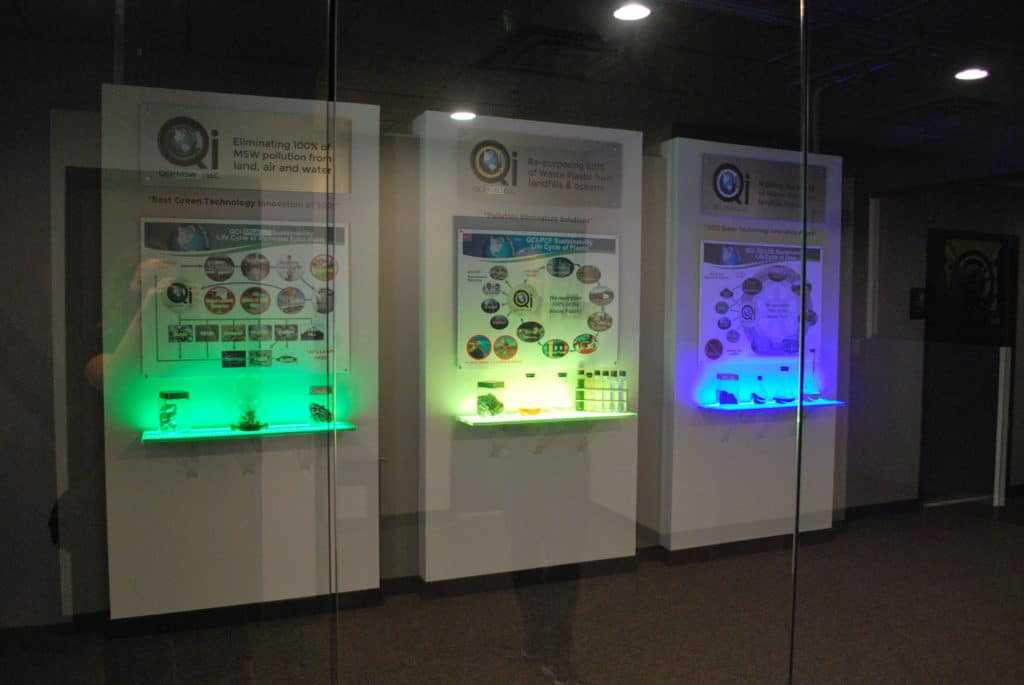 Quad City Innovations' alternative energy display showing processes the company developed to create and recover renewable energy lights up the lobby of Mi-HQ's headquarters.
The campus is huge, and appears to be in constant transition as startups move into new spaces and develop out new rooms and labs. From Akadeum Life Sciences cell separation to Bluewrist robot and vision services, all kinds of companies start here and often grow larger very quickly, as Smith says happened with May Mobility autonomous vehicle shuttles, which quickly expanded from just a few people to dozens and multiple offices across Michigan. "People do outgrow us, but the goal is to keep them here on campus," Smith says of the maze of offices he takes us down on a campus tour. The hallways are white like the Willy Wonka TV room. No frills in back rooms: everything is finished to a particular purpose or standing vacant as storage. Still, the lobby is finished up nicely with a seating area and a glass wall behind which one tenant, Quad City Innovations renewable energy, has fashioned a lighted display illustrating some of their work.
Every corner of the campus is used according to the needs of tenants. Crop Spot Farms is using a shipping container off the loading dock to contain hydroponic local vegetable growing operations and hopes to expand to aquaponics with fish and recycled water in the near future. Forever Labs harvest stem cells, and Wacker Chemical has a silicones branch in the building that takes up a large portion of the first floor of Building 1. What happens when companies need to host events? There are small lunchrooms and meeting rooms peppered around the building, including a space that could fit a hundred people for a sit-down hangout near Swift BioSciences' offices in the back. For larger gatherings or public-facing events, Smith takes us next door to see 2:42 Community Church's event spaces. Children are playing on the astroturf green in the community center next to the cafe, where play structures stretch over two floors. Off the main area, however, are two very large very new auditoriums with full broadcasting equipment included. Smith says 2:42 hosted them for Tech Trek's Tech on the Edge event highlighting the Mi-HQ tenants and other tech-related startups located around the edge of Ann Arbor, and welcomes them, or anyone really, to hold events in their space. "This says it all," Smith says of the words "Welcome Welcome" plastered all over the front doors to the new building just constructed a few years back. "When we first arrived, they were hosting kids' birthday parties," Smith says of 2:42, "and when the Muslim moms stopped to pray and asked if that was okay in the space, they were nothing but welcoming. If people want to go to church here too, they are welcome to, but mostly it's used as a community center in every sense of the word."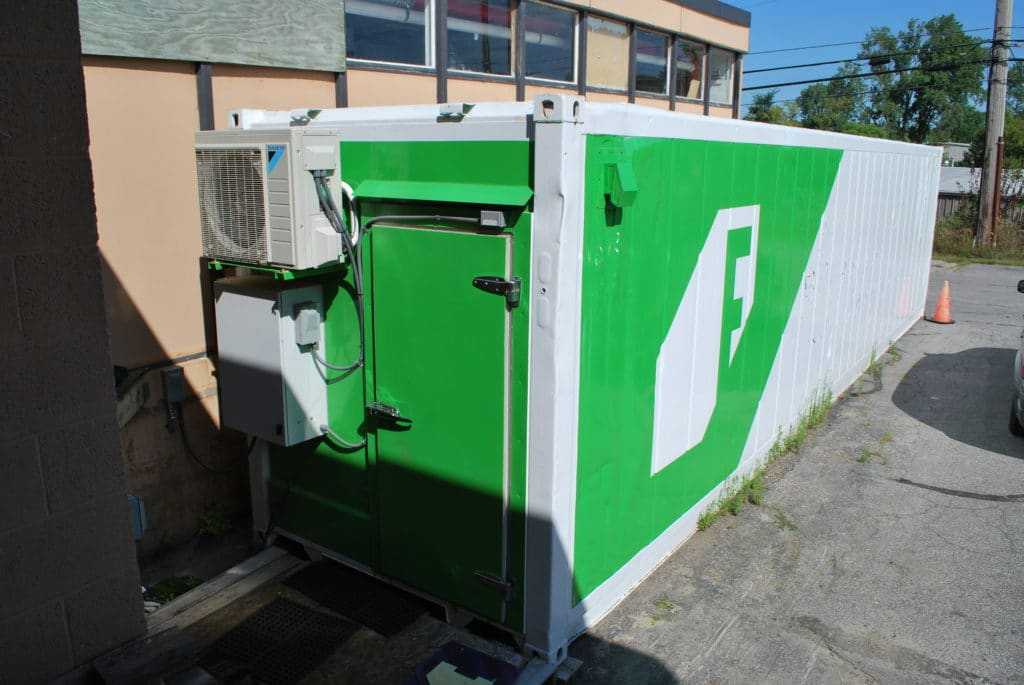 Why not use the loading dock to grow lettuce? That's what Mi-HQ tenant Crop Spot Farms is doing with an enclosed shipping container greenhouse that utilizes controlled conditions and hydroponics to maximize efficiencies for local produce production.
It's not all life sciences at Mi-HQ. Smith says the campus also has a section for nonprofits such as North Star Reach, which runs camps for children with health challenges. The facility is split into sections that meet the needs of different kinds of companies, so the non-life sciences startups have a more traditional hallway of offices in Building 2. Sports company Epic Races is here, and a company creating pet products. Leashes everywhere. It does look like the Wonka factory, in a way. Any company that needs square footage, specialized space, and free abundant parking or easy access to Ann Arbor's west side highways can find a comfortable home here, away from the bustle of downtown and cramped real estate. It's almost as though the gigantic space expands as you walk through it, but maybe that's the third cup of coffee talking. It's been quite the hike.
We asked Mark if the facilities ever had issues with companies sharing lab space or having accidents with controlled materials. He admits there have been a few incidents in the past, "though no more than could normally be epxected," he says, "and we think they were handled well. We're moving more in the direction of all dedicated lab space to avoid that in the future, but people here are pretty understanding." There is a spot on the Mi-HQ website for reporting issues so they can be handled, but a lot of interactions here seem personal and handled through Mark himself as facilities manager. As we chat and walk through Mi-HQ, people come and go, requesting keys and conveying messages.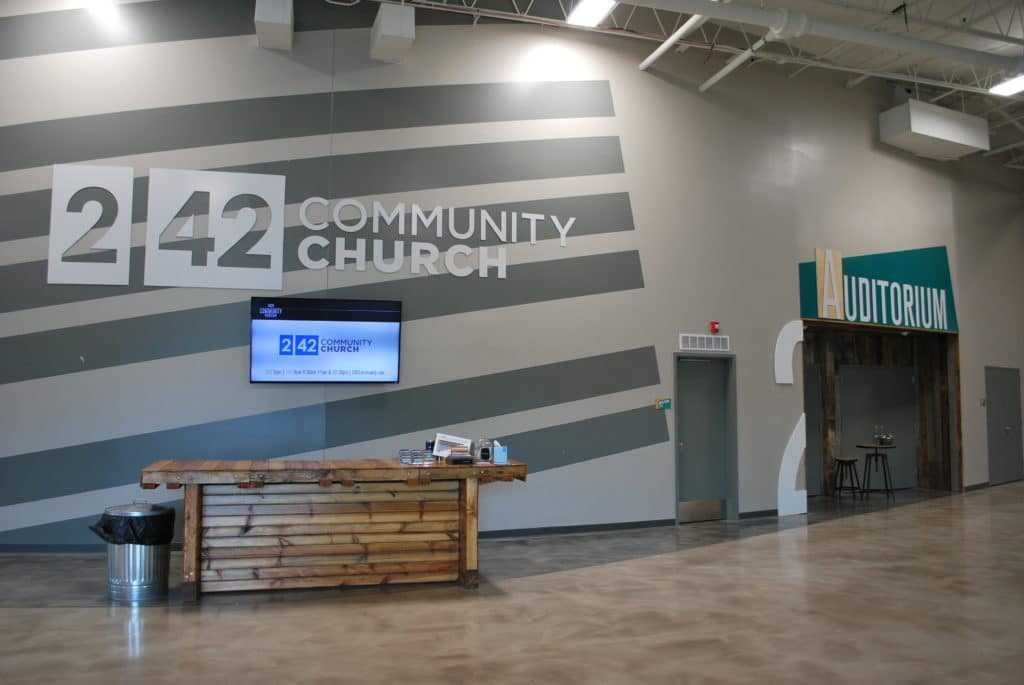 2:42 Community Church's main room has a large open space for Tech Week displays plus two brand-new auditoriums for broadcast events used by Mi-HQ next door.
In the aim of further supporting tenant startups, Smith says Mi-HQ is planning to expand mentorship and centralize regulatory services offered on site. "We have policies to make sure... we have third parties to oversee" best practices on site, Smith says. Other mentors and staff share responsibilities across company lines to support startups with marketing and customer discovery. "We want to reduce companies' burn rate," Smith says, "and get a higher valuation if they're planning an exit." Mi-HQ was born out of necessity almost 20 years ago, according to Smith, and has done almost no advertising so far but has relied heavily on word of mouth. Life science companies needed wet labs, clean rooms, and other specialized facilities, and Smith says he still loves supporting these types of companies staying in Ann Arbor, where many people love the academic and arts-oriented culture but need particular challenges to be met to grow their company and not be forced to move to larger cities. "I still love that living here I can bump into a rocket scientist and a physicist in the hardware store," Smith says. The biggest obstacle to doing more of the same good work to keep life sciences in Ann Arbor growing and supported? Time. "Bandwidth," Smith explains. "There's always more we could do."
We wish we could show you more, but of course many tenants of Mi-HQ have private labs for good reason. We will be interviewing specific tenants at Mi-HQ in the coming months to highlight some of the innovative tech behind these sometimes opaque life science startups and to go more in depth into several areas of research these companies are pursuing. For now, you can learn more about Mi-HQ by visiting the campus website, which lists most of the tenant companies, and by attending the next Tech on the Edge in June 2020 during Ann Arbor's growing a2tech360 tech week. We will also aim to cover Tech on the Edge next time around, to make sure the outer ring of life science startups orbiting around Ann Arbor's software tech culture aren't left out of our coverage next time around. There is so much going on in the Mi-HQ facilities fronted by its simple understated signage that it may take years to unpack it all. Stay tuned.
ann arbor biomedical tech companies, ann arbor life sciences, ann arbor news, life science startups, mark smith, mi hq, michigan life sciences tech
---