Connect With Ann Arbor Business In The New Year Through Engage's New HQ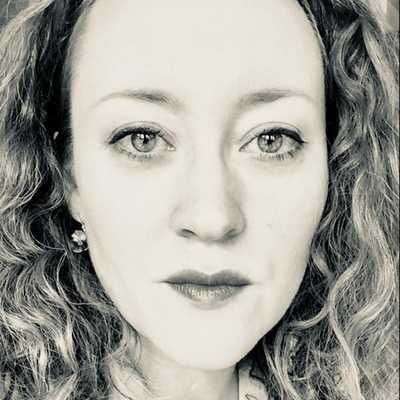 By Laura Cowan
Laura K. Cowan is a tech editor and journalist whose work has focused on promoting sustainability initiatives for automotive, green tech, and conscious living media outlets.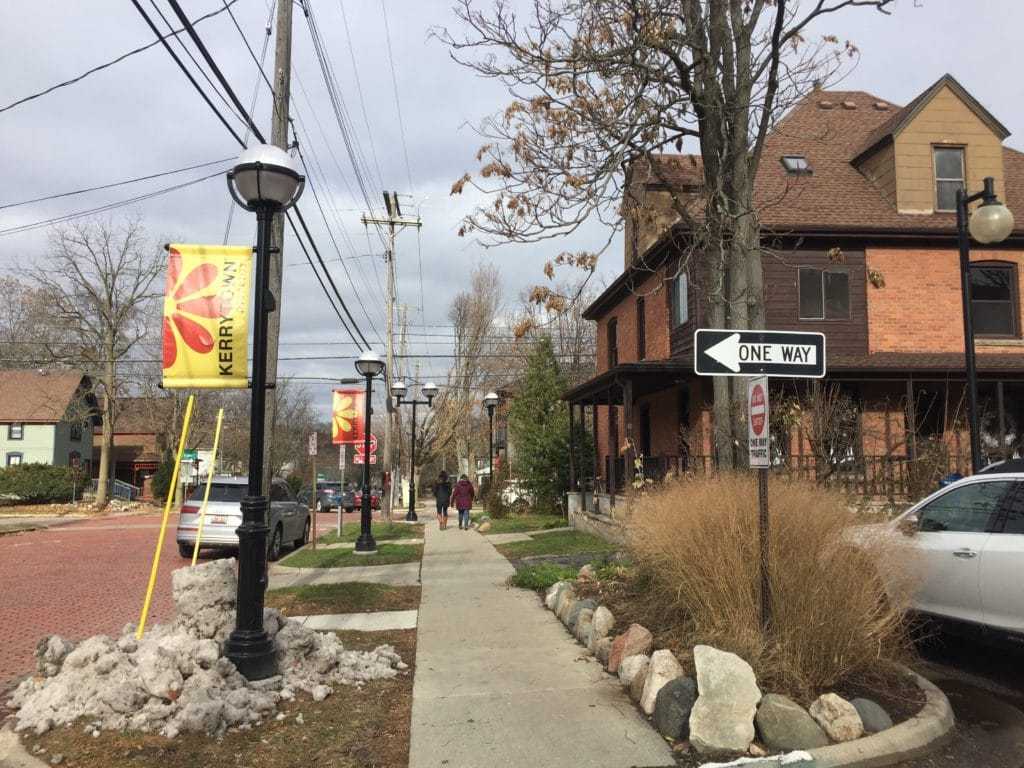 Engage HQ pictured right in Kerrytown backing up to the Kerrytown shops.
One of our first articles on Cronicle connected Ann Arbor tech with a local professional networker named Brooke Boyle, who works in tech and startup culture as well as business in the wider Ann Arbor community to help people make connections they might not otherwise. She's good at what she does, people love her, and now Brooke is back with a new phase of her networking company Engage: a new headquarters that function as event space, co-working offices, and a hub for a growing list of community events.
"People hate networking but keep asking how do I get connected in Ann Arbor?" Brooke says. "For the first 2 years of our [networking] event series the goal was to get people out of their comfort zones to meet new people in new places. That evolved to be a brand known for people meeting those they wouldn't otherwise."
"People hate networking but keep asking how do I get connected in Ann Arbor?" Brooke says.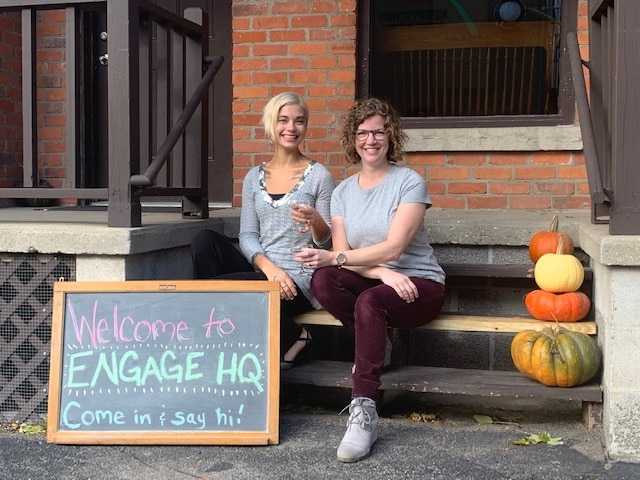 Engage VP of All the Things Tress, left, poses with Engage founder Brooke Boyle, right, on the steps to the new Engage HQ in Ann Arbor.
These professionals are primarily in the creative sectors, and in engineering and software, Brooke says. "Members were paying to be be members at the participation level, which gave access to events and to be notified of partner events but were saying, 'I would really like to spend more time with members.'" Brooke's favorite prompt was to say find 2 people you don't know at events, and they really connected. "People would stay 8:30 am till lunchtime," she says. These events were held at cafes or other professional buildings around Ann Arbor and Ypsilanti. Over time, members asked for more time together, and that meant finding space for them.
Brooke began to look for spaces where she could support members in connecting further. After a few false starts looking for office space, she says tech startup founder Michael Bloom said he knew of a space in Kerrytown.
"It was quirky, imperfect, perfect for us," Brooke says of the old house that used to house a legal team next to the Kerrytown shops, right across from the Kerrytown Concert House on the district's quaint brick streets that border the historic farmer's market. "I like the small rooms because it allows us to set gathering spaces that are more purpose driven," Brooke says as we sit down on a couch and rocking chair in a tiny living room area with a huge picture window looking over the sidewalk that leads up to Zingerman's deli.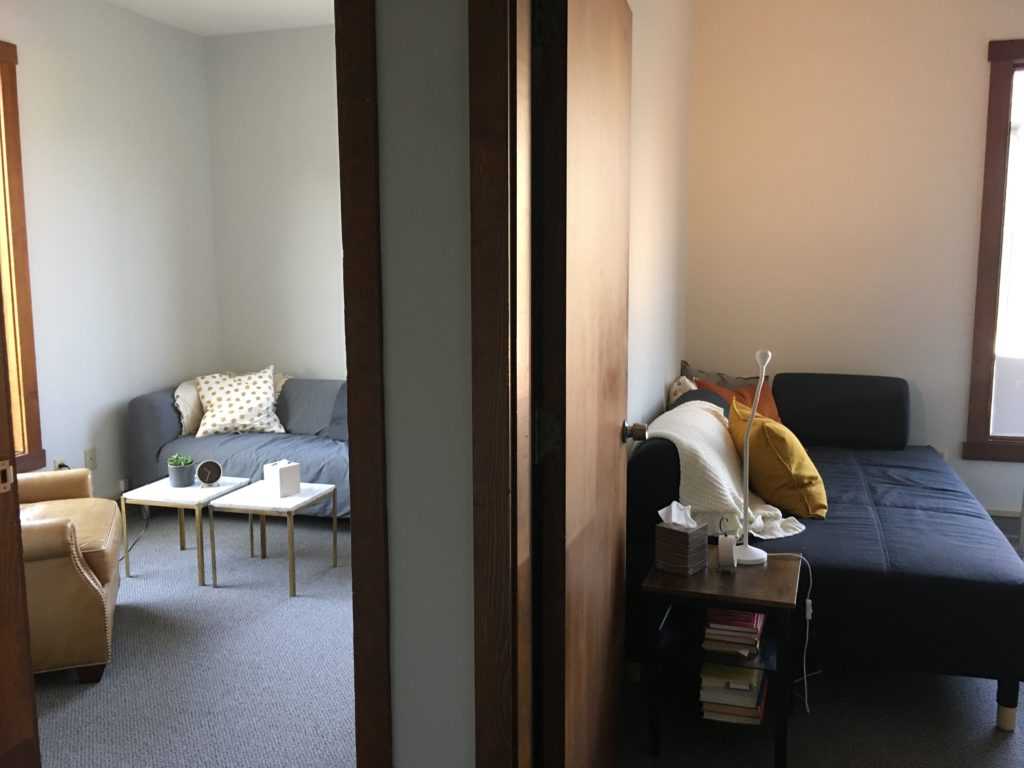 A few of the main-level small living rooms set up for meetings and coffee talk at Engage.
The move to a headquarters prompted a huge change in how Engage is run. Instead of paying for networking events and being introduced to new contacts, the members of Engage now have access to different tiers of the meeting/living and co-working spaces here as a built-in feature of their membership. It's co-working plus networking plus... kind of a family. That closeness has encouraged people to help Brooke make it a home. "It allows people to be part of building what it is," she says of her brand-new offices that are still partially unfinished.
On the main floor, small living areas circle a central staircase behind the reception area, and there is even a children's play room off to the side. Upstairs, open co-working areas combine with closed group and single offices that can be rented for various monthly rates. On the third floor upstairs under a pitched roof, a small meditation room is flanked by more offices of various sizes. The basement has a conference room, and space for potential podcast recording studios. It's a blank slate right now, but plenty of people are excited about pitching in. There is even a quiet zone upstairs that is kept dim for quiet reflection or a peaceful work space.
"Anyone working here is not to be disturbed," Brooke says, and that works both for people busy on a project or who might have sensory issues. "In most co-working spaces, you have to have a dedicated desk to have a quiet room," she says. "This is accessible at $99 per month."
Fifty dollars a month is the base rate at which you can stop in any time and use the main floor living rooms. "It's a place between meetings away from the hustle to have conversations," Brooke says. For $99/mo you can use the main floor plus any common desk areas in the 2nd or 3rd floor plus the quiet zone. And you can use the conference rooms that fit 6-15 people each.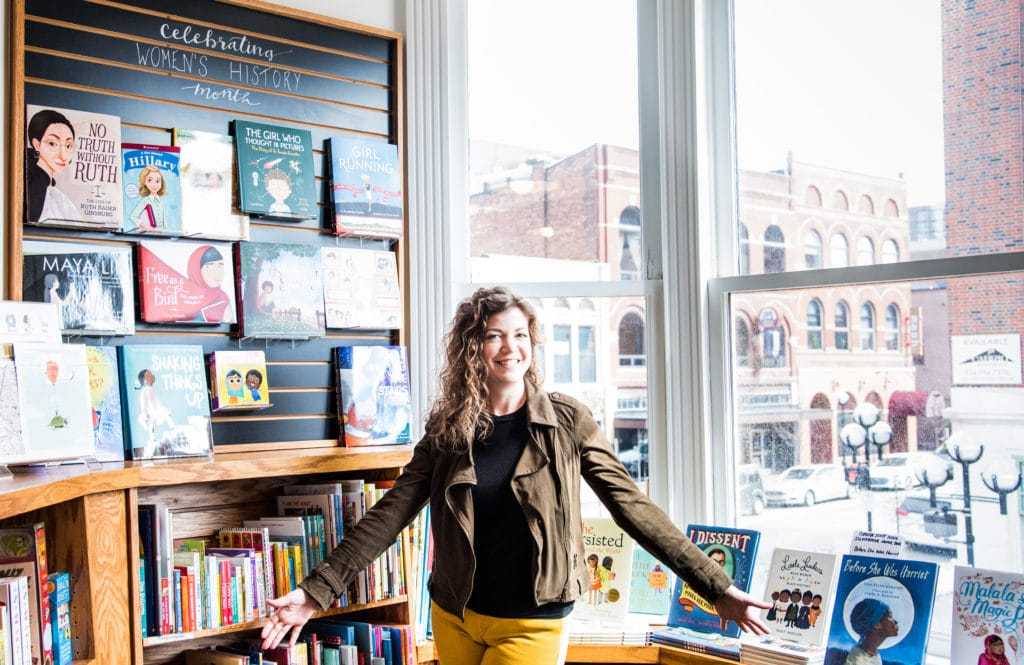 Brooke Boyle poses in a recent photo in Literati Bookstore downtown. Courtesy photo Katie Alexis Photography.
$225/mo, $350/mo, and $700/mo get you a hot desk, dedicated desk, or a private office in the sprawling house. There is no punch pass, people come and go, and Engage is planning access to electric bikes in the spring from Urban Riders/Human-Electric Hybrids. Unfortunately, parking is still limited to hourly paid spaces around Kerrytown as Engage only has two parking spots for staff, but it is quiet, peaceful, and collaborative, and Brooke has built out her events here to include multiple coaching events and get-togethers. Fridays allow access to coaches, financial advisors, even life coaches and healers who work with hypnosis--whoever is volunteering their time for an event that is booked ahead of time.
Speaking of which, coaches can be members or not, and are a great way for professionals to offer their services to others and get their name out there. Wine tasting outings next door and other networking events round out the offerings that are turning this popular networking group into its own physical locale. Brooke says she started all of this for a reason: to address the loneliness epidemic. That seems to be working. As we talk, people come and go and greet each other with enthusiasm. It's a delicate balance bringing people together like this, but one Brooke seems to have a gift for.
If you'd like to check out some of the events at Engage HQ, you can visit the website for more information. We hope you meet someone, or plenty of someones, who are as warm and professional as Brooke and her early crew. We hate old-fashioned networking, too, but this is different. It feels like home. That's the whole point.
ann arbor events, ann arbor networking, brooke boyle, engage hq, kerrytown
---