3D Print COVID-19 PPE Face Shields with a Design from Columbus Advanced Manufacturing Systems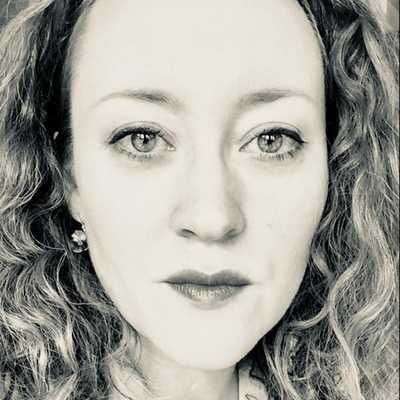 By Laura Cowan
Laura K. Cowan is a tech editor and journalist whose work has focused on promoting sustainability initiatives for automotive, green tech, and conscious living media outlets.
Call For Additional Manufacturing of Critical PPE Equipment
"A lot of people want to help manufacture PPE protective gear but don't know how to get started," says Jeff Trevorrow, CEO of Columbus Advanced Manufacturing Systems in Ohio. CAMS is partnering with its customer, fitness equipment manufacturer Rogue Fitness, in rapid production of Personal Protective Equipment that is reusable for front-line responders in the fight against the COVID-19 pandemic. "Rogue Fitness's CEO saw this need coming several weeks ago and ordered 5 extra 3D printers," Trevorrow tells us, "which is about $360,000 of equipment plus hard tooling to make molds, and they're giving [the gear] away for free. They organized this, and we jumped in."
The Rogue Fitness design team, working with a local hospital in Ohio, created an approved face shield prototype in just a few days and are now producing face shields 24/7 with the additional boost of the extra 3D printers that were delivered next day to the company's facilities. "Now we are recruiting others to join the effort. The need for more PPE to assist healthcare workers, first responders, is critical," says Trevorrow. "Now we need more companies to join the 3D printing effort."

"People are stepping up all over the country," Trevorrow says. "The trucker who delivered the additional printers drove all night when he heard that the printers were going to be used in immediate production of face shields."
According to CAMS, "although additive manufacturing cannot compare in speed to mass-production of injection molded parts, it enables production to start during the weeks it takes to set up a traditional production line. With that in mind, the teams are developing tooling for injection molding of these parts where up to 4,000 per day can be produced. But while that is underway, additive manufacturing is filling the gap."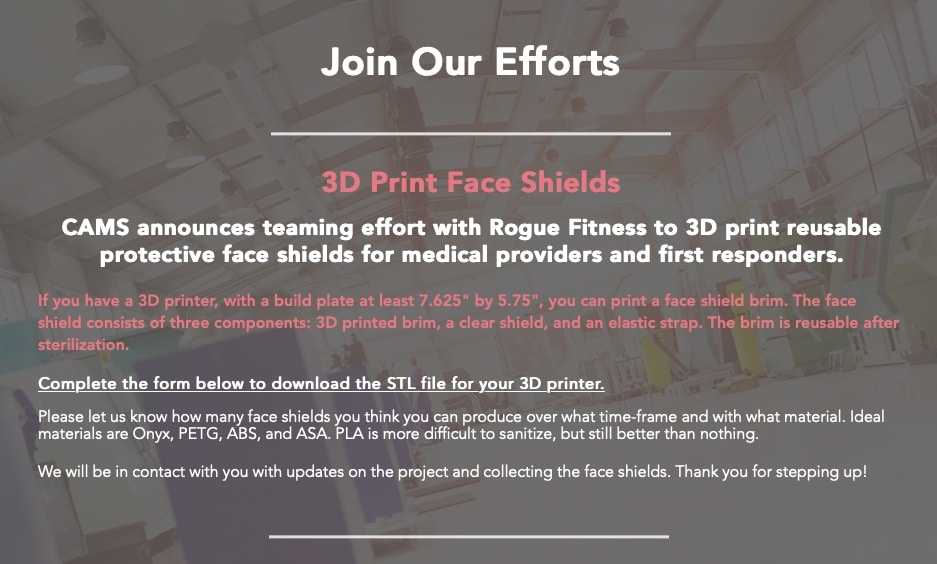 Free 3D Printer Design For Face Shields
"If you have a 3D printer, with a build plate at least 5-3/4" (5.75") x 7-5/8" (7.625"), you can print a face shield brim," Trevorrow says. "Please consider joining the effort and visit the web page below for further information, CAD data and more."
The face shield design consists of three components: 3D printed brim, clear shield and an elastic strap. The brim is reusable after sterilization. The clear shield and strap are replaced after each use.
Visit the 3D Printer Face Shield Design STL File page for details.
"At CAMS, we are 'all in' for the Rogue Fitness vision," Trevorrow says. "If you have a 3D printer, please step up and join the cause." The company may expand to producing other protective and hospital gear in future, so we will be adding this link to our COVID-19 business resources pages to allow for live updating on the project. Thank you to the people of Michigan, Ohio, and the greater Midwest who have so quickly pivoted their manufacturing capabilities, from home 3D printers to large auto manufacturing plants, to respond to the urgent call for PPE production for healthcare workers in this unprecedented time.
3d printing face shield, columbus advanced manufacturing, face shield design, michigan covid 19 gear, ohio covid19 protective gear, ppe, produce ppe for hospitals michign, produce ppe for hospitals ohio
---