ProQuest Offers COVID-19 & SARS/MERS Virus Research Free To Libraries & Academic Research Customers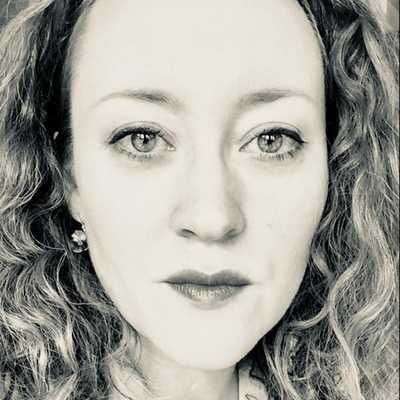 By Laura Cowan
Laura K. Cowan is a tech editor and journalist whose work has focused on promoting sustainability initiatives for automotive, green tech, and conscious living media outlets.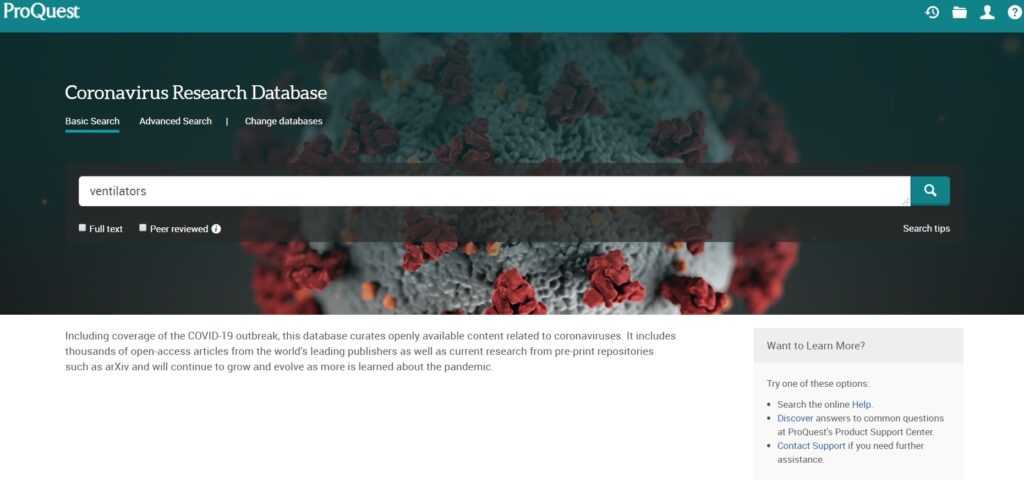 ProQuest Creates New COVID-19 & SARS/MERS Virus Research Database Free To Library Customers
Ann Arbor-based academic research database company ProQuest has just announced it is aggregating a database of coronavirus and related virus research available through its library customers and to academic research users for free to assist in research and data analysis of the quickly developing COVID-19 outbreak. "The Coronavirus Research Database saves time and improves outcomes for researchers by aggregating authoritative content from ProQuest with content made available at no cost by members of the International Association of STM Publishers.... Journals, preprints, conference proceedings and dissertations provide comprehensive coverage of COVID-19 and other past coronavirus outbreaks, such as MERS and SARS, for context around the current global pandemic. Full-text content in the database is available either directly from ProQuest or via links to publisher sites."
Jeff Wilensky, VP of Marketing at ProQuest, and ProQuest Marketing Manager Alison Roth, say that the company is working very quickly to aggregate COVID-19 research content for academic researchers by making the new coronavirus research database available for free and at an unprecedented pace.
Wilensky tells Cronicle: "For all the libraries all over the world that have ProQuest products on the ProQuest platform, we turned on this coronavirus platform at no cost and no effort to librarians, which is important right now because everybody is trying to make radical transformations in incredibly abbreviated time frames. We wanted to use the power of an aggregator to pull in resources and have [information] available from current researchers and then also pull historical research on SARS and MERS."
What does this mean for the general public? ProQuest already offers 6 centuries of content from academic research and dissertations to video content and other learning resources available through most major library systems, including many university and public library systems. Whether you're a researcher or a member of a local public library, chances are you can access this new database through your local library systems, particularly libraries connected with higher education where ProQuest is a staple of the university library scene.

"Whether it's the latest medical research on how the virus is transmitted, preprints exploring new therapies to combat the virus, or editorials exploring lessons learned from prior outbreaks, faculty and students need quick and easy access to information to help them navigate this new world," said Chris Burghardt, Vice President of Product Management at ProQuest. "The Coronavirus Research Database was created as a tool to help our users to find the information they need to quickly explore the many facets of this disease."
The database is automatically enabled at no cost for all ProQuest platform customers, and can be accessed here. Content will continue to evolve as new research and information emerges.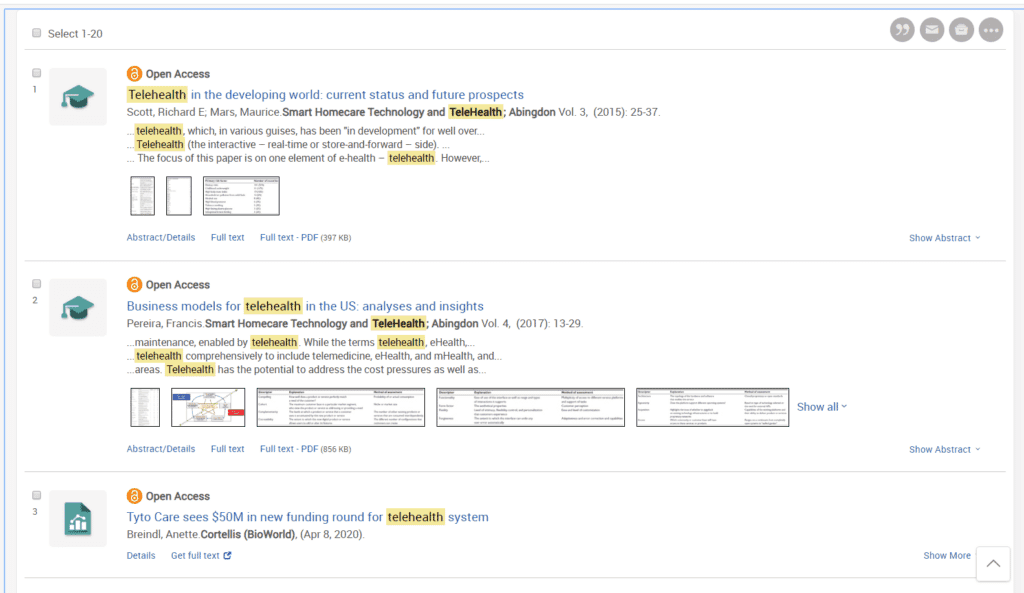 A results page from the COVID-19 research database available to academic researchers investigating data available on COVID-19 and related viruses such as SARS and MERS.
ProQuest's Push To Shift More Library Content Online
According to Roth and Wilensky, ProQuest has been working around the clock on other programs as well, to assist libraries in the rush to make more content for education available online in this unprecedented acceleration of need for remote education.
Roth explains: "One thing we've noticed over the past month is that this really shows the value of the library. They've always been crucial to learning, education, and research, but now more than ever people are turning to libraries to get access to learning tools. They've become an integral tool to keeping the world going. Most of our customers are libraries, but they're the ones who get this content to students and patrons." 
"We've been trying to partner with the community," Wilensky adds. "ProQuest has been in the Ann Arbor community for 80 years, and we've always partnered with libraries to help people conduct their research. Now we've been trying to act quickly and nimbly," to respond to coronavirus pushing library content online. "In addition to the coronavirus research database, we took people's ebook holdings and helped expand user limits they had on those--from 1700+ publishers and over 1,000,000 titles--and lifted restrictions on access there."
"Yesterday we announced a program for Research Companion," Wilensky cites as an example of additional programming helping libraries, "which is an information literacy product. You can imagine during this time when you're not sitting next to a librarian or teacher asking how to find information, choose a topic, or choose which sources are authoritative, [how it could help to make] the content available publicly to help replace in-person assistance. We've partnered with folks for genealogy resources physically available in the library we've expanded access to be available remotely, which is important when people can't get to libraries physically. We partner with libraries to quickly analyze holdings they have in print and see where there are electronic equivalents and provide access." 
Wilensky and Roth say that they saw multiple requests in a few markets for music databases. They learned that many libraries had their performance students coming in to use musical scores on paper. "It was one of these great moments where it wasn't something we would have anticipated the need," Wilensky says. "As we noticed trends in the data we've also taken things like musical scores as well as print books and archival journals and video to make sure we can partner up and work with customers to address points of need."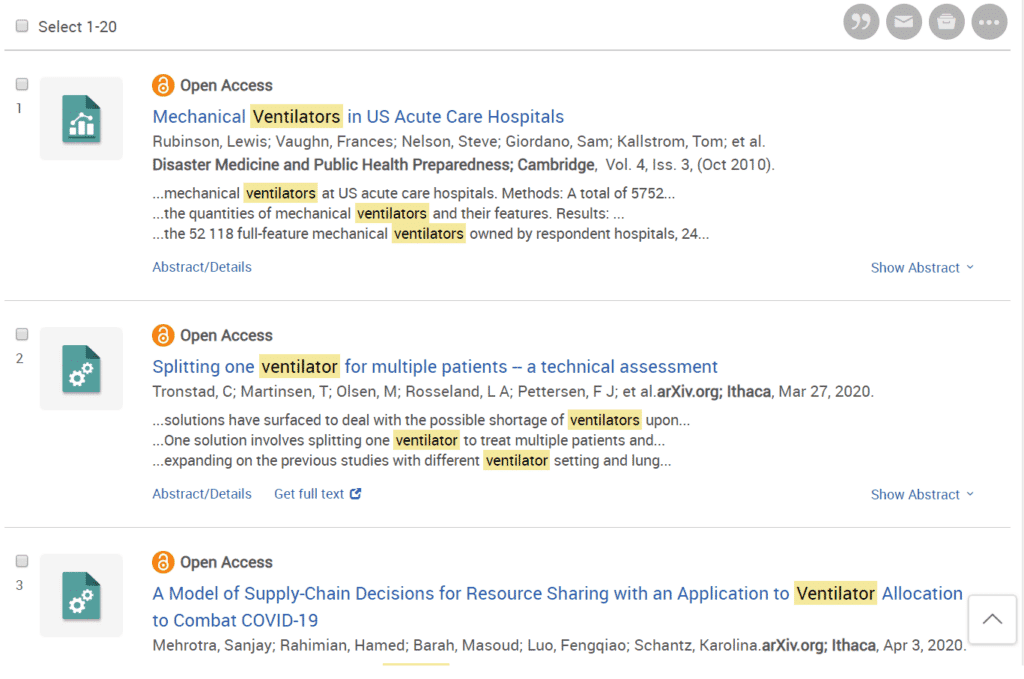 Trends in Online Education Migration
We ask Wilensky and Roth about trends they're seeing in the sudden push to make content available online for remote education, especially through library-accessible databases like ProQuest. "There's been a systemic move toward more electronic resources," Wilensky says. "Our customers had to leave work on a Friday [because of the coronavirus outbreak] and on on Monday start teaching at home. What that means is to teach a course online is something people are pushing through this semester. We're hearing customers saying we want to make sure that minimally our freshman core courses are ready to go for summer courses or in the fall depending on how we come back."
Roth reminds us that ProQuest was founded in WWII, "which is another time of great turmoil in history. Our founder was a man named Eugene Power. He... started microfilm technology. We're carrying on his legacy," she says, to make learning resources more accessible, even in times of crisis. 
"We're highlighting the value of the library in the community," Wilensky agrees, where now more than ever people rely on local libraries and university libraries to reach remote learning materials.
"We're trying to use the latest technology to help deliver key information to libraries and users all over the world," Wilensky explains. "where we are today is trying to help with this transformation we're under so that content tools and services are available to libraries and users so they can get it to people to get their job done.... Having this kind of archive and wealth of content that we can help share in a digital format is great to be able to help millions of people."

Online ProQuest Remote Education & Research Resources
ProQuest is based in Ann Arbor, but has employees in 32 countries and customers in 150 countries.
ann arbor news, covid 19 new research studies, covid 19 research data, free coronavirus research data, medical research news, online publishers covid 19 research studies, proquest, tech news
---