Flint Uses AI Mapping To Finish Lead Pipe Replacements by Year's End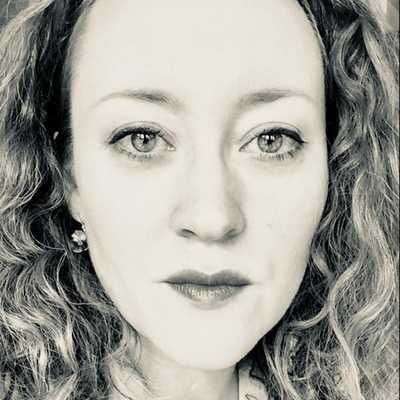 By Laura Cowan
Laura K. Cowan is a tech editor and journalist whose work has focused on promoting sustainability initiatives for automotive, green tech, and conscious living media outlets.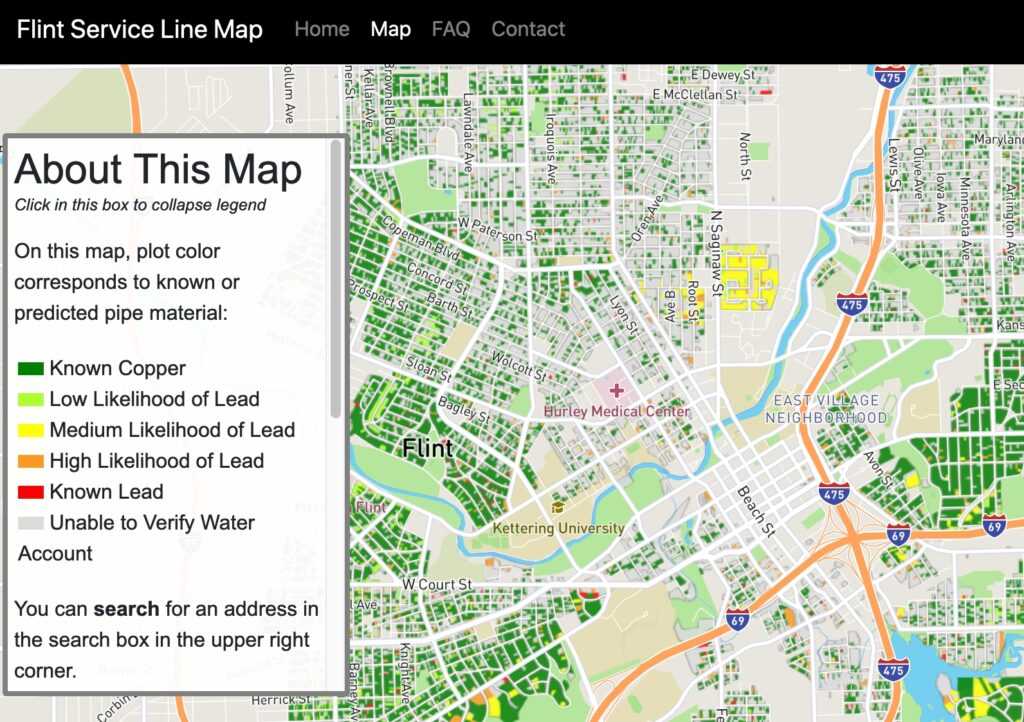 How do you replace all the lead pipes in Flint when you don't know how many there are? It's a problem now faced by multiple municipalities realizing they have incomplete plumbing records and water contamination around the U.S. The City of Flint, Michigan, has been sending data to a company called BlueConduit to speed up an incredibly complex overhaul of lead service lines leading to houses across the city. BlueConduit programs what data they have into an AI-powered system designed to predict where lead pipes are likely to be found. This speeds up the process of locating most lead pipes in the least amount of time. For a while, the city returned to the more ordered but slow process of digging up every house's lines one at a time, but it was proved so inefficient and ineffective at targeting the areas with the most lead pipes that the city was ordered to go back to using the AI system to speed up the process for public safety.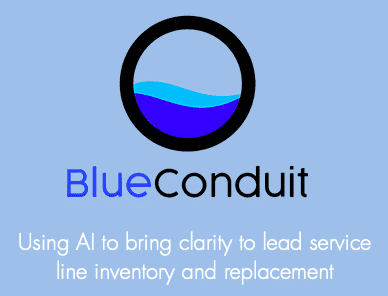 Here's how it works: BlueConduit just released a map of where lead pipes have been replaced, where they are likely to be located, and where there is uncertainty, paired with public health advice on what homeowners can do to reduce lead exposure if they are concerned about waiting for their lines to be investigated. BlueConduit Managing Director Ian Robinson says this critical pairing of actionable advice combined with available information empowers homeowners to do more than worry about why their neighbor's pipes were dug up but theirs weren't, or how likely their home is to have a problem and what they can do. Many neighborhoods have newer copper pipes and don't have as much reason to be concerned, so the goal is to give as much information as possible to the public along with advice to avoid causing panic.
BlueConduit Chief Data Scientist Jared Webb says that Flint has made a lot of progress in completing the lead pipe replacements, and that returning to the AI system has a much higher accuracy rate--around 80%, where the non-predictive method was only hitting around 15% lead pipes because it wasn't targeting older areas of the city or spots that AI can predict are more likely to have a problem. But how do you know you've finished the job if you're not checking every house? "Eventually we want every home off the list," Webb explains, "but the order matters. We're not saying there is not lead anywhere, but we can say this is the order to check pipes in order to minimize the number of days" until the problem is resolved.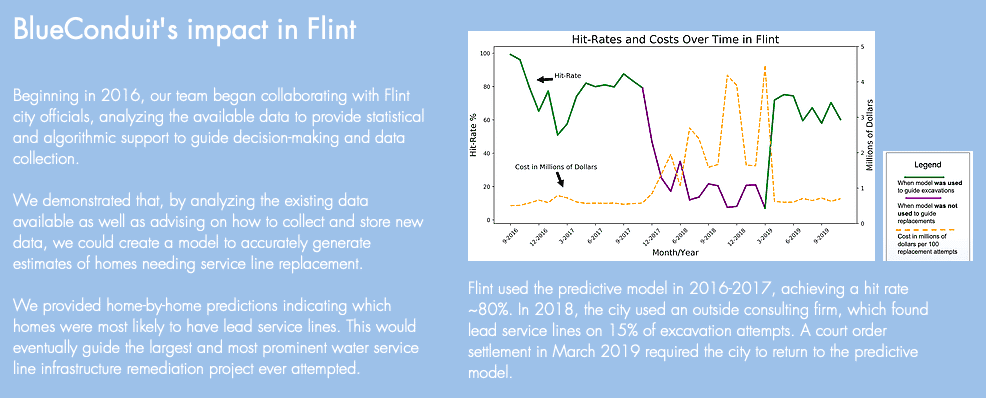 It seems to be working. "The city of Flint is trying to complete the goal of finishing replacements this year," Robinson says. The company says that about 9,000-10,000 replacements have been completed over the last few years since BlueConduit first accurately predicted 50% lead pipes on Flint's residential structures in 2016 (previous estimates ranged around 15-20%), and there might be about 1,000 remaining. Robinson explains that there are also uninhabited parcels in Flint that might have lead service lines, and it's important to focus on inhabited houses first for the safety of residents, while not forgetting to clean up the remaining pipes.
BlueConduit's AI uses the age of houses, parcel information, publicly available data on what kinds of pipes are leading to people's houses in Flint, and even information such as what kind of fire hydrant is outside, which can be associated with lead pipes. The AI is able to take incomplete or inaccurate city records on pipe materials along with this other information, and decide where the biggest problems are likely to be found. The project is focused mostly on residential housing because pipes leading to larger municipal buildings such as schools used other materials in the past. It's the smaller applications of water pipes that snake around tree roots to residential buildings that utilized the soft flexible pipes made of lead before it was known to be a public health hazard.
"We are working with other cities now beyond Flint," Robinson says, "and taking those lessons to other geographies. There have been some process lessons learned--understanding if AI is the method to the question they're asking." Webb says that if he could give advice to other startups wanting to use AI for similar applications, he would say it's critical to know what you're predicting. "It's surprisingly difficult to know what you're predicting," he says, and both Robinson and Webb agree that people shouldn't rush in to using AI without a thorough analysis of what problems the technology can address and making sure you have good data to feed into the system.
"You have to work closely with clients, understanding what they're capable of doing, and fit AI to that," Webb explains. "That requires really good communication."
BlueConduit's work in other cities still focuses on water quality and replacing lead pipes. The startup has learned a lot from their work in Flint, and hopes to bring some relief to other regions working to solve complex and urgent water quality issues. The specific data is always unique to the city--the fire hydrant issue is unique to Flint in predicting lead pipes, for example--but the process is the same. Webb says, "Every city has its own history and development story. It would be great to train a model in Flint for another city, but this is more of an artisinal process."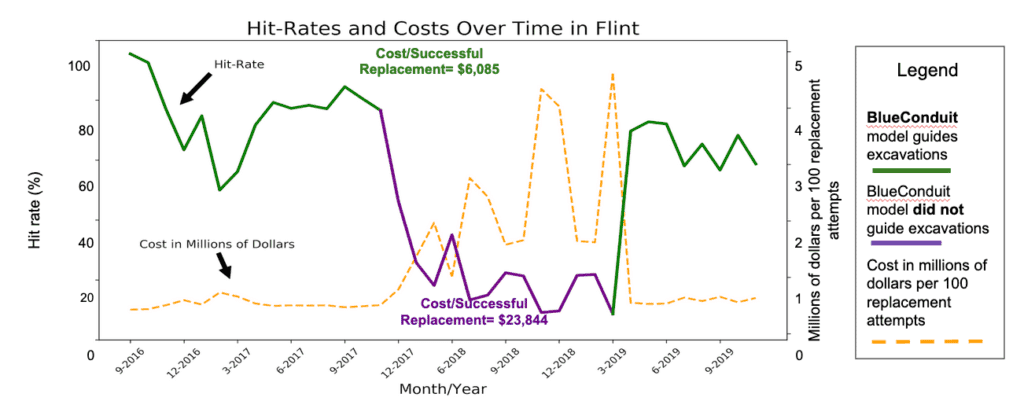 And that's why AI is so key to the work. Robinson gives us an example of a problem AI can root out over time: "In Flint there are historical records that say what the pipe material was, but oftentimes records across a particular time frame that say copper might be wrong." AI can pick up on issues like this and spot a potential problem. Lessons like this and the process of working with a city are what BlueConduit is taking forward with their work for other cities, after they help Flint hopefully finish the job by the end of 2020. "Choosing how to communicate to empower people does translate," Webb says. "Flint's transparency can be an example of leadership for other cities."
Nevertheless it has been a bumpy road. The map just released to the public aims to help cut down on anxiety and uncertainty for many homeowners left in the dark for too long as the city navigated the lead pipe replacement process. "A lot of cities do have some public-facing map," Robinson says. "One important thing is to have appropriate public health language, such as information on how to reduce lead exposure, instead of just unknowns."
You can find more information about the City of Flint lead service line replacement program here, or learn about the NRDC, whose help was instrumental in BlueConduit putting together their public health map. The interactive Flint lead service line replacement map is here.
ai water quality, blueconduit, flint water crisis
---