Rivian R1T Tech Review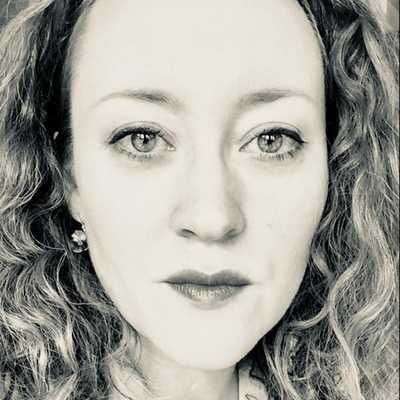 By Laura Cowan
Laura K. Cowan is a tech editor and journalist whose work has focused on promoting sustainability initiatives for automotive, green tech, and conscious living media outlets.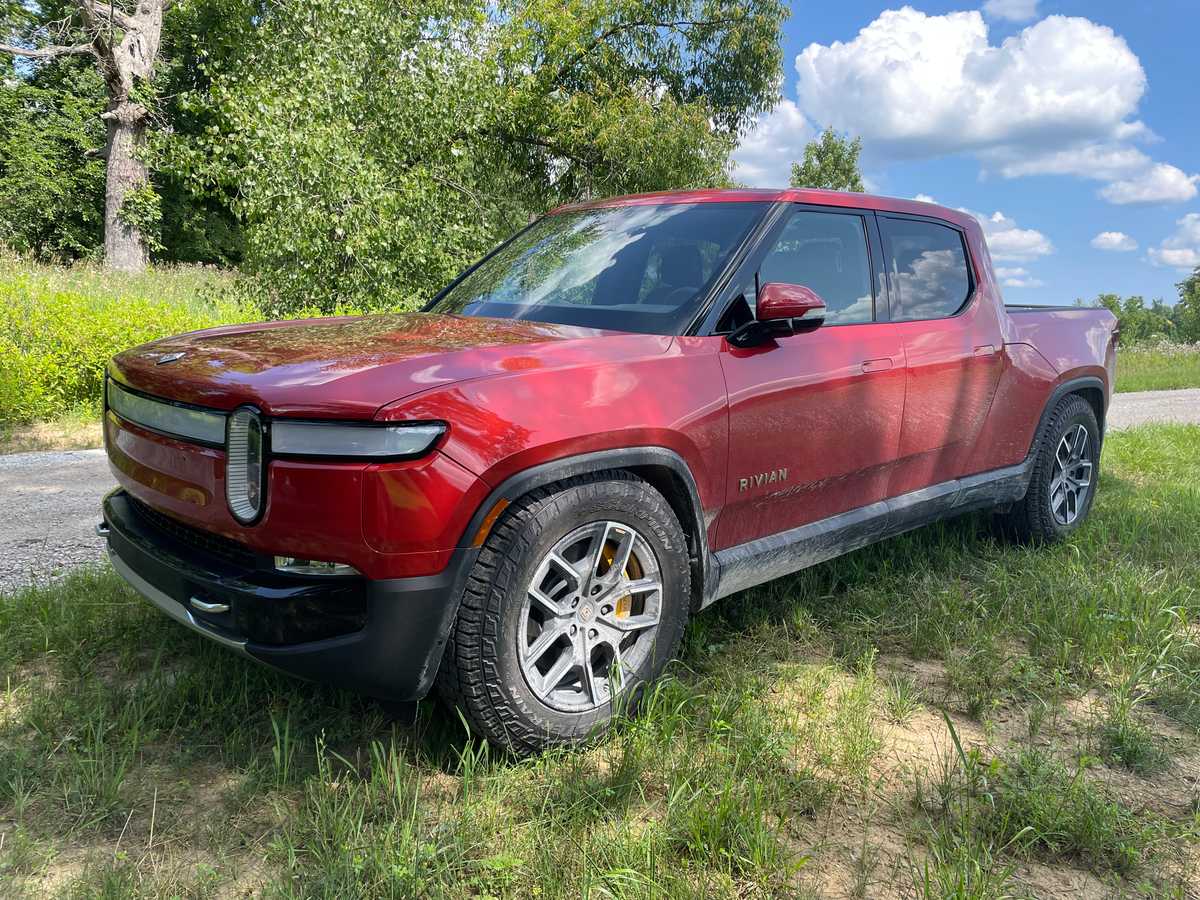 Rivian R1T Tech Review
There cannot be an EV more tricked out with tech than the R1T. Feel free to disagree with us in the comments and let us know if there is another vehicle that beats this in some way, but check this out: we recently had the opportunity to test drive a Rivian R1T, and here are all the tech goodies awaiting you if you decide to plunk down $63,000-95,000 for one of these EV beauties.
Proprietary Software
Rivian uses mostly proprietary software in their EVs, which means a custom infotainment system integrated with a mapping system that is unique to this brand. The map allows you to route EV charging stations according to how far you're going and how many miles you want left in your range by next charge. All you have to do is point on the map to your destination, and the software plans out where you need to charge at available charging stations. The mapping software is slightly laggy sometimes but a big improvement on most mapping and infotainment systems of a few years back from pretty much any brand.
Data Collection for Fleet Vehicles
If you're the data collection kind of dude, you might be interested to know that Rivian is collecting data on vehicle performance and user behavior for the purposes of improving their vehicles. We wouldn't worry too much about privacy, though, as most of this is targeted at the Rivian fleet vehicles that will serve as Amazon and other delivery vehicles.
What would be fun is if you could get a Rivian R1T and collect your own user data! Gamify your mileage range or hack the electronics to track sensor data for your own purposes and turn your Rivian into your latest hobby computer.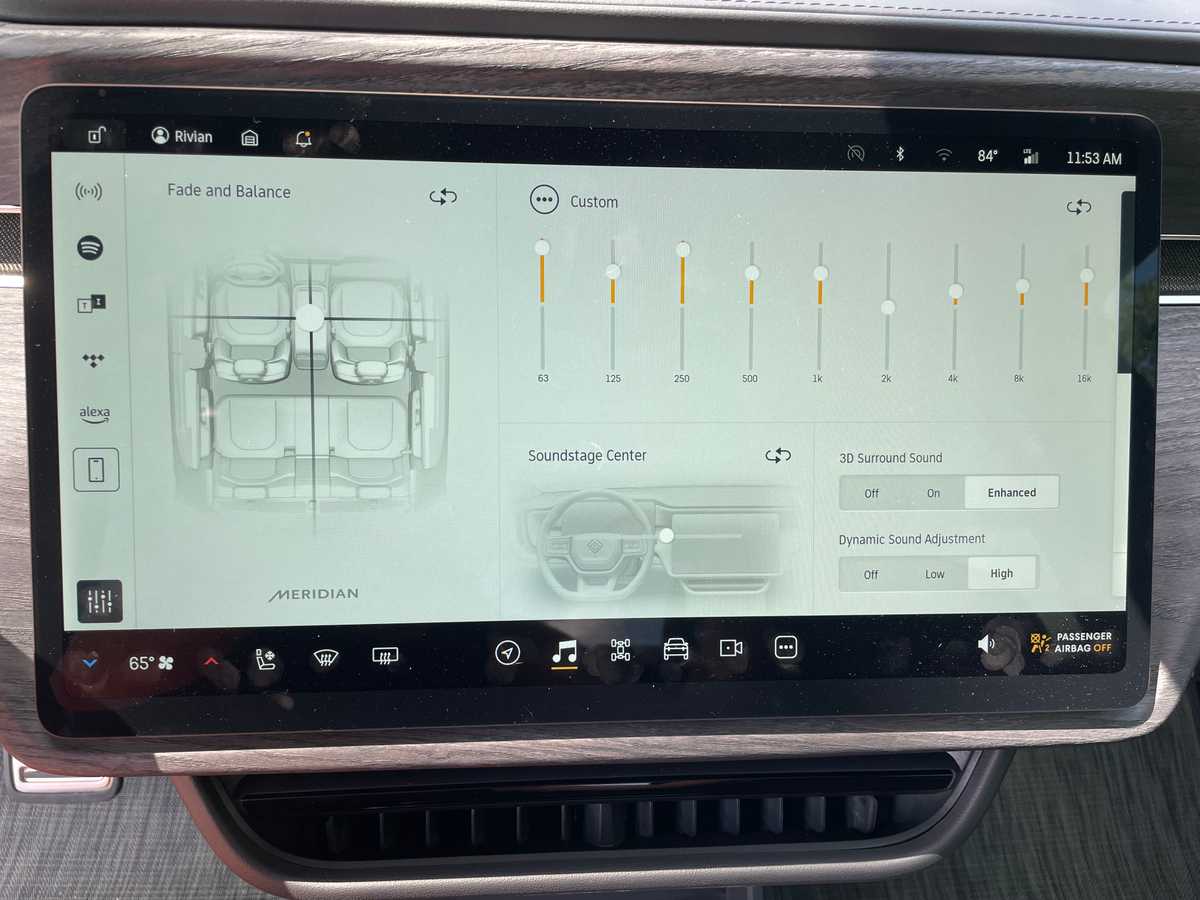 Screen Functionality
The only part of the infotainment system we didn't love was the unmarked slider touch screen buttons to adjust audio preferences. Don't know about you, but we like to have the bass marked so we can turn up the beats.
Otherwise, the numerous touch screens within the Rivian R1T are awesome. The driver screen behind the steering wheel tracks mileage range, battery power, and displays steering assist in the self-driving mode. The center screen manages pretty much every other function from adjusting air vent direction electronically to changing driving mode to off-road or snow. The Rivian R1T can kneel when you park so it's easy ingress egress, and you can choose ride stiffness, ride height, and driving mode from the central screen while in motion.
Finally, the rear seat has its own display screen for limited A/C and speaker functions. Below that center console is the coolest tech in the vehicle, in our opinion....
Bluetooth Removable Speaker
You are just going to love the removeable portable Bluetooth wireless speaker that is nestled under the front center console. Simply pull it out of its charging dock and it's ready to go to your picnic. It's water resistant and fun to haul around by its handy handle, but it's, uh, part of your car, so don't be too hard on this thing at the beach.
Self-Driving Mode
Rivian's self-driving mode is limited functionality for now, but you might just like it that way. This limited autonomous driving tech maintains following distance with the car in front of you and helps you stay in your lane with steering assist. It only operates at highway speeds and will not do anything stupid all of a sudden like drive you through the front window of a Starbucks. Pretty nice stuff, though the engineers told us to expect more robust functionality in the future.
Electronic Everything
Okay so some of this we love, some takes getting used to, but if you love over-engineered touch screens this one is going to keep you entertained. The car is turned on by holding a key card over the driver side door (?) or by pressing the brake pedal. The car does everything else itself except for shifting gears. It even shuts itself down automatically when you park and get out.
The A/C vents can be opened, closed, or aimed different directions via the touch screen on the dash, where there are numerous other gadgets to fiddle with. ...If you can find that function under fan intuitively while you are driving. Took us a while and this is not our first test drive by a mile. What we liked a lot more were all the electronic buttons to operate the frunk (front trunk: plenty of storage up there when you don't have an engine!), the tailgate, and so much more. Everywhere you look, this EV has an electronic button that is unmarked but super useful (the charging port, the truck bed, the frunk, the on-off button...).
Camping Gear and First Aid Options
The most unique feature about the Rivian R1T is that it has a gear tunnel between the cab and the truck bed that opens on both sides with flop-down doors that serve as step stools or seats. Both sides can come with standard or optional add-on first-aid kits and other goodies, and get this: you can order a $5-6k add-on camping gear kit that slides out of the gear tunnel to give you a fully functional camp kitchen with stove, prep sink and counter. Love love. This is the most practical element of the whole vehicle, as extra as it is, because this could save a lot of people from needing to buy entire campers, and it comes in handy as emergency survival backup tech. Want to use your embedded air compressor or electric outlet in the truck bed while camping or leave your pets in the car without them getting too hot? The R1T has a camping mode and a pet comfort mode that allows you to keep the vehicle at the right temperature without wasting a lot of battery power. You see what we mean by deliciously over-engineered. It's all thought out.
Wireless Charging
Everywhere you look in the R1T there is an added feature that is the height of practicality and luxury at the same time. The front center console surface wirelessly charges your iPhone. The vehicle turns itself on and off. There are hardly any button labels, but you're just going to love exploring all the little bits that charge your devices and plug in your laptop in the back seat and even keep a flashlight charged for you that is stored inside the driver side door cavity.
Want to see a full test drive review of the Rivian R1T? Check out our full writeup on Inhabitat.com coming soon.
tech news, test drive, Rivian, mobility tech
---