Tech Talk 2019: Thought Leaders Speak on the State of Technology in Ann Arbor and Beyond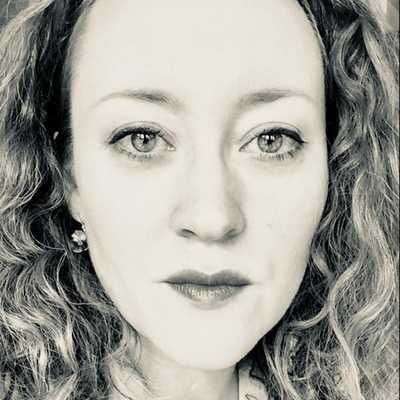 By Laura Cowan
Laura K. Cowan is a tech editor and journalist whose work has focused on promoting sustainability initiatives for automotive, green tech, and conscious living media outlets.
"Ann Arbor is the best educated city in the U.S.," Wacker Chemical president and CEO David Wilhoit told us before the start of Tech Talk, capping off Ann Arbor's 2019 tech week before the Tech Trek this afternoon that started it all. Companies like Wacker, which according to Wilhoit and one of his divisional managers is the only company in the U.S. 3D printing silicone, locate near Ann Arbor Detroit because of the continued growth of the tech industry here, paired with the history of industrial manufacturing. Bastien Beauchamp of Important, whose offices are based in Berkeley and in Canada among other locations, said he also was excited to be opening an office in Ann Arbor in the next few weeks, which brought him to Tech Talk. "This is the place to be for autonomous," he said. "It's exciting. We were impressed with the tech culture and expertise in Ann Arbor. You don't need to tell people anything. They know what they're doing already."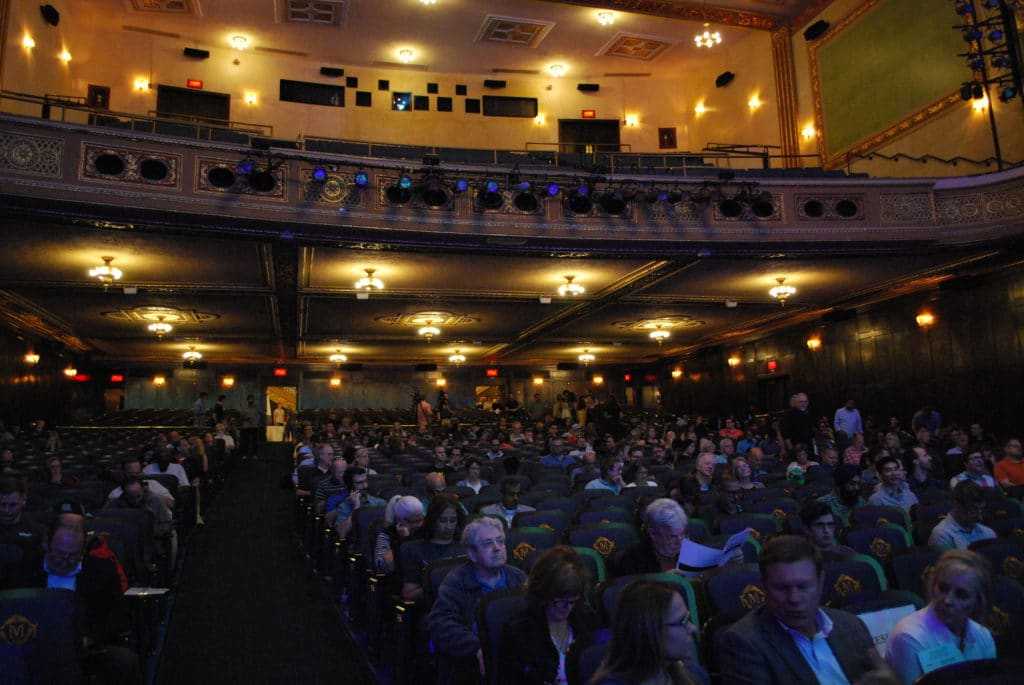 Tech Talk opened with advice from Every Two Minutes CEO and CTO Erin Rose and Matthew Attou offering up some of the bad advice they had overcome in starting a tech company locally, and why it didn't work. "They told us find a dev shop, learn to code, or bring on a tech co-founder without explaining how or why," Rose said. Attou said that one of the misconceptions they run into a lot from founders is that they know what users want already, and that they just need someone to build a minimum viable product. "It can't be that hard. It's just like Instagram," he joked. "But if you look at the back end of sites like Instagram, they're really a technical marvel." Rose and Attou gave some advice for those in Ann Arbor and elsewhere who would like to connect with technical people to help them build a business. Visit hackathons, they said, programming language meetups, pitch events, startup weekends, and of course there's LinkedIn.
John Mclaughlin, the Senior Director and Site Leader of KLA, continued the theme of highly complex technology becoming the norm, and needing to be high-precision. "Silicon chips power your laptop, your cellphone, tablet, and countless other products," he said. With 600 chips per silicon wafer and 42.8 trillion transistors per wafer, and the technology used for essential technologies such as cars and medical devices, it is essential to inspect them for critical defects to an almost infinitesimal degree. "Wafers are inspected to find critical defects... as small as 3 nanometers," he said. "That's the same thing as saying that if defects were pennies, the wafer being inspected is the size of the lower peninsula of Michigan." Scanning processes can now cover 28 trillion pixels in 1 hour. "The first time you played a computer game, we were there," Mclaughlin said, showing an image of an early personal computer. "The first time you were connected, we were there." A giant first-gen cell phone.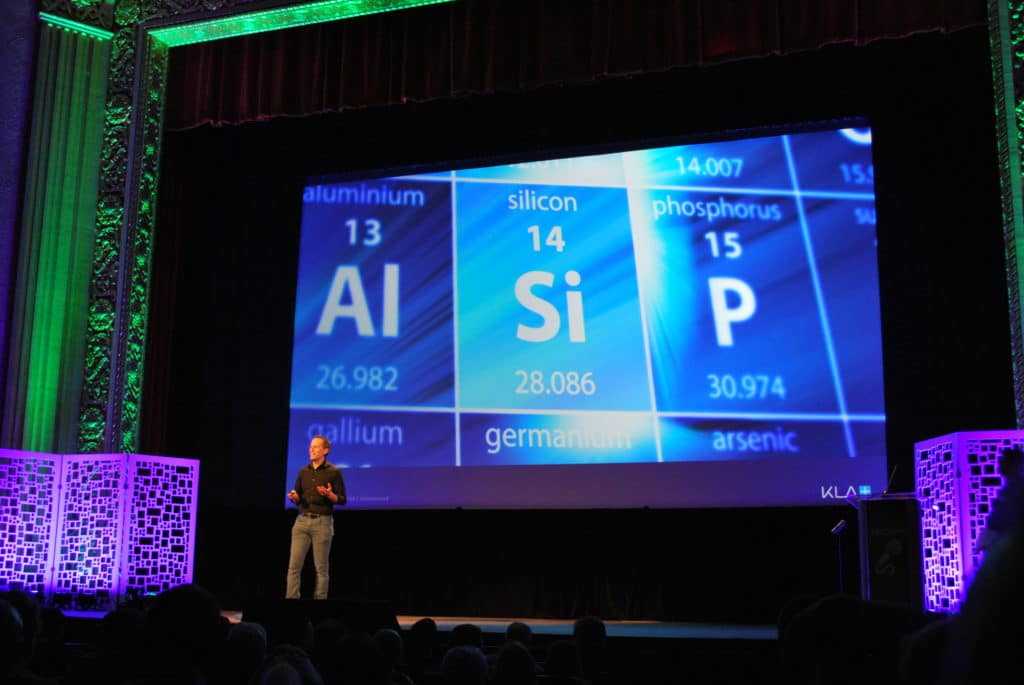 This theme, of the complexity of tech and the challenges it can present, flowed through various talks of the morning, including one on DDoS cyber attacks by Talbot Hack of Netscout. "That was scary," ITHAKA CEO Kevin Guthrie said as he took the stage just after Hack's talk on the pervasiveness and sophistication of modern cybersecurity threats impacting devices plugged into the internet for the first time within minutes to be enslaved as part of bot DDoS attacks on servers on the other side of the world.
Guthrie's talk focused on the challenges facing education, as the company's primary site JSTOR is a popular research tool for academics looking for primary sources such as academic journals for research. He sat down with us after for lunch and gave us so much to think about regarding the future of ITHAKA and the online research space that we will be dedicating separate articles to the interview. Despite dismal graduation rates of 60% of average 6-year bachelors students across the U.S. and a much lower rate of 32% graduation from 3-year community college programs with many more young people not in college at all, Guthrie said there are "many reasons to be hopeful. Companies are accelerating access to education online." He gave as example a Masters in Computer Science from Georgia Tech, which is the direct equivalent of the on-campus degree but is now being offered for only $7,000 to remote students because the cost can be spread across the 6,000 students who enrolled as the program scaled. Plus, students said they liked the automated tutor Jo Watson, who they said "answers the questions instantly and she doesn't judge."
What's next for ITHAKA, which is now used by 11,000 institutions and 3,000 secondary education programs and is accessible in some areas of the world such as parts of Africa for free? Guthrie told us behind the scenes that ITHAKA has two goals: create an integrated "One Platform" that increases students' access to more primary source material and make it more discoverable, and to create the ability for users to upload content, curate collections, and have bi-directional flow to the content and conversation on JSTOR around academic source materials. That second part is a massive challenge for the company as ITHAKA navigates a multitude of challenges including curation, discoverability, and more. Guthrie said he's also concerned with how to get JSTOR into places where users don't normally have access, such as prisons where people aren't allowed to have internet access. We asked him how tech could give back to the community, or navigate next challenges in the industry. He said as a company ITHAKA is trying to address this by creating "JSTOR in a box" or some similar resource for people without connectivity. "Tech companies could look at ways of getting resources to people who need them," he said.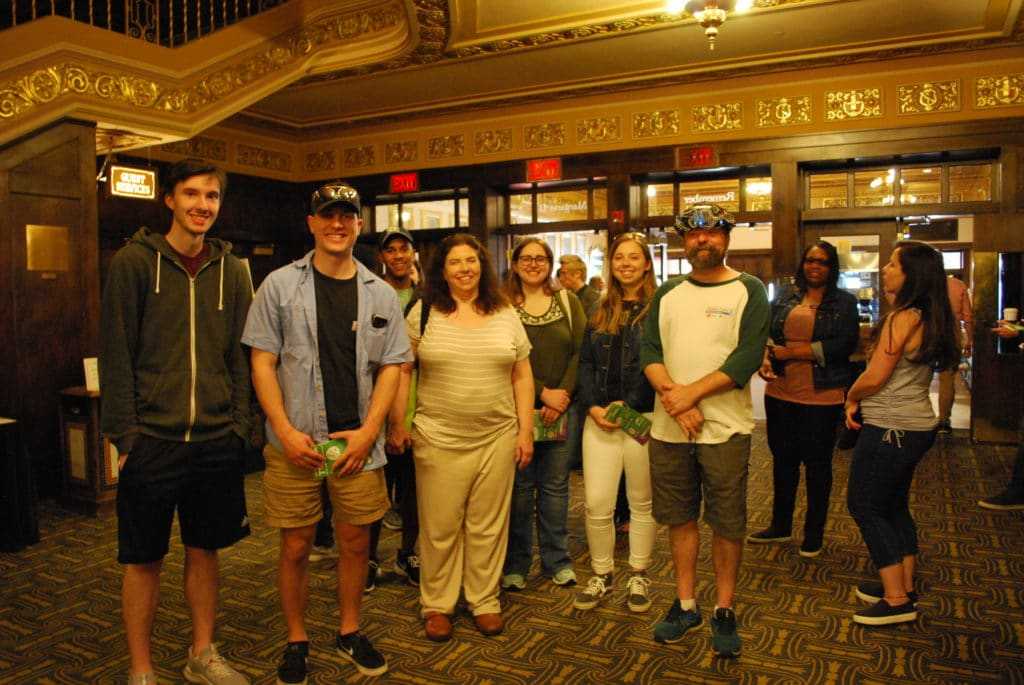 Attendees including Comerica IT interns and maker George Albercook in the lobby.
Other Tech Talk presentations included encouragement that entrepreneurship can be a lot, lot more challenging than told in heroic success stories, as told by CEO and founder of Jottful Dawn Verbrigghe. That hockey stick of runaway success? Looks not only more like a loopy line of yarn, she said, but like individual dots that represent one challenge after another along the way. "Don't fake it till you make it," Danny Ellis of Skyspecs agreed. His talk focused on how companies can under-promise and over-deliver through basing plans on data, constantly measuring and adjusting those plans, using the 80/20 rule to focus on what's important, and most of all not to copy competitors' marketing, which might not be what it looks like on the surface. "Be patient," he said. The company that provides drone inspections for wind turbine farms has had great success in unexpected ways, thanks to these guiding principles.
There were over a dozen talks at Tech Talk, and we wish you could have made it in person, but we will leave you with the advice of Nexient senior software engineer Joram Clervius, who described his "crazy-@ss journey into tech" from growing up in Haiti with untreated asthma that kept him from participating in activities. After he moved with family to Florida and got an inhaler for his asthma, he said the world opened up to him. "I started getting into music, student government, track, science clubs. That's how I found out what I was interested in," he said. Through a music scholarship that turned into interest in biology that led him to drop out of school because of the difficulty of studying after losing his music scholarship, Clervius discovered tech and bodybuilding. He learned coding on his own, he says, and through the Lambda School coding bootcamp, he landed a job at Nexient. "Even if you don't feel you could get into this," he said, "if you want to, you can do this. By the way, we're hiring."
a2tech360, ann arbor tech, tech talk, tech trek
---