Hack:A2 Hackathon Winners Build a Better City of Ann Arbor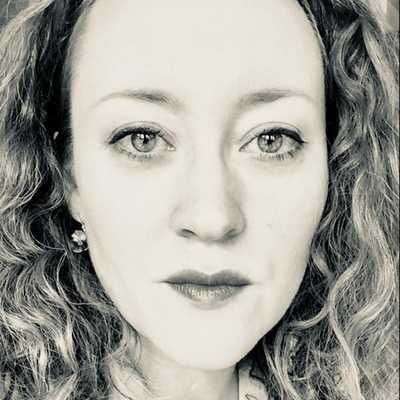 By Laura Cowan
Laura K. Cowan is a tech editor and journalist whose work has focused on promoting sustainability initiatives for automotive, green tech, and conscious living media outlets.
The judging criteria for the inaugural a2tech360 Ann Arbor tech week hackathon Hack:A2 was this:
Innovation and/or Ambition (slightly weighted over other categories)
User Interface or Experience
Overall Quality
Product Viability
Technical Achievement
We couldn't wait to see what the teams came up with. All went in looking pretty enthusiastic, assuring us that we could take photos before and after and they wouldn't look like a frazzled Bill the Cat cartoon. We left them to their work late Saturday and returned Sunday afternoon to hear from the teams, who stopped work from their all-afternoon, overnight, all-day sprint at 3 pm for judging. The top 3 presented their hacks at 6 pm, when the winners were announced.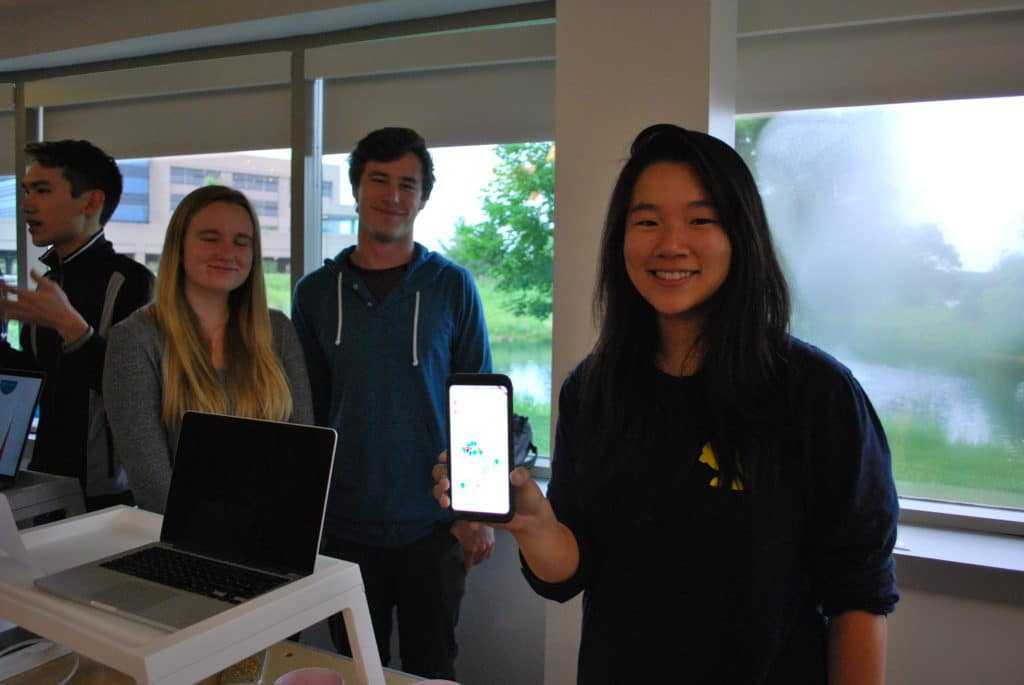 Team 3, Amanda front, who created an app that locates available parking in Ann Arbor in real-time.
Amanda from Team 3 said they created an app called Park A2, which helps users find available parking in Ann Arbor. The app uses Google map markers to color code structures, parking lots, and Park and Rides with how many spaces are currently available.
Team 26 led by Kavya and Vlad created a consumer app that can take a photo of an object and automatically classify whether it can be recycled or composted. It works by connecting automated AI and machine learning services from Google and others. Take a photo of a plastic cup, the app tells you whether that kind of plastic can go in the recycling bin.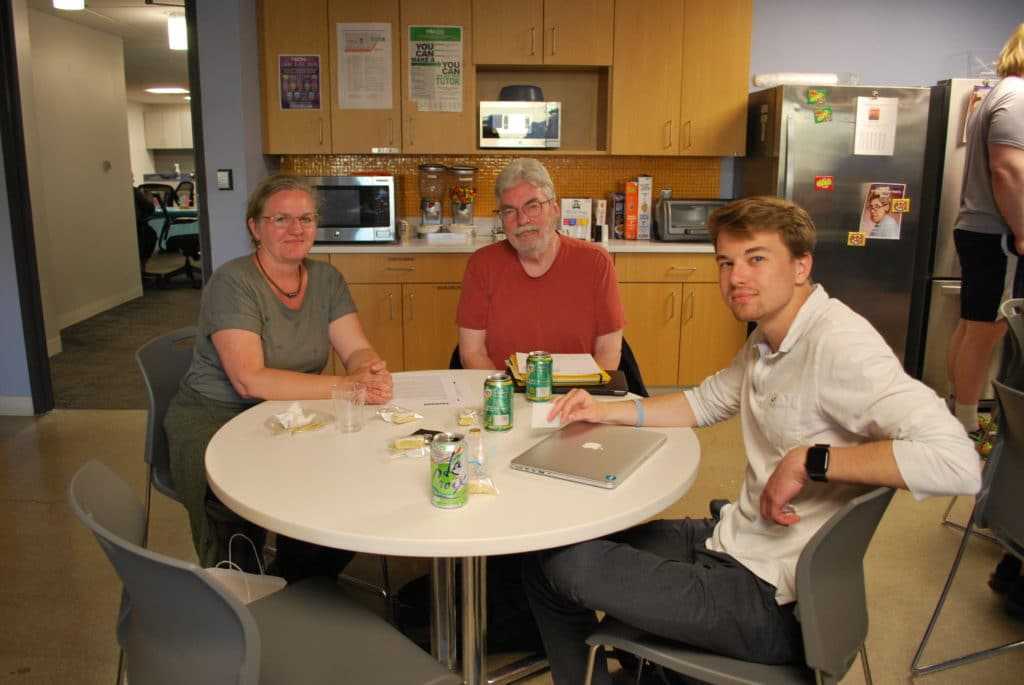 Night before the hackathon, teams were assembling and getting to know one another. The next day they checked in at Netscout and started coding at 1 pm to go overnight and through the next day.
Bradley of Team 2 said their project Birthday Deals helps Ann Arborites create tours where they can find the Ann Arbor Fairy Doors, schedule an art walk, or find birthday deals around town. "We're a good kind of tired," Bradley laughed. "I've done mentoring at University of Michigan M Hacks for the last 3 years. This was more product focused. It was fun to make something interactive."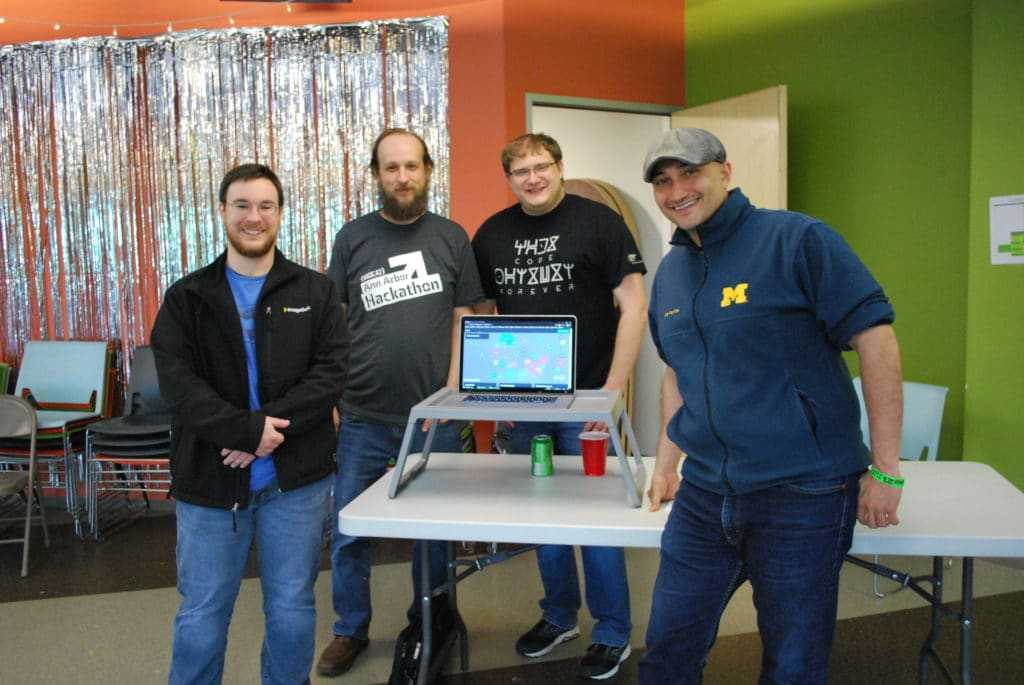 Team 29 Robert, Brian, Tyler, and David, who created a new way for us Ann Arborite to complain more effectively to the city about municipal problems.
David of Team 29 said they made an app called Whino, "which is all about whining and complaining!" The interface allows users to notify the City of Ann Arbor if they have an issue around town such as a pothole needing fixing or a problem with the grass. It's not pre-defined. "It's anything people want to complain about," team member Tyler said. Team member Robert explained: "the app breaks down posts so users can enter whatever they want, and then the app relates various complaints so if the mayor wants to see a trend, he can click on that bubble and then break it down into more detailed issues."
The once again abundant food was provided by Ahmo's and Sylvios.
The winner? Waste Classifier, the recycling sorting app. 2nd place went the Park A2 for its great UI and usefulness, and 3rd to Team 11 Culinary Coin, a team that told us they put together a block chain solution to connect underprivileged kids with restaurant meals to inspire the next generation of food entrepreneurs where otherwise they might not be able to afford to set foot in the restaurants of Ann Arbor. "We loved seeing how they addressed the divide of US 23," judge Phil of Ann Arbor SPARK said. Other judges included Duo's Brian Kelly, Jeremy Fry of Nexient, Barracuda VP Alan and others. Silas Bush of Nexient presided over the awards ceremony and gave an honorable mention to Road Radar, which can be used on a cell phone to determine road quality.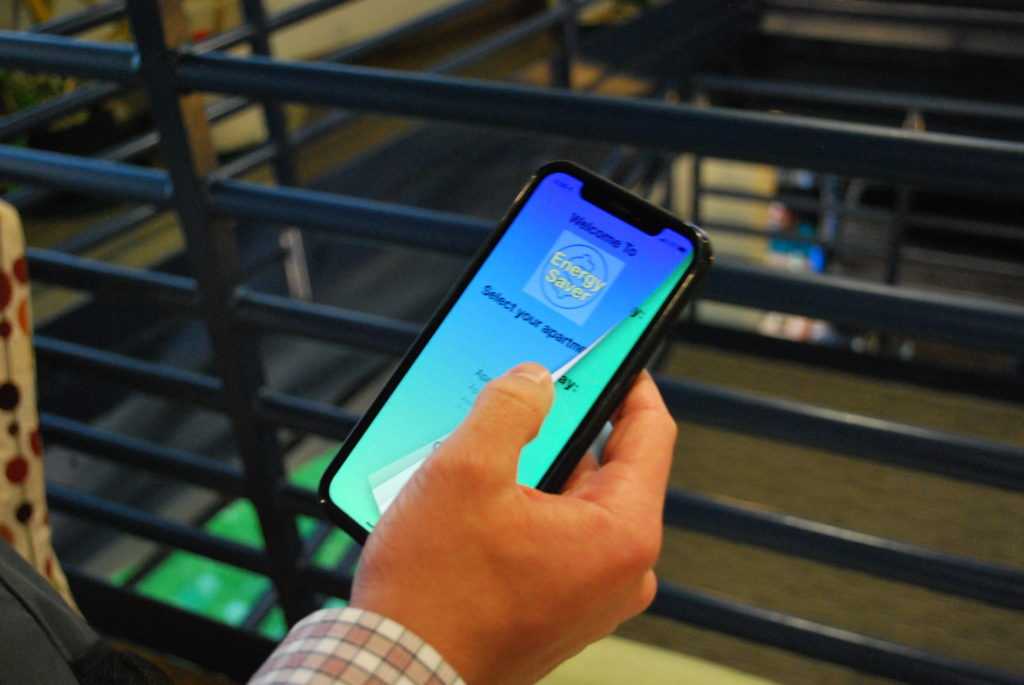 The Energy Savers app already had a beautifully designed interface for users to track their daily energy savings and rebates.
Other teams included Arav of Team 28, which created a way to integrate city events and events at the University of Michigan, a famously stubborn problem. Team 30 the Energy Savers looked at ways to create software and a consumer app to provide incentives for residents of public housing to save energy on their utilities so that the extra rebates went back to their rent. "The Housing Commission saves some by making sure they collect sometimes unpaid rent, and the rebate goes toward reducing rent for tenants," teammate Derek told us. "Public housing costs the city of Ann Arbor $40,000 per year in lost utilities, and $80,000 is not collected in rent. We made our interface look like tenants were winning money as they save energy."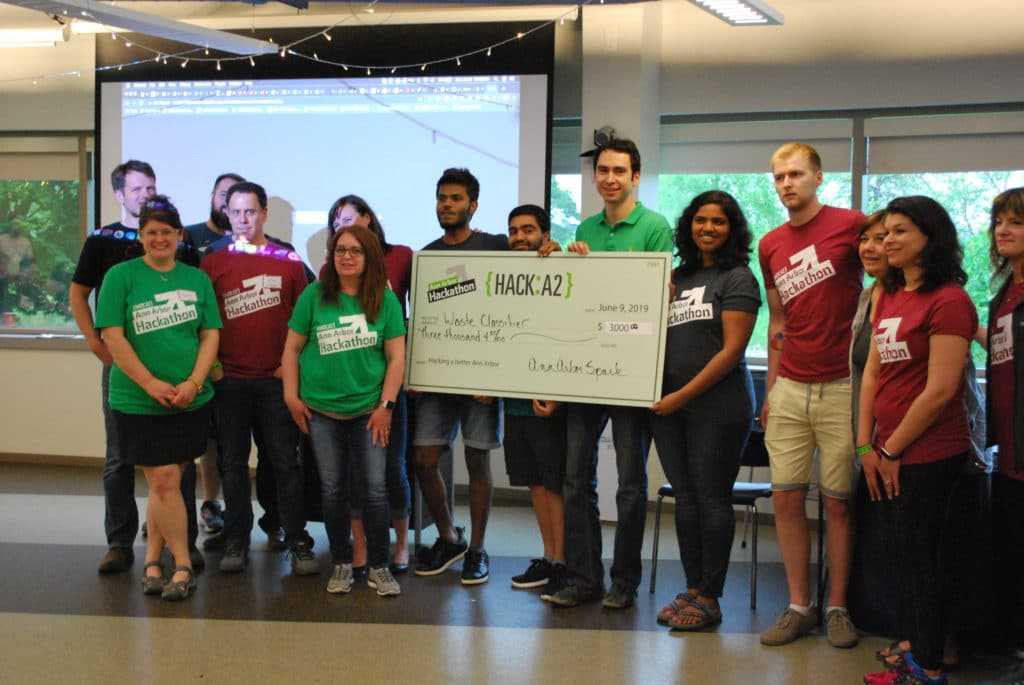 The winning team Waste Classifier, with judges left and part of the hackathon planning committee right. The winning team hadn't met before the mixer the night before the hackathon. Vlad in green shirt helped demonstrate the app with teammate Kavya and others.
Team 1's Michael said, "I had a lot of fun, and I learned a lot." His teammate Phil explained how they built an app for flash flooding emergency relief to reroute drivers and first responders around flooded roads in a changing situation. "If you're caught in an affected zone, what's the most effective way to route law enforcement or help?" he asked. "We used Fleetilla GPS data integrated with law enforcement dash cams and machine learning to detect flooding on the road, and we also put together another part of the tool that can predict elevations of typical flooding. Ann Arbor is a low elevation." Team 1's Natasha said she has hackathons down to a science. "I brought granny tea with supplements," she said. "Michael had like 8 RedBulls."
a2tech360, ann arbor hackathon, ann arbor tech events, hacka2, ithaka, netscout, spark
---