EntryPoint's Emily Heintz on The Challenges of Tech Growth in Michigan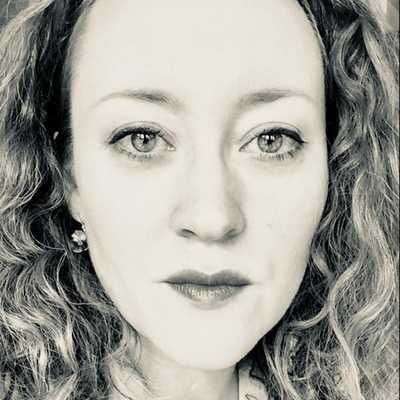 By Laura Cowan
Laura K. Cowan is a tech editor and journalist whose work has focused on promoting sustainability initiatives for automotive, green tech, and conscious living media outlets.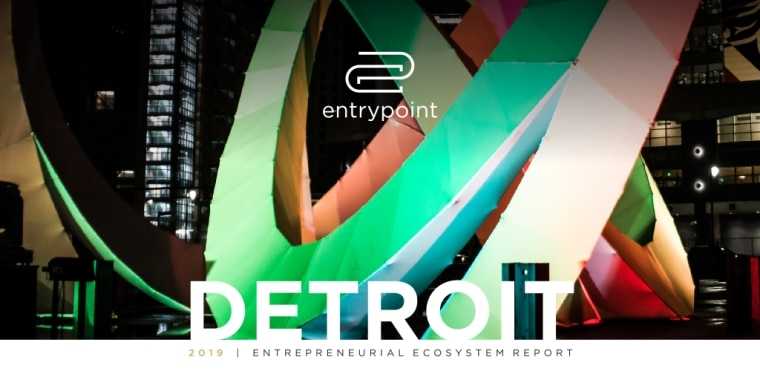 Emily Heintz has been featured in Forbes Magazine, Axios, and VentureBeat. She was also named to Crain's Detroit Business 40 Under 40 List, but you might not have heard of her because everything she does is behind the scenes in Michigan's entrepreneurial ecosystem. Heintz is the founder and managing director of EntryPoint, a research firm that specializes in conducting research and compiling reports on the state of the entrepreneurial ecosystem in Michigan and in creating new opportunities for community engagement. Heintz founded EntryPoint several years ago, after previously working to support the growth of the Michigan entrepreneurial community through the Michigan Venture Capital Association, Michigan Economic Development Corporation, and Ann Arbor SPARK. Why all this news coverage of her work? Heintz founded EntryPoint just as Michigan's economy was undergoing major shifts toward more of an entrepreneurial economy. There are a lot of people interested in this information these days.
"I started out in public accounting," Heintz tells us, "but that was too inside the box for me. I worked at Ann Arbor SPARK for a while, which introduced me to the entrepreneurial world. This was around the time Pfizer left Ann Arbor, and things were moving in an entrepreneurial direction naturally."
Several colleagues moved to work for the entrepreneurial ecosystem at the state level, and Heintz says she followed them, working on programs for the MEDC and MVCA to connect funding and startups and build the entrepreneurial ecosystem in Michigan, to move the region from being viewed as a flyover state to attracting more capital at a time when Michigan was still struggling a great deal to bring coastal money into the state to support new ventures.

While working at the MVCA, Heintz says she saw gaps in the ecosystem on where capital was available. She branched out to do more research on financial issues through the Midwest, "on who was able to access capital and how they could successfully launch a business." Now she works through EntryPoint to do further research in this arena, combining it with community engagement programs to promote entrepreneurship.
EntryPoint combines a data-driven approach to analyzing growth opportunities in the market and connecting with key stakeholders in industry and government and regional programs to support connections that allow more people to become founders. Heintz shows a clear concern for minorities and women who still have multiple barriers to founding and funding a new venture in the Midwest.
EntryPoint's research has expanded in the past few years and now includes the MVCA annual report, the Detroit Entrepreneurial Ecosystem Report, and studies specific to Washtenaw County Capital and Ohio, in order to study these disparities and opportunities to create more growth for more kinds of founders.
EntryPoint Entrepreneurial Ecosystem Research Reports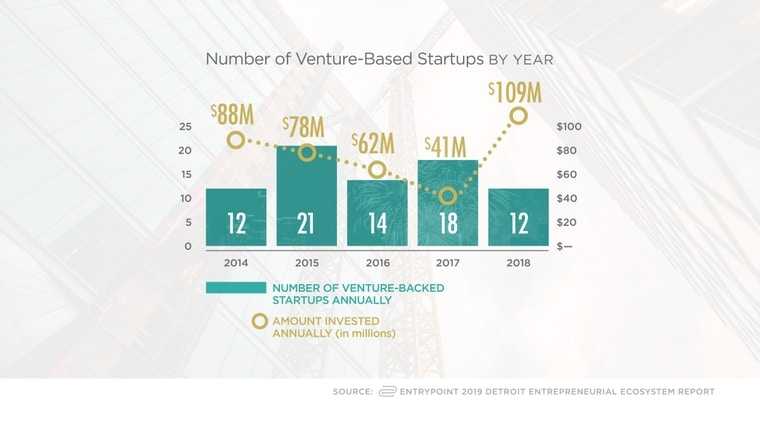 Past Entrepreneurial Ecosystem Research Reports
2019 Ohio Entrepreneurship Report
In Progress
2020 MVCA Research Report – coming in April 2020
2020 Washtenaw County Capital Report – coming in June 2020
2020 Detroit Entrepreneurial Ecosystem Report – coming in June 2020
2020 Ann Arbor Entrepreneurial Ecosystem Report – coming in September 2020
Trends In Michigan Entrepreneurial Funding
What trends are emerging in a newer culture of software companies, life sciences, and mobility startups in Michigan? "We're seeing a culture of entrepreneurship that the Midwest historically has not had because we had the stable structure of the auto industry," Heintz says.
"The economic downturn showed people that automotive isn't the end all be all. People started thinking if I ever was going to start something I might as well try."
It's true we've heard this story from founders from RightBrain Networks to multiple executive coaches and founders who broke out of traditional software and automotive careers to launch their own companies after the Great Recession. As devastating as the recession was to Michigan's economy, it did many people a favor in pushing them to launch a new company that went on to become a success.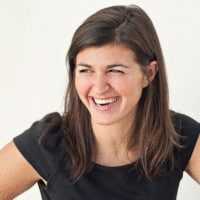 "On the coasts the representation is there," Heintz adds. "People see representation in an uncle being a VC, or they might say my cousin owns a tech company so I could own one. Representation matters."
Because of big automotive money and a 100-year legacy of manufacturing-based corporate culture, the Midwest has traditionally been wary of risk and small ventures. "That's starting to shift as people here see friends and family work at tech companies," Heintz says, "and many startup companies have scaled and gone on to phenomenal success. Duo now has 700+ employees, raised millions, and exited. What do founders and people who worked there do? People starting their own companies now see what it takes to lead and hire."
Still, only certain industries have the critical mass to attract capital in Michigan, and Heintz says EntryPoint's research is now delving into the sticky problem of barriers to entry among people who were raised in the neighborhoods of Detroit becoming founders. "Often founders come from outside the city," Heintz says.
It's also a matter of which industries are already succeeding here. "A lot of building an ecosystem is talent-led," Heintz tells us. "The talent become founders and investors. On the other hand, a lot of the infrastructure we have is rooted in inflexibility and risk-averse behavior and staying in your silo," based in automotive's layered hierarchical past. "Still," Heintz reflects, "working with rigidity of infrastructure is both a hindrance and a blessing." In other words, automotive works the way it does and resists agile lean startup culture for a reason. Among other factors, the industry is heavily regulated for consumer safety.
It's a good reminder that as slow and skeptical and unsupportive of startup culture as automotive culture can be, there is good reason why multi-national corporations responsible for the safety of people rolling down the road at 80 miles per hour in their integrated technology move more slowly and carefully and are heavily layered in management structure. And that's one of the reasons these reports are so valuable, because Michigan isn't shifting to focus primarily on entrepreneurship, but to integrate the culture into a much more corporate historical culture in a new integrated business landscape.

The State of Tech Funding in Michigan
"The need for capital far exceeds available capital in Michigan," Heintz says. "The investor base here is also not always looking to geographically restrict their investing, and many Michigan companies still go to the coasts to raise funding.
"There is an 8 to 1 ratio of capital coming from outside the state to capital coming from inside the state," Heintz tells us. "That can lead to a tipping point of too much capital from outside pulling companies outside the state," where further funding and connections required for growth are available. "Startups need to attract the spotlight of [funds] outside Michigan to grow."
Branching Out Beyond Tech
What's next for EntryPoint? They're branching out to look at startup funding outside tech, along with research into the ecosystems in areas where accessibility is still an issue. "Our broader mission is building out the ecosystem to support what's going on in the Midwest," Heintz says, "and open up capital to more people. We're expecting a lot of growth in the next 5 to 10 years." To start that research, EntryPoint is looking at where capital is flowing within Washtenaw County to see which programs are working, then moving to other counties from there. We're looking forward to the expanded reports, because as informed as people are in Michigan about economic and cultural shifts in the business community, it will be invaluable to see real numbers as the landscape shifts historically.
ann arbor spark, detroit startup research, emily heintz, entrypoint, entrypoint mi, michigan entrepreneurial ecosystem, michigan startup funding, michigan tech funding, mvca
---