Protect Michigan Creates New Air Filtration PPE for Frontline COVID-19 Workers Facing High Viral Load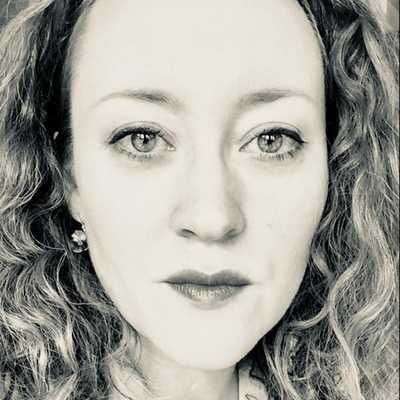 By Laura Cowan
Laura K. Cowan is a tech editor and journalist whose work has focused on promoting sustainability initiatives for automotive, green tech, and conscious living media outlets.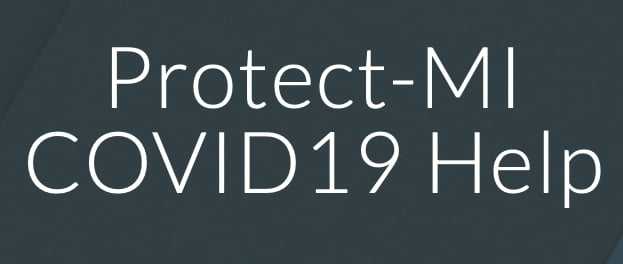 Ann Arbor's maker community has designed a simplified protective face shield with powered filtered flow, a little brother of the high-end hazmat suit style PAPRs (Powered Air Purifying Respirators) you see in contagion movies. The so-called PFFR, nicknamed "Puffer," is not a fully contained helmet or suit, and has been redesigned to be more appropriate for the current pandemic. It should cost under $100 instead of $2,000, and will soon be ready for production. The only problem? Many frontline workers are only allowed to use protective gear that fits into previously FDA-approved personal protective equipment (PPE). This concept likely falls between existing PPE categories, because it isn't a full respirator mask and it isn't a simple face shield but somewhere in between. The journey to getting FDA emergency use authorization has been a long one, even in times when the agency has sped up its evaluation process drastically to get more PPE onto the front lines.
A new Michigan based non-profit called Protect Michigan was recently founded to lead the development and manufacturing of new solutions to reduce transmission of COVID-19, including the PFFR. Francis Esmonde-White, a scientist based in Ann Arbor, invented the new PFFR Shield concept and is spearheading the effort to develop it.
Protect-MI.org is working with George Albercook and the Make Good Collective in Ann Arbor, a group which consists of dozens of makers, PhD scientists, engineers, and designers who have been designing, prototyping, testing, and producing these PFFR devices. Instead of a fully enclosed headpiece, the PFFR Shield consists of a protective face shield and a blower using CPAP tubing to provide a flow of fresh filtered air to the face of the individual. The goals of the device are to reduce the amount of any potentially hazardous aerosols, at the same time as carbon dioxide and humidity from breathing inside an enclosed mask. Elevated carbon dioxide exposure is associated with various cognitive impairments, ranging from dizziness and headaches to much more serious health effects at high levels. Reducing humidity also improves comfort and reduces visibility issues arising from fogging of both glasses and the shield visor.
"I want to impress you with the scale and sophistication and dedication and thoroughness of the effort going on in Ann Arbor," Albercook tells Cronicle. "This is real and it's going to make a difference." But it's no small task to get new PPE authorized for hospital use. The FDA has been allowing certain types of PPE to be used on an emergency basis, but this may change when the pandemic shifts to lower phases of viral load. Then, Esmonde-White tells us, all PPE that were temporarily authorized for use such as amateur 3D-printed face shields will overnight be unlawful to use in healthcare settings. For a device that also falls between existing PPE categories, the challenges are doubled, so Protect-MI has been going through multiple rounds of communication with the FDA and the CDC to make sure they're on the right track to authorization. Albercook explains that having the maker community behind the PFFR project has also made a daunting task possible. He speaks highly of his colleagues, including Esmonde-White. "Francis takes an idea I bring him and doesn't work and he turns it into 3 ideas that work," Albercook says. "He's a fantastic manager."

Existing PAPRs weigh around 10 pounds and blow 30 to 45 gallons of air per minute into the headpiece (115 to 170 liters per minute) at a filtration level of 95% to 99.97%. All that air dries out eyes and makes so much noise that it's hard to communicate. While that solution is necessary for extreme hazards like Ebola, for COVID-19 a more moderate solution may be appropriate to reduce the risk of high viral load. By reducing the device parameters to 20-40 liters per minute with a filtration level of 80% to 90%, the power requirements are greatly reduced, making for a lighter and quieter device that can mitigate many of the usability issues. These factors make it much easier to tolerate continually using the PPE over long durations such as a hospital shift and using the PPE while interacting with patients. Testing is still in progress, but the goal is to reduce viral load by a factor of 10 to 20.

The Ann Arbor makers are also coordinating 3D printing of simpler face shields for local health systems through their website Protect-MI.org.
A little background on viral load. Albercook says that it has been shown that for the influenza virus or SARS and MERS, the viral load of initial infection predicts quite well the seriousness of the disease symptoms, meaning that if you see a ramp-up in initial infection or viral load, you can expect a consequential ramp-up in similar scale of the severity of symptoms of the person who is infected. In other words, the more virus you are exposed to, the sicker you might get. This is what we may be seeing in hospital workers and first responders who are getting so much sicker than non-first responders.
"Our idea is to add layers of protection for front line workers including healthcare workers, EMTs, people running drive through coronavirus testing, and grocery and hardware stores where there are a lot of people," Albercook says.
The PFFR Shield takes an existing N95 face mask and open face shield, and adds additional protective function to them with the filtered blower. "Standard PAPRs don't have an N95 mask underneath," Albercook explains. "This one you do, but on your back (like with a PAPR) there is a box with a fan, air filter, and battery, and a CPAP hose up your back, and a very sophisticated plenum behind your shield that prevents the shield from fogging up and blankets your face with cleaner air." Eyes are flushed with clean air at a rate that continually pushes away contamination, but slow enough that they don't dry out. If the mask isn't properly fitted, or if the seal is broken during use, you are still receiving cleaner air than you would without the protective gear.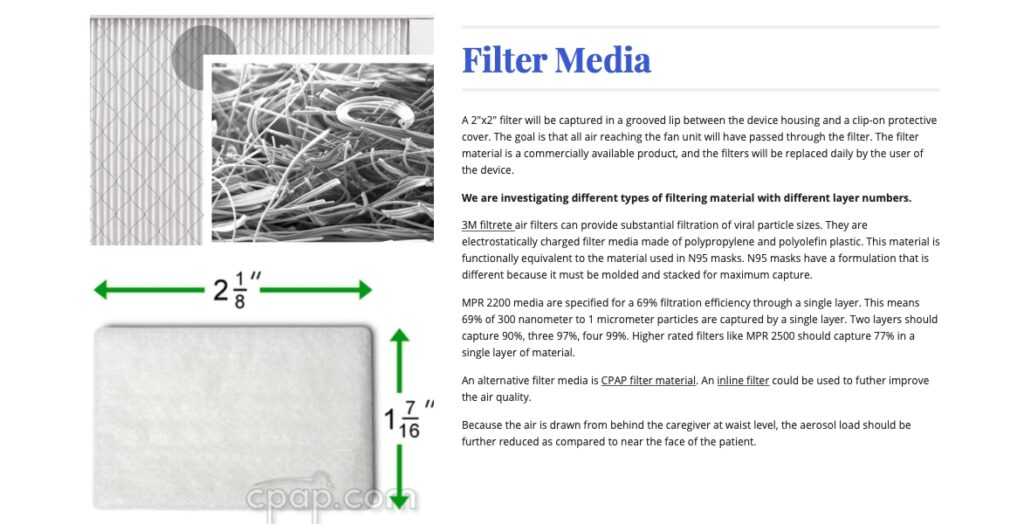 Albercook explains that air flow patterns can create vortices that pull outside air in at a higher level than a person breathing normally. Done wrong, this could potentially make the viral load worse by unnecessarily driving air onto the face that is contaminated, so the group has tested their PFFR Shield using various methods to make air flow patterns visible and optimize the manifold shape to make it effective.
Albercook, Esmonde-White, and team are working to get authorization from the FDA via emergency use authorization rather than full permanent approval for now to rush the device to market, and have been speaking with the CDC to make sure their project meets the criteria for authorization. In many cases, hospital systems have adopted protective gear at the insistence of staff. The Ann Arbor maker group is hoping for a similar path of adoption, as any multi-layer protection is better than what many workers in the U.S. currently have access to. But Protect-MI is the organization that aims to conduct testing and approval processes as carefully as possible, so that the gear can continue to be used longterm and won't cause more problems than it solves.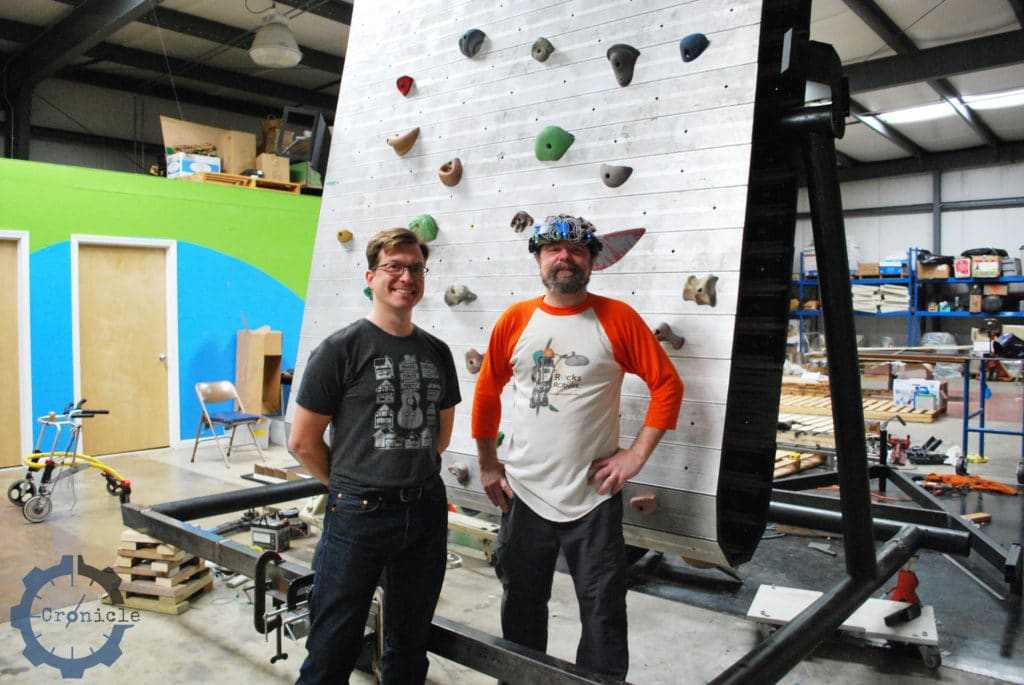 In happier times, Ann Arbor makers Francis Esmond-White left and George Albercook right show us around their workshop complete with energy-generating climbing wall.
"Every barrier so far they've knocked down," Albercook says of the Protect-MI.org team. Assuming that they can achieve FDA authorization, they hope to produce in excess of 100,000 PFFR shields. "But there are 5 million healthcare workers in the country. Adoption is happening through the press who publicize the plight of nurses. We'll probably get a large quantity of it donated."
Still, despite the delays from hospital systems wanting to make sure gear is FDA authorized, Albercook says hospitals, nursing homes, and similar organizations have requested and received over 30,000 face shields that are not FDA certified. Those more basic face shields are covered by the existing FDA Emergency Use Authorization, which permits their use during this emergency. In a time of extremely rapid change and life-and-death decision making, many organizations are doing what they can to provide whatever protection is available to workers on the front lines of the coronavirus outbreak until more traditional options are available. "It's a face shield," Albercook says of the simplicity of the decision to use simple PPE when the situation is this dire and this urgent. "There are courageous hospitals saying every layer of protection is better than not having it."
For more information about the Ann Arbor makers PUFR shield and protective gear, you can visit the Protect Michigan page that is organizing maker groups in Michigan to produce face shields or email Kirstin Hensley.
ann arbor face shields, ann arbor makers, ann arbor ppe, coronavirus protective gear, covid 19 protective gear, covid 19 protective suits, hospital ppe, ppe, protective gear michigan, protective suit
---