Ann Arbor's 4th Mobility Summit Offers Behind the Scenes Look at How Mobility Investment Is Changing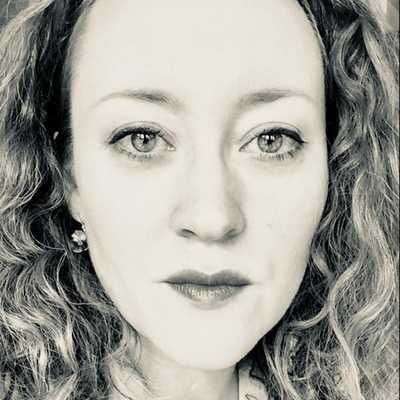 By Laura Cowan
Laura K. Cowan is a tech editor and journalist whose work has focused on promoting sustainability initiatives for automotive, green tech, and conscious living media outlets.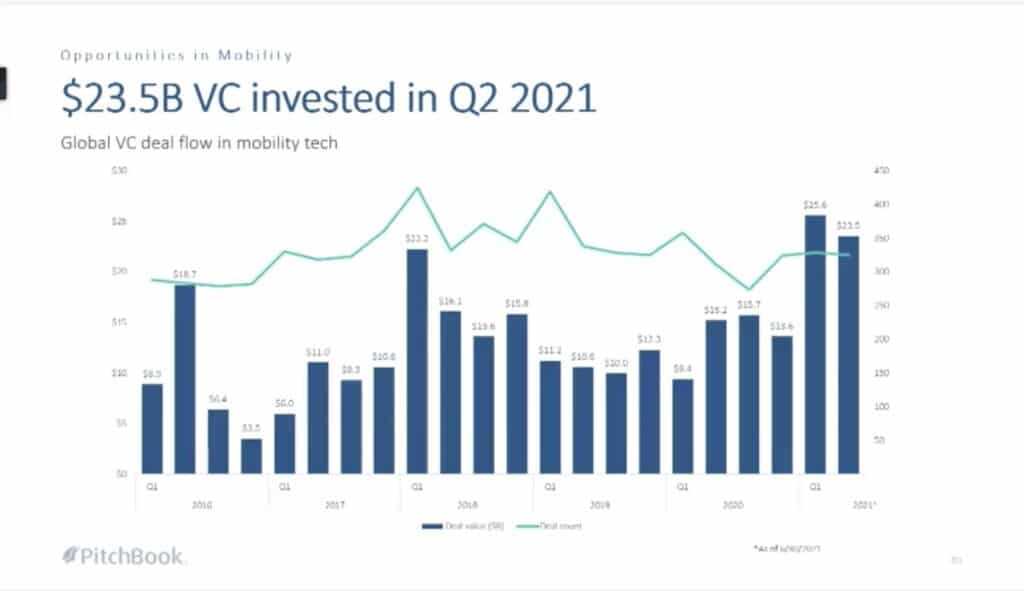 At Ann Arbor's 4th annual Mobility Summit, the focus was on investment in the mobility space. PitchBook's Asad Hussein reported "a flurry of mobility startups going public through IPOs and SPACs through last year." A remarkable $54 billion has been invested in mobility startups despite headwinds of the pandemic. In the first half of 2021, the market fared even better with $49.4 billion raised, an over 100% increase over last year, putting the world on track for a record year of investment for mobility.
Michigan leads across the spectrum in new startups from EVs to autonomous startups (May Mobility, Refraction AI) to those disrupting services like FixMyCar, and startups focused on shared mobility. $104 million so far this year has been invested in Michigan-based mobility startups, which has affected Michigan's startup valuations.
"What we've seen is overall valuations have seen an uptick in 2021, but especially this has been driven by valuation for later stage companies... up 244% compared to last year," Hussein reported. Angel and seed-stage investment is flat year over year, but early stage startups are up 13%, which indicates greater and greater valuation for startups the later stage they are. Although Michigan-based mobility startups have a lower valuation than their Silicon Valley-based counterparts, they're showing a parallel upward trend. This indicates an interest from investors and government partners to invest in startups that have more mature technologies ready to transform the transportation industry at such a critical time for climate change.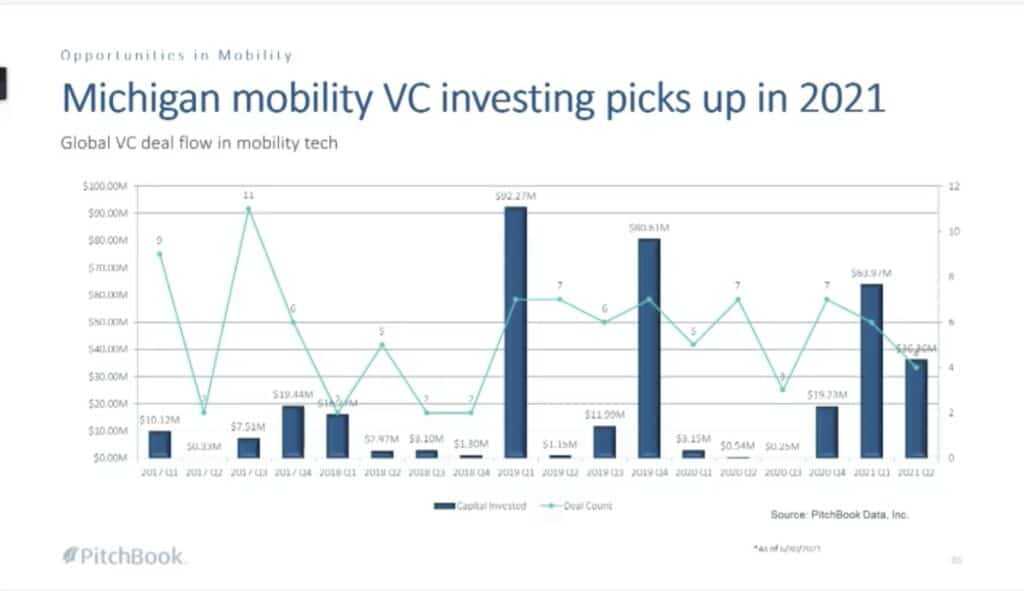 What's going on here compared to a few years ago? "The VC ecosystem and broader mobility space have seen renewed enthusiasm from investors, corporate, and cities." There has been a lot of excitement about the space because of EVs, Hussein said. "A lot of that has been driven by people seeing the deficiencies in our transportation system." With governments doubling down to commitment to more sustainable energy and people getting excited about EVs, there is a sense that this is finally a tipping point to transform mobility, transportation integration and the automotive industries to be more equitable, sustainable, and exciting spaces.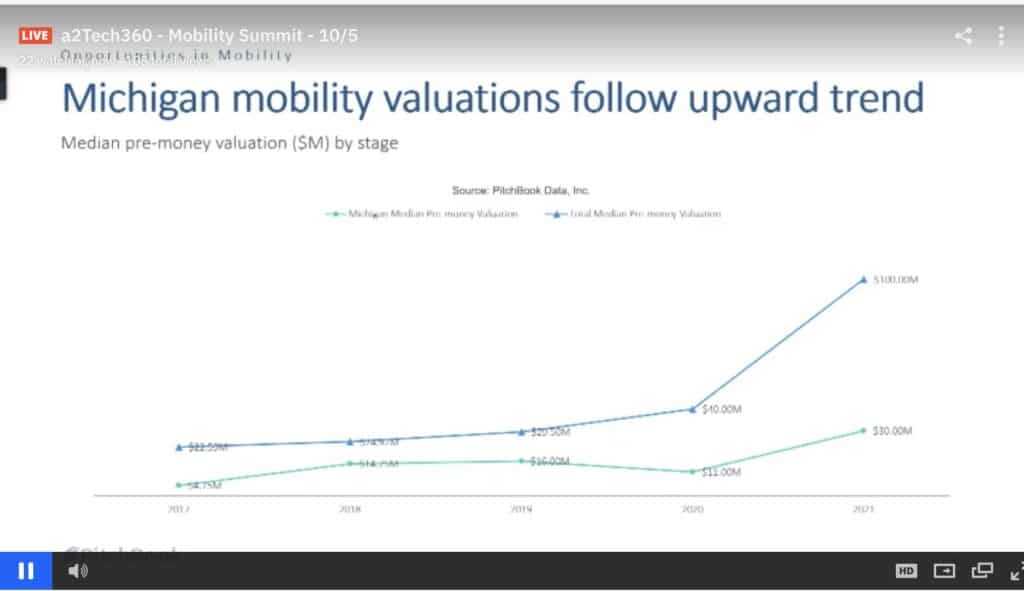 The future of SPACs as investment vehicles is uncertain: SPACs have underperformed in 2021 and face a possibly volatile future. Pitchbook put together an EV SPAC market index to track this. Hussein reports that people have been staying private and raise capital a little longer. "We're keeping a close eye on this.... So far it doesn't seem to have dampened enthusiasm," he said. This volatility might prime the stage for later-stage startups to raise more capital from investors.
The mobility summit included pitches from startups who are competing for a $50,000 prize for mobility technology funding, the winners of which will be announced at the upcoming TechTalk. Also covered by other speakers were trends in mobility, autonomous technology, and more. Human or super-human autonomous performance is expected to arrive at the end of the decade. For now, autonomy in logistics that limits complexity is the focus of autonomous trucking: airport logistics, mining, shipping, and manufacturing technology are now useful applications for autonomous tech.
More scalable, less risky technologies out of the mobility space offer lower risk to investors than in the past decade. Solid-state batteries, scaleable mixed transportation solutions, and other technologies have joined the mobility space to offer investors more options than high-risk EV startups. Pitchbook predicts the EV market space will reach a size of $529 billion by 2025 driven by further market penetration of EVs, battery tech, government incentives.
a2tech360, ann arbor mobility summit, ann arbor mobility summit 2021, ann arbor tech week 2021
---