Ann Arbor Tech Events: May 2019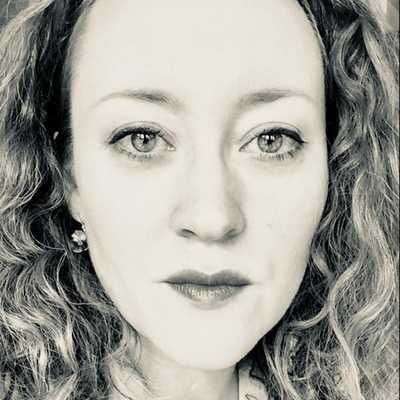 By Laura Cowan
Laura K. Cowan is a tech editor and journalist whose work has focused on promoting sustainability initiatives for automotive, green tech, and conscious living media outlets.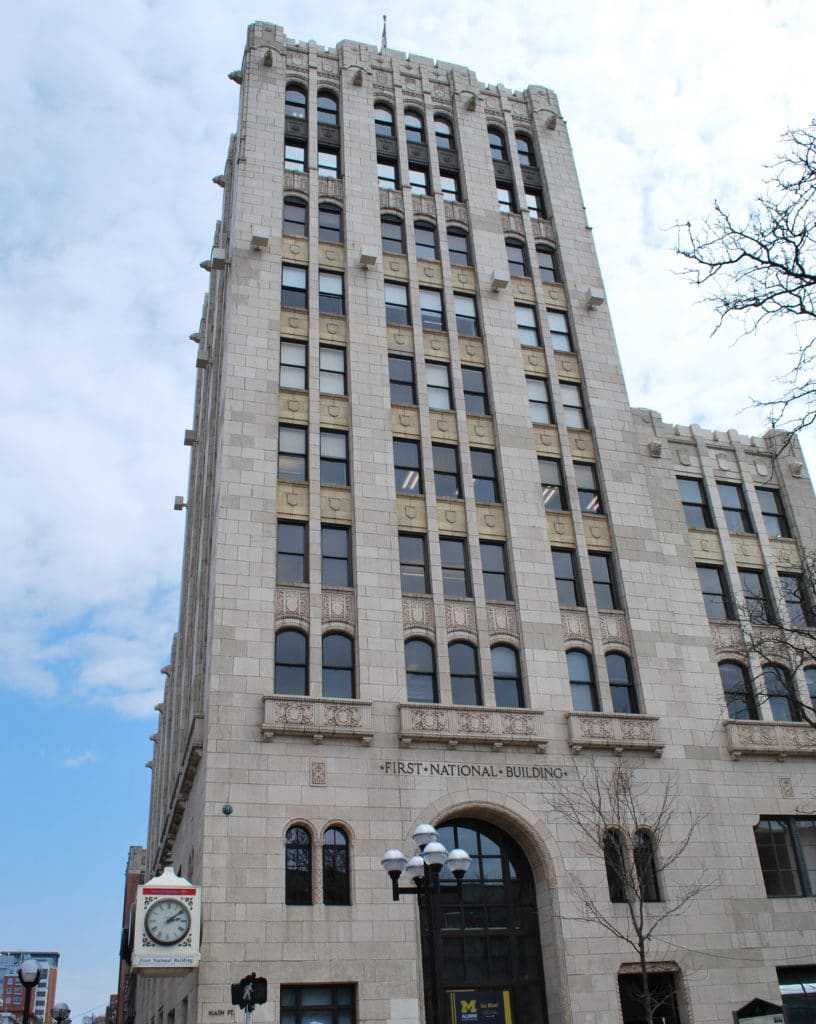 The First National Building on Main and Washington, at the heart of what many people don't realize is downtown tech city, Michigan. Up the block, Censys, JSTOR, Llamasoft, Blue Newt, Cahoots' new co-working space, and many many more startups and University of Michigan ventures in entrepreneurship, business, and medical, automotive, and sustainable energy.
Until they develop the technology (waiting), we can't be everywhere at once, and that's what it takes to attend and cover all Ann Arbor tech events these days. So, here is a list of some tech events going on in May in Ann Arbor, plus some great lists to follow who can keep you in the loop. Have fun! This isn't exhaustive, so feel free to contact the editor to have another event added to the list with the Subject Line: EVENT CALENDAR. BE SURE TO SHOUT IN ALL CAPS SO YOU DON'T GET IGNORED IN OUR EMAIL INBOX. Thank you.
Lists You Should Follow
Ann Arbor Tech Events on Twitter.
Made in A2 Community. Tons of groups to join here at your leisure.
Tech Inclusive in Slack, with Ronda Bergman, working for diversity and inclusion in tech.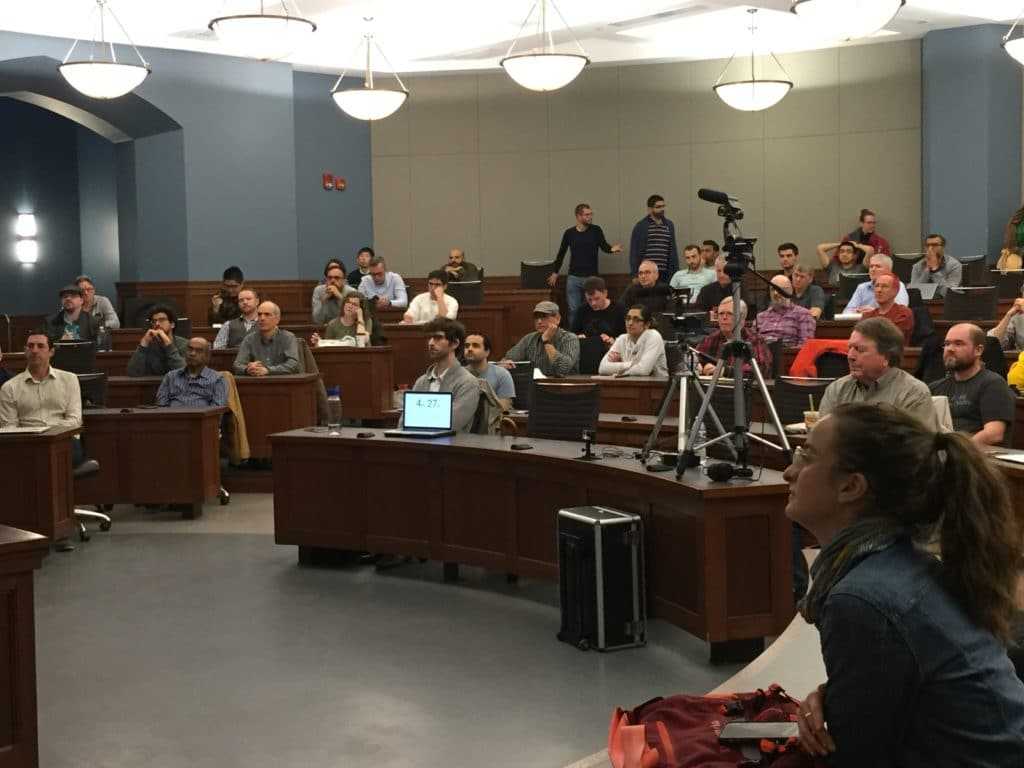 Attendees of the A2 New Tech meetup in April 2019. Center behind laptop is host David Nesbitt, who has along with other founders grown A2 New Tech to over 7,000 members including entrepreneurs, technologists, investors, lawyers, marketers, and students.
Photo Cronicle Press.
May Tech Meetups/Conferences in Ann Arbor
May 1. Introvert's Journey to Agility with Arati Joshi of TechLife Ann Arbor. Host: Atomic Object.
May 2. Michigan Python User's Group with Michael Birdsall. Host: WCC.
May 7. Google I/O Extended with Dave Koziol and Doug Lance. Host: Arbormoon.
May 8. Ann Arbor Coffee House Coders with Scott Goci. Host: Espresso Royale S. State St./North U. Ann Arbor.
May 9. The Cloud Is About More Than The Tech with Amy B. AWS Michigan. Host: RightBrain Networks.
May 10, 17, 24. Let's Co-Work Software Coworkers with Brian Genisio and Miguel Castillo. Host: Sweetwaters Washington St. Ann Arbor.
May 11. Code Craftsman Saturdays. with Bob Allen of TechLife Ann Arbor. Host: Pillar.
May 11. Criteo Tech Talks. NABD Ann Arbor [Not Another Big Data Conference] with Megan Wellman. Host: Bob & Betty Beyster Building.
May 11, 25. RC/AI Car Prep with Neil Gudsen and the Ann Arbor Autonomous Vehicle Group A3VG. Host: WCC Electronics Lab.
May 11. Coding at Espresso Royale with Karen Dickenson and Free Code Camp Ann Arbor Ypsi. Host: Espresso Royale S. Main St. Ann Arbor.
May 13. Building Data Science -- Caitlin Hudon, with Sean Law and PyData Ann Arbor. Host: TD Ameritrade.
May 14. Engage Over Coffee with Brooke Boyle. Host: Avalon Cafe.
May 14. Solving Big Problems: Healthcare & Automotive Challenges Of Today & Tomorrow with Joe Schoch. Host: Pillar.
May 15. FinTech Meetup with Krishnan. Host: Ann Arbor Spark.
May 16. Washtenaw Linux Users Group with Mike Birdsall. Host: WCC.
May 19. Ann Arbor Creativity & Making Expo with Richard Retyi. Host: Ann Arbor District Downtown Library.
May 21. A2 New Tech with a2geeks and David Nesbitt. Host: Law School South Hall.
May 22. Ann Arbor Rust with Esty Thomas. Host: NEW LOCATION All Hands Active (below Afternoon Delight).
Have another meetup or group to add? Please contact the editor. Also include your Twitter or email so we can stay in touch and interview you, if you're a group host, leader, or speaker. Happy May! You know what that means. It's almost Tech Trek. In June, we will be reporting from the entire week of a2Tech360 events (which you should be registering for now if you're planning to attend: it's a MUCH bigger event the last two years and many events require registration or tickets in advance), plus covering the autonomous vehicle software conference in Novi, the Knect365 TU Automotive Conference.
a2 new tech, a2tech360, ann arbor autonomous vehicle group, ann arbor coffee house coders, ann arbor creativity making expo, ann arbor district downtown library, ann arbor rust, ann arbor spark, ann arbor tech events, ann arbor tech groups, ann arbor tech meetups, ann arbor tech news, arbormoon, archie cowan, atomic object, aws michigan, brooke boyle, building data science, code craftsman saturdays, cronicle press, engage over coffee, fintech meetup, google i o extended, laura cowan, laura k cowan, made in a2, michigan python users group, pillar, pydata ann arbor, rc ai car prep, rightbrain networks, scott goci, tech events, tech trek, tu automotive conference, washtenaw community college, washtenaw linux users group
---