Popular Research Site JSTOR Plans Expansion To User-Uploaded Content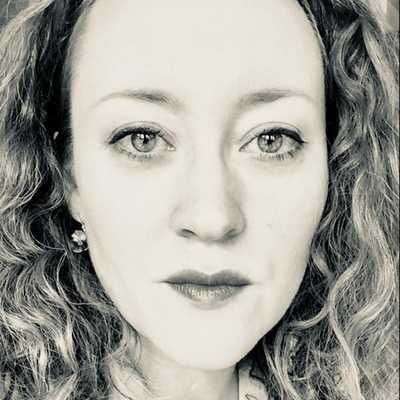 By Laura Cowan
Laura K. Cowan is a tech editor and journalist whose work has focused on promoting sustainability initiatives for automotive, green tech, and conscious living media outlets.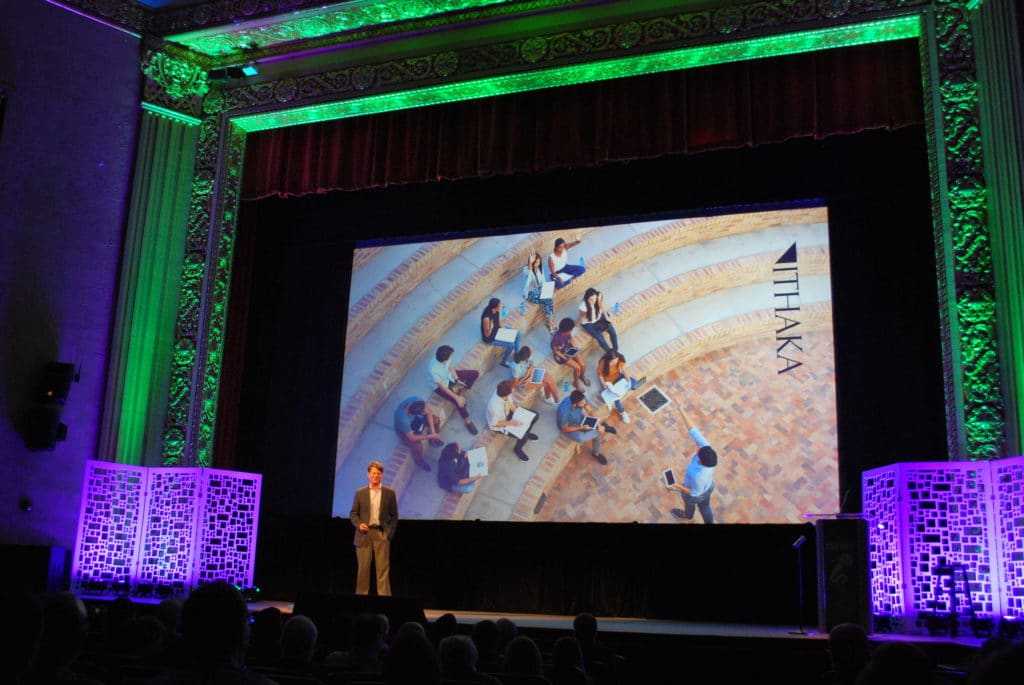 ITHAKA president Kevin Guthrie speaks at TechTalk 2019 during Ann Arbor's a2tech360 tech week, at the Michigan Theatre in Ann Arbor.
We saw JSTOR founder and parent company ITHAKA's President Kevin Guthrie at TechTalk during a2tech360 2019 in Ann Arbor, and caught up with him over lunch afterward. He gave us so much to think about regarding content discoverability and curation that we decided to give JSTOR its own followup post here after tech week. Guthrie is always thinking about what's next for the nonprofit he spun off from the University of Michigan in 1995, which has become a popular site for academic researchers looking for secondary sources in the humanities in particular. I mean, really popular. People get JSTOR tattoos, folks.
JSTOR has been through many phases of growth, most recently acquiring Artstor to merge searchable art images with the academic journal content available online through individual memberships or access to one of thousands of libraries and institutions. So, what's up next for JSTOR? We know from close association that they are always planning next steps, always expanding their offerings, and always thinking about ways to stay on top of best practices.
ITHAKA "had a good idea at the right time," Guthrie says of the company originally conceived by William G. Bowen, then-president of The Andrew W. Mellon Foundation. "Now the environment is more competitive for a smaller set of dollars. Libraries want open access for less money, so we have to figure out how to work harder, faster, and better." What does that mean, specifically? Two things: improved content discoverability and a seismic shift in how JSTOR curates content.
What's next for JSTOR?
Improving discoverability of content. "We want to make it easier for students to find relevant content," Guthrie tells us. "Increasingly, students are looking for primary source materials." The goal is to improve discoverability of content already available on JSTOR so people can find more sources for research. This involves a lot of tech behind the scenes to suggest better related content people might be looking for. Then, users can come to the site looking for one thing and find many more pieces of content that might be useful than they can currently access if they don't know they're available or related.
User uploaded content. An enormous change from tradition. JSTOR wants users to be able to upload and contribute content, create collections of content curated by users, and contribute to a bi-directional flow of material on the site. This is a lot to manage. "We've incrementally changed," Guthrie tells us, "but we're at a point now with a different environment that is making us make a discontinuous change, which changes how we deliver value.... We have to try new things and in new ways, which is discomforting for people."

The JSTOR user at the moment is concerned with finding what they already know they're looking for. Guthrie says that the discoverability initiative aims to help the user find other content they didn't know they needed. It's all about how you manage discovery, what you put in front of people, and how transparent you are with people about how you've curated the content.
But how to curate content at this scale? It's not as simple as stating which content is officially curated by JSTOR and which is uploaded by users. Guthrie says that especially with academic research, one user's trash is another's treasure. You don't know what people are looking for. What if, he says, you had a big event with flyers? The next day, they become ephemera to most of us--trash to be thrown away. But years later, what if that event is researched by someone who wants those flyers as primary source material? It's not just about who has the right to curate material. We all have different parameters.
What about offensive or harmful material? There have to be rules in place to keep content from promoting or spreading harmful content and agendas, but who gets to decide what's harmful and what is informative about historical groups, for example? Censorship and curation issues are difficult, and they are an ongoing conversation.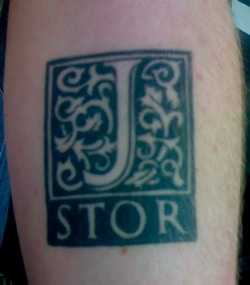 Not kidding about those tattoos. Photo from Reed College Alumni.
"You have to let in scale, then become good at sifting, sorting, and discovery," Guthrie tells us. He's clearly thought this through with his team, pointing out that many ideas about user-uploaded content, curating versus censoring harmful content, and other touchy issues often have conflicting priorities that must be balanced but may not be able to be perfected. One way JSTOR works through these issues is to enable institutions to upload their collections to the site and trust that their values inform what's uploaded. "There may be times that isn't the case," Guthrie cautions. "But you can't answer [these questions] in absolute terms. You make adjustments as you learn." Ultimately, he's concerned with providing access to as many people as possible, particularly in underserved populations like prisons or countries with less internet access and fewer academic institutions to allow them access to JSTOR.
The most important guiding light, according to Guthrie, is to have the people affected by these issues involved in the conversation, which is ongoing. As he said in his TechTalk, there are "many reasons to be hopeful" about the online education space as it expands.
ITHAKA is now used by 11,000 institutions and 3,000 secondary education programs around the world and is accessible in some areas of the world such as parts of Africa for free. Guthrie is working on plans to get "JSTOR in a box" into places where users don't normally have online access to learning resources, like prisons where people have to learn in classrooms without access to the internet and without the privilege of taking study materials with them when they leave the room. Guthrie is clearly thinking through next phases for the company and for researchers online, from every angle. We look forward to seeing how it all works out.
Full disclosure: co-founder Archie Cowan is the Chief Technical Architect for JSTOR at ITHAKA. This post contains direct quotes from the interviewee and personal interpretations and opinions of the author and was not sponsored by JSTOR or ITHAKA.
ann arbor tech, future of jstor, ithaka, jstor, kevin guthrie, techtalk 2019
---