Mentors of MI Tech: Melanie De Vries Supports Tech Startups via Desai Accelerator & The SBDC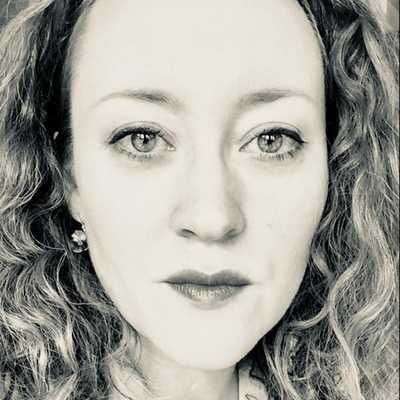 By Laura Cowan
Laura K. Cowan is a tech editor and journalist whose work has focused on promoting sustainability initiatives for automotive, green tech, and conscious living media outlets.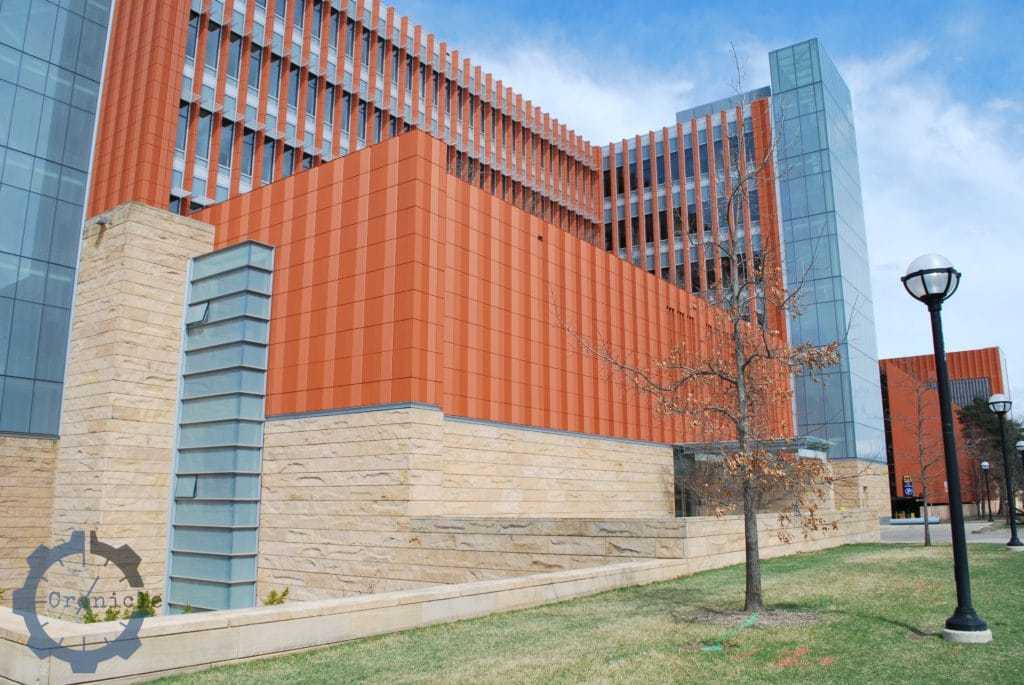 Desai Venture Accelerator is located in the Ross School of Business in Ann Arbor on the University of Michigan Campus.
Many Michigan small businesses and startups are scrambling for resources to bridge the COVID-19 outbreak gap, or to pivot to thrive beyond the coronavirus shutdown. Resources for small businesses are often only known by those founders who have already been through the startup process, so in addition to recently posting a number of small business loan resources for Michigan tech startups, we wanted to catch up with someone who is known for mentoring founder through the challenging startup phase. Melanie de Vries, who mentors both at Desai Venture Accelerator in Ann Arbor and as Technology Business Consultant for the Michigan Small Business Development Center, was gracious enough to answer some questions about what it's like helping business owners navigate challenging times.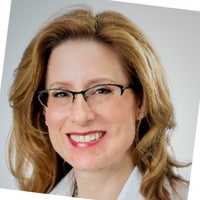 Melanie de Vries of the SBDC and Desai Venture Accelerator.
"Our team's role is to work with advanced tech startups to commercialize products," de Vries says of her work with the SBDC, "take them to market, and support product development, marketing, financial strategy, and investor relations." That's a lot of work in many different areas, especially considering that many small businesses don't know where the capital is going to come from these days to keep them afloat. Because of the work de Vries was already doing at the Michigan Small Business Development Center, she came in contact with the team at Desai and was invited to mentor there as well. "What's lovely about Desai is having structured support [for businesses]," she explains. "That structure and access to the facility and the team can make all the different."
What's the difference between these business accelerator and development programs? "When you go through an accelerator like Desai, you do have a cohort of other businesses going through the experience with you, and I don't think that can be underestimated," de Vries says.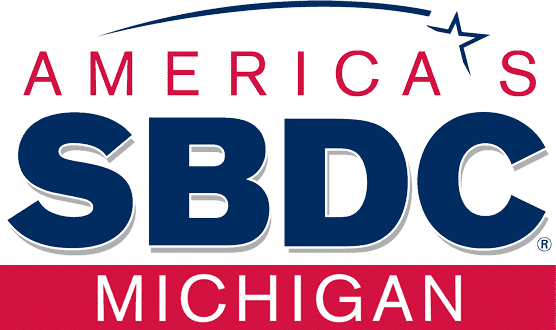 Ideally, de Vries prefers to come into a business at the point early on when they are still working on ideation and technology, because that's when she can give the most guidance on market fit. "We're constantly pointing companies to customer discovery," she says of the process wherein companies go out and talk with prospective customers to test their product and service ideas against real-world needs. "The earlier a company can talk to potential buyers and see if there's a fit, that's the best situation," she says. "It's not always easy to talk to 100 people, but often the number of people you talk to and your ability to listen to what people say impacts success."
De Vries works with a spectrum of companies in various phases along the path of product development and company growth. What comes next after helping them through early customer discovery is developing an MVP, or minimum viable product, to get the company to market to test ideas about product fit as quickly as possible. "What does that first market look like, and what's the best marketing strategy to go after it?" de Vries says of the questions she pushes companies to ask at this stage. Also, she works with companies working up an investor strategy and working towards revenue to attract more investment when that is appropriate.

It sounds full-service, and there's no question that any startup is lucky to gain access to the valuable mentorship on offer through programs like Desai or the Michigan Small Business Development Center. The primary difference is that Desai is a program modeled after a school, that supports a set of companies for one season or year, and then works with a different set. The SBDC, however, has a more open front door, and can be contacted for a la carte service needs or consulting when a small business is looking to be connected with paid services like legal or advice on where to connect with information such as regulations for a specific business type. We asked de Vries how a company can know which program is really right for them, or where they might need the most help, when many founders might struggle to see which areas they need more support. "Every company is unique," she says, "so my job is to talk to founders and offer a framework but also offer specific resources to meet unique challenges."
De Vries says that going through a program like Desai can also offer validity for new companies when speaking with investors, who often are familiar with the program, and of course important connections to industry professionals and investors who might make important introductions. How does all of that work in a time when so much is up in the air about investments and loans for Michigan small businesses? We asked de Vries about what trends she was seeing in a time when Michigan businesses are coping with multiple challenges that change by the day.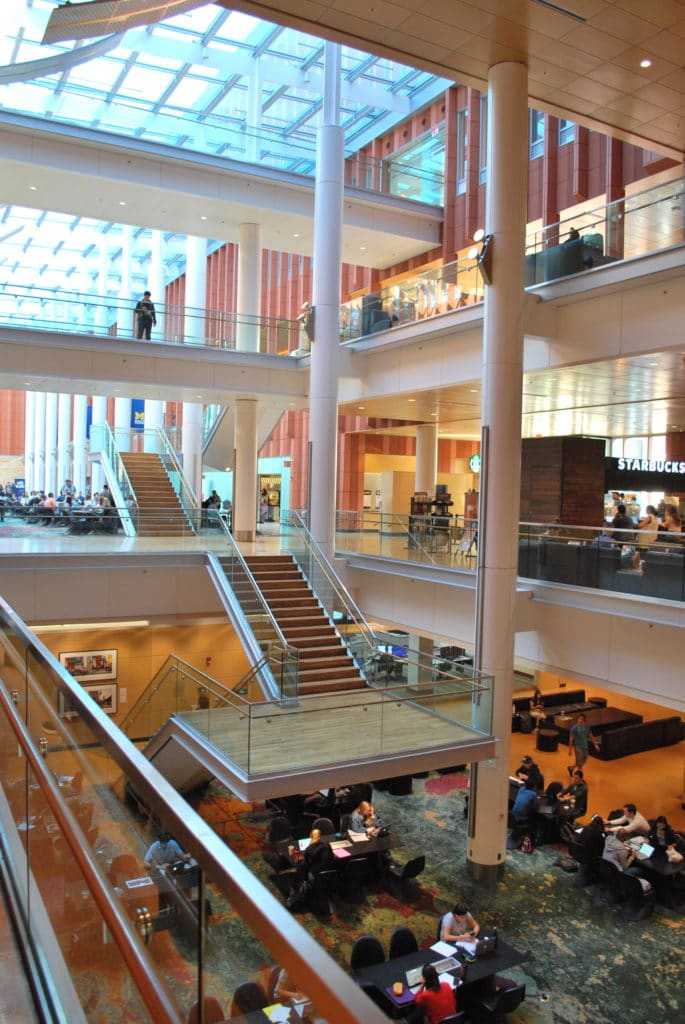 Inside the Ross School of Business that houses Desai Venture Accelerator.
"Everything is changing," de Vries agrees. "What I'm loving in manufacturing right now is seeing more focus on how we can take our state's long history of success and become leaders in innovation to address the COVID-19 crisis. I'm also seeing trends in educational tech taking a strong look at how education can embrace tech to prepare workers for the 21st century."
What are the challenges right now with the disconnects in society and business due to stay-at-home orders and social distancing? De Vries is already seeing businesses attempt to bridge some gaps: "How we can make sure disadvantaged people can have better access to education," she gives as an example. "Also, AI, AR and machine learning are growing by leaps and bounds to help with the outbreak."
If a Michigan-based startup is looking for support right now, how do they know if a program like Desai or the Michigan Small Business Development Center is the right fit for their particular area of tech or business? De Vries gives a few examples of the specific areas of focus that her teams specialize in. "Our team has life sciences experts," she says, "cybersecurity, advanced manufacturing... and that offers a wealth of resources." In fact, these programs pride themselves on connecting with mentorship in industries at which Michigan already succeeds, which helps them connect new startups with invaluable information to accelerate their growth and networking.

Are these resources really available to many businesses? One of the complaints we have heard recently--more like a plea--is that many small businesses can't gain access to well-intentioned small business loan programs or other mentorship or financial resources right now because the demand is overwhelming state programs. De Vries says it can be challenging to get into some programs or find the right resources at the right time. It's actually the reason she does what she does. "When I was a founder I felt very alone," she admits. "When I came across the SBDC and other business support resources I thought, 'That would have helped me so much to have those connections and that mentorship'.... The SBDC is responding to COVID-19 and the impact on small businesses quickly. The SBDC website is often updated with new information about what's going on, including webinars for small businesses. Any time people need help, we're here."
It has been a long month for people like de Vries trying to process the fire hose of small business needs, but she says she sees signs of hope in tech. "One thing I love about this job is that I'm constantly seeing people use tech to solve problems to make people's lives better," she says, "not about making money. It's exciting because every day I can meet with companies from life sciences to advanced manufacturing, and it's so hopeful and fulfilling. In this environment I see companies with solutions saying, 'How can we help?' The startup world are problem solvers. I love what I do."
desai venture accelerator, melanie de vries, michigan small business support, michigan startup legal advice, michigan tech startups, midwest small business loans, sbdc, tech startup resources michigan
---