Washtenaw County's Economic Resilience Uneven But Holds Through COVID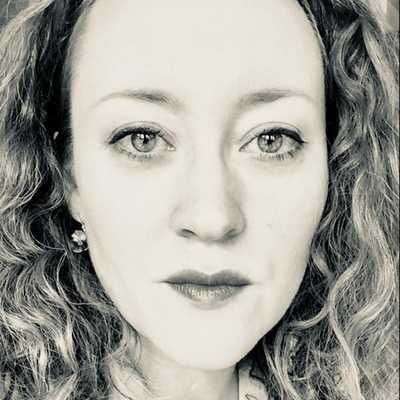 By Laura Cowan
Laura K. Cowan is a tech editor and journalist whose work has focused on promoting sustainability initiatives for automotive, green tech, and conscious living media outlets.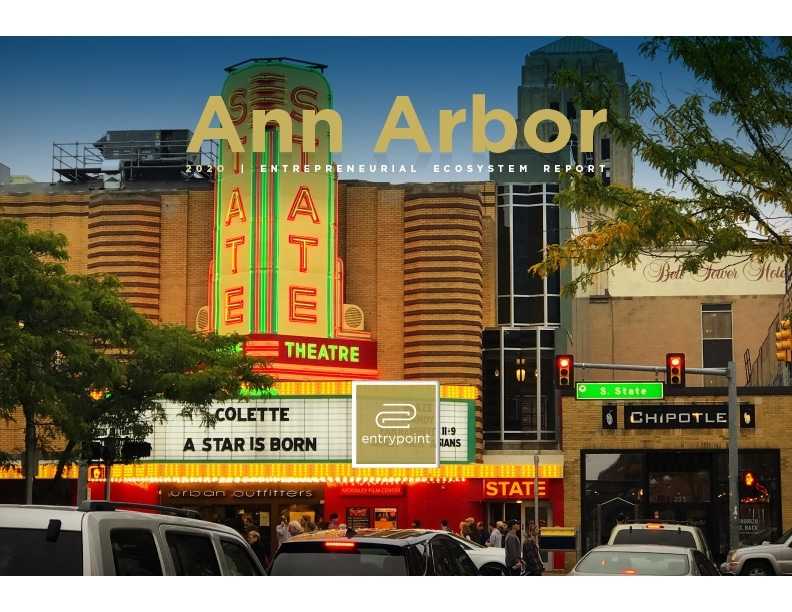 EntryPoint today just released its 2020 Ann Arbor Entrepreneurial Ecosystem Report, which covers everything from 20 years of growth in the Ann Arbor startup ecosystem to impact reports of recent events. If you're interested in how Ann Arbor came to be recognized as an emerging tech hub for software/security and life science startups, this is a great report to dig into, and to see up-to-the-minute trends as it also addresses the very recent impact of COVID-19 on the region's economy.
Ann Arbor Entrepreneurial Ecosystem: Still On Track for Growth?
Notable findings from the study? Heintz tells Cronicle that she was expecting a harder hit from COVID-19. "We've seen a steady increase in startups for the last 6 years," she says, "and it looks like that will continue despite the recession."
Heintz attributes the resilience of the Washtenaw County economy to its diversity from healthcare to academia and high-tech companies who form the backbone of the local economy, and says that among those leading industries, it's not surprising that high-tech companies are faring best right now.
"High-tech entrepreneurship has steadily grown 30% every year" in recent years, she reports. And an unexpected trend found by the research report by EntryPoint: "COVID-19 has not hit tech as hard as other sectors," Heintz says. She reflects on this and explains: tech companies have an easier time pivoting than, say, mom and pop restaurant businesses. "The tech community also felt more prepared to move toward remote work," she says. "As a result, tech companies saw significantly less revenue loss [during shutdown] than Main Street businesses." Also, other companies are now looking to tech companies to see how they can be more tech-enabled.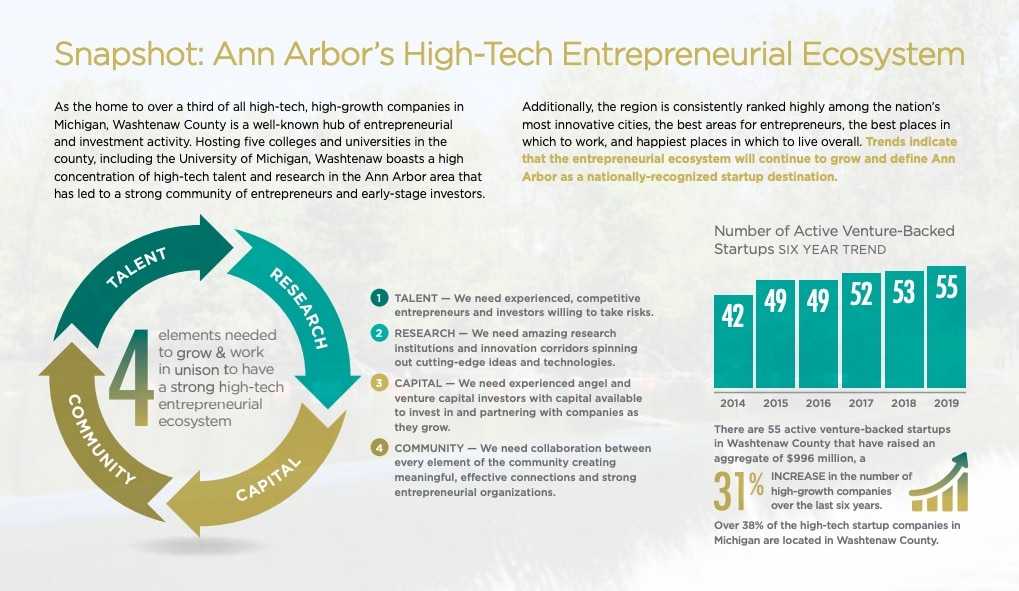 Does Tech Growth Support The Community Or Overshadow It?
We ask Heintz if she's concerned about the disparity between businesses hit hard by COVID-19 and other recent upheavals in the economy creating a situation where tech pulls away from other businesses and overshadows the local economy as it has done nationally. It's not as big of a concern here as in Silicon Valley and nationally in the economy overall, but still comes up as a frequent theme in discussions about ensuring economic diversity and trying to make sure that success for tech is a success for the community as a whole.
"I don't think Washtenaw County will see tech overshadow other business, because only 20% of Washtenaw County's businesses are considered tech," Heintz says. "This speaks to the resilience of the entire region."
A problem brewing, however: Heintz reports that among businesses applying for assistance during COVID-19, tech companies were more likely to be approved, and this could be because high-tech startups with boards peopled by investors and financial experts have more expertise in how to apply for these loans in a way that assures approval. Also, "access to capital for minority-owned and non-tech business is an issue," Heintz says.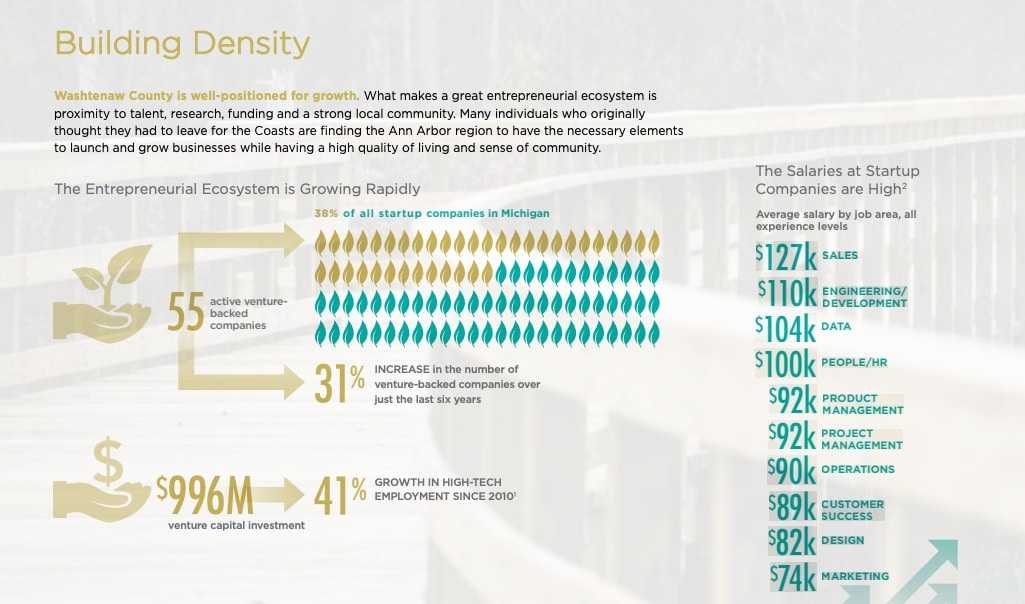 Key takeaways: "The tech community isn't overpowering local business but is building a strong foundation for the community," Heintz says. Also included in the Washtenaw County report are details including 55 companies who raised a total of $1 billion, not including previous acquisitions of companies like Duo Security or Health Media. In 2019, 35 companies received $198 million in VC funding. It's not the kind of money that the coasts see in funding, but is still an important step in the direction of Ann Arbor continuing its trend toward being acknowledged as an emerging startup hub for software/security and life science startups.
Will We See a Repeat of the Great Recession Startup Surge?
One final question we had for Heintz was this: are you seeing any indication of an upswing in new business formation like what Ann Arbor experienced after the 2008 Great Recession that pushed a lot of people toward entrepreneurship? Heintz says it's a little early to tell because that trend only emerged a year or two after the 2008 Recession began as the quiet formation of new business built momentum and became visible. "A lot of businesses were just starting in 2008 and 2009," she says, "but then in 2010 we saw a steep increase in business growth." There are signs that something similar is starting, however, and it's broader than Washtenaw County. "In our research across the Midwest, we definitely see the trend similar to the 2009 downturn," Heintz says.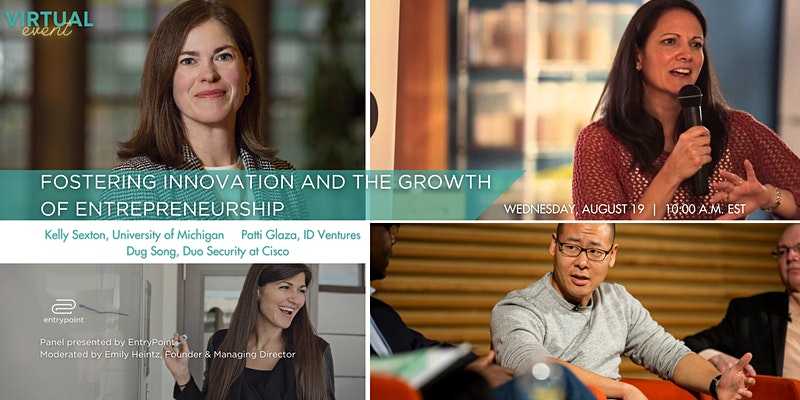 One worry, though. "The last downturn had a big impact on men," Heintz says, because industries traditionally dominated by men were greatly affected. However, "many VCs are men, and a lot of men might have attracted funding more easily. I'm worried that this downturn is affecting women and minorities and people having to decide who stays home," Heintz says, "and women have been disproportionately affected by the economic and mental weight of recent public events." Without the same access to capital that allowed men to pull out of the 2008 recession and move into entrepreneurship, Heintz is justifiably concerned there may not be as many options for women and minorities working their way out of a recession or job loss.
Where Is The Ann Arbor Economy Headed From Here?
If you would like to dig deeper into these topics, EntryPoint is hosting an online discussion with community leaders including Duo founder Dug Song, Kelly Sexton of the University of Michigan Office of TechTransfer, and Managing Director of ID Ventures Patti Glaza, on August 19. You can register for the free event here. The 2020 Ann Arbor Entrepreneurial Ecosystem Report is available for download here.
ann arbor economic report, entrypoint business reports, michigan economic news, washtenaw county economic report
---