Cronicle Content Series: Content Marketing Plan #3 -- Podcast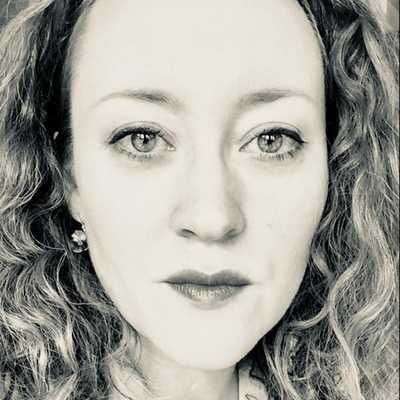 By Laura Cowan
Laura K. Cowan is a tech editor and journalist whose work has focused on promoting sustainability initiatives for automotive, green tech, and conscious living media outlets.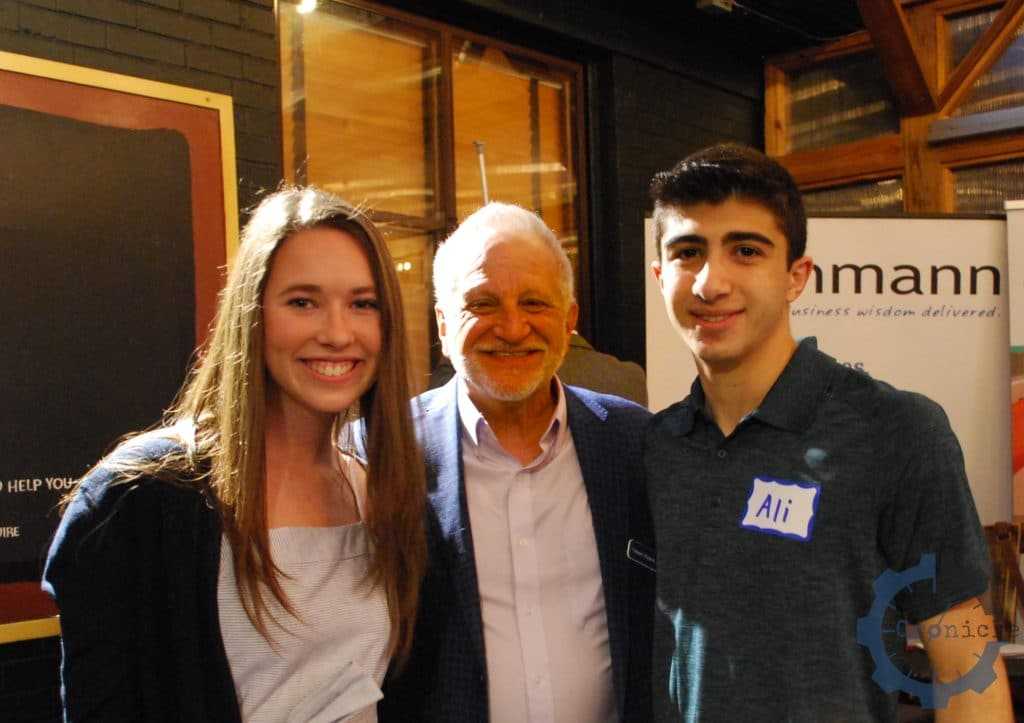 Psychologist and business coach Dr. Rob Pasick runs a networking event called Leaders Connect out of Zingerman's Roadhouse in Ann Arbor, and broadcasts the meetings online through a newsletter. If you can't create a podcast, consider a recorded broadcast of an event.
Cronicle Content Series: Content Marketing Plan #3 -- Create a Tech Startup Podcast
We've talked already about creating a company blog for content marketing outreach for your tech business. This is an essential first outlet to sharing news that doesn't depend on media having space for you in their editorial calendar. You can also guest post on blogs and conduct interviews. But how do you land interviews if you don't have a super hot news topic to share all the time? Create your own podcast, and bring great speakers and guests to you. Podcasts are also an idea that appeals to people who like to consume visual or audio content rather than print. It's not for everyone, but is a great tool in a combination of media for content marketing for your tech startup.
How To Create Ideas For Your Podcast
Keep in mind that podcasts also take a lot of time. If you have a marketing person in house, they should be able to hire in a podcast creation service or put something together themselves if they have experience with podcasts, but this does take some budget and a lot of work to keep going, so be patient with them or with yourself if you're new to this. Podcasts are media, content, editorial, scheduling, production, and marketing all rolled into one project. But, audiences will forgive poor camera work and backdrops a lot more readily than thin content, especially in technical content-heavy tech podcasts. That means you probably can do a podcast if you can come up with ideas of what to talk about on an ongoing basis. Start with a list of ideas including the following:
Subjects surrounding your company's expertise.
Current news topics in your industry.
Experts in your industry everyone wants to hear from.
Stories of challenges overcome while building your type of business.
You could try to record a few podcast episodes as a trial run before publishing them or label them as a series of talks on niche content your company specializes in to post on Youtube before officially starting a podcast, so you can work out the kinks.

Not everyone likes a podcast, of course. Don't forget to start with a company blog, industry news, social media, and other basics before starting a podcast.
Should You Create Your Own Podcast Or Hire A Podcast Creation Agency?
If you decide to create your own podcast, follow the ideas found in our previous article on guest posting and interviews for how to create idea and media outreach pitch lists but call them your podcast editorial calendars instead. All you have to do is reverse roles and become the media reaching out to professionals in your space, and keep to a regular schedule. This will help you create a calendar of podcast episodes and guests.
Here's what this looks like:
Create a list of episode ideas and potential guests.
Outline a schedule such as once a month to publish each podcast.
Research guests and contact a few you know first.
Create questions to ask each guest.
Decide if you're going to edit yourself or hire in help.
Set up your podcast stage with background, lighting, camera, sound.
Run a test episode with an employee or associate.
Test your first podcast! Try to speak in short sentences so it's easier to edit and easier for guests to answer simple questions.
You may want to test this in house privately first to see how much time it takes, and where you might need to shore up your team's skills for editorial planning, content writing, media outreach, or camera work and editing, and then bring in consultants for podcast creation or content marketing as needed if you can't manage it all yourself. Like we said, please be patient with yourself, and don't be afraid to ask for help if you have a bottleneck such as video editing you need help with. If you plan it out, you'll see where the holes are before you get into the podcast project and can't keep up. Also, please know that everyone has their own style of speaking. Even though it's easier to edit short questions and answers, not everyone communicates this way. Don't feel too insecure if it's hard to fit your questions into sound bites, and go with the flow when speaking with guests because you never know where you might end up. You can always edit later.
Where To Host Your Podcast
Podcasts can be created by any number of small companies or programs these days as there are an increasing number of studio spaces available. Podcasts can also be created in your office or home with a decent camera and lighting with a clean but professional background. It's actually harder than it sounds to find time to clean up a professional space for this purpose. Conference rooms, libraries, desk spaces, and even the outdoors in a pinch make good podcast backdrops, but check the sound and lighting first and make sure you won't be disturbed (unless the idea of a dog dragging itself through your shot making your podcast go viral is what you're going for). In-house podcasts are easier to edit on simple video editing tools if you keep them to the point and don't need to do as much work. One thing you can do to keep things on track is to write out questions that are short and simple ahead of time. Then you might edit the guest's answers to fit the time.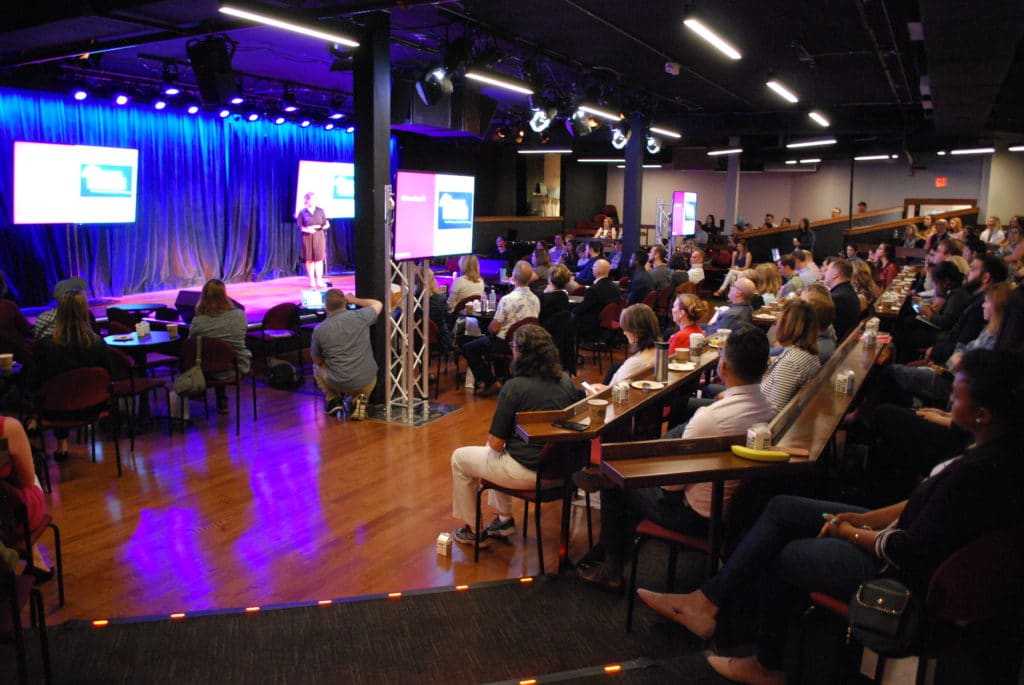 Conferences attract highly targeted audiences, such as this Intermitten 2019 conference about change and diversity in tech, at which we met at least half a dozen tech blog interviewees, from Dug Song of Duo Security to Steve Schwartz's team at AlfaJango.
How To Find Podcast Guests
Oh, yes, you must also invite people on your podcast and keep doing it to keep the podcast going. That can be intimidating if you haven't done it before or don't have a lot of time to meet people. Start with people in your network you think have something to share with your audience, and ask for introductions or research other potential guests on LinkedIn or contact your favorite personalities who have their own podcasts to maximize reach through both networks. It can help if you have your podcast editorial calendar outlined first, so you can pitch an interview in a Slack channel, giving an open invitation to people to respond to interviews, or so it's easier for you to book a speaker with a specific invitation to speak on a particular topic. People often pitch 3 ideas in one email when booking interviews or guest posts, so that's an option, too.
Places to locate podcast guests:
Your own professional network
LinkedIn
Networking events
Social media
Slack or other private networks
If you do a few of these things to get started, pretty soon you might find what works for your niche and find your rhythm. Like any other content marketing, don't burn yourself out. Plan it out, and if podcasting doesn't work for you yet, put that series of interviews on Youtube as vlogs and speaking events, link on social media, and label it as a short content series that has permanent links on your website as video content to highlight something your company has something to share with the world.
If you missed our first articles on content marketing for your tech company, check out the previous articles:
Cronicle Content Series: 5 Ways To Start Content Marketing For Your Tech Startup
Cronicle Content Series: Content Marketing Plan #2 — Guest Posting & Interviews
business podcasts, content marketing tech startups, cronicle consulting, how to start a startup podcast, starting a tech podcast, tech content marketing
---